Camping with the Kids, by Helen Truszkowski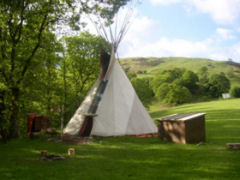 It is a shame that once children arrive on the scene, plenty of once intrepid campers seem reluctant to venture far from home.
Parents face a common dilemma. Whilst there is no doubt getting the kids outdoors can make for lifelong memories - the question is, will they be good memories? You may wonder whether taking the kids camping is worth the extra effort and planning, or whether only choosing kid-friendly is worth denying yourself the camping experience.
I started camping with my son George when he was just two. Having set up tent in the New Forest, Spain and as far away as Up State New York I have come across plenty of families prepared to give it a go. Like them, it took just a little forethought to make our trip enjoyable and easy.
Why Take The Kids?
It is clear that children of all ages take to camping; kids relish the freedom of the outdoors and the laid-back atmosphere. In light of the restrictions we're compelled to put on our youngsters nowadays, camping at least offers your kids a chance to get out and explore their natural surroundings for themselves, to discover wildlife and to meet new lifestyle challenges head on. It can certainly be a welcome relief from the confined world of Playstation and Cartoon Network.
Moreover, starting to camp early in life prepares your children for all types of travel. They can adapt to entertaining themselves more fully, and begin to appreciate the natural wonders each new environment has to offer.
As for us adults one of the biggest direct advantages of taking along the kids is the slower pace. You certainly come to appreciate things you would never normally notice without them. Individual rocks, leaves and sticks take on fresh importance. What's more kids don't filter out the bird song, shadows, insects and sunsets we have all come so accustomed to. With children in tow, your senses are revived.
Getting Started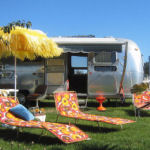 If you are still intimidated at the thought of it all, start small-scale. Don't be overly ambitious first time around; you can always conduct a trial run at home. Simply pitch a tent in the garden and see how your kids adjust to the novelty. If it is a success, try progressing to a weekend camping trip close to home. This New Forest campsite and caravan park is ideal for a family weekend away with indoor and outdoor pools and a games room for the kids plus spa and beauty treatments for a rejuvenating break.
Travel Light
Once they are on board for real, of course, you will need to make some practical adjustments. Travelling light is the first step. Opt for a tent that's highly portable, easy to erect and incredibly sturdy. Just add a few sleeping bags, a cooler box full of no-cook meals and hey-presto you're camping. In reality the stove, lantern, foldaway chairs and other gear is all optional.
If you are planning on trekking bear in mind you won't be able to haul backpacking gear, plus your kids, plus your kids' gear. If they still need to be carried, you may well be better off exploring four wheel-drive areas and trying-out car camping. Simply pull over and set up tent. Once your children are old enough to manage their own day-packs, of course, you can head out on relatively lengthy day hikes (the rule of thumb is one mile a day per year in age) Just make sure they understand that whatever they pack, they have to carry.
Planning Longer Stays
Of course many countries permit free camping provided you are not too near anyone's home. However idyllic the setting, though, pitching your tent on open ground means your kids won't be able to rely on even the most basic of facilities. The problem of no washing or toilet facilities and no provisions nearby may seem trivial from the comfort of home or on a weekend try-out, but with kids in tow longer term it is wise to let them imagine the worst and discuss your options before plunging into total 'back to nature' mode.
These
tipis in Wales
offer a fantastic and original place to camp with children and get back to nature but still provide all the essentials you need for a relaxing break.
What are the Options?
Children, as every parent knows, have an innate desire to get filthy. Puddles hold a fatal attraction for them, as does mud, sand and grime. Unless your kids are partial to buckets full of cold water it is worth considering an area that is at least equipped with public loos and showers. Organised campsites, moreover, with full toilet and shower blocks, shops and entertainment, are ideal for families. This
caravan park and campsite in the Pyrenees
is a great example of a family friendly camping experience with plenty of activities provided for the kids. Campsites like this provide the perfect amount of social interaction. Nowhere is it easier to meet other families. It is a real bonus, of course, when there are plenty of other children of the same age to play with.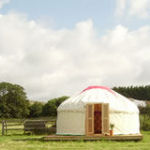 More civilised and hassle-free still are those sites where luxury tents come ready-pitched and fully equipped for use. Most family tents are large, apartment style, divided into separate rooms by zipped partitions. Most have all the mod cons; many even have their own separate toilet tent.
A family getaway to this unique yurt accommodation on the Isle of Wight provides an exciting and original holiday by any standards but with plenty of home comforts to allow for a relaxing break too. Sites such as this give a great deal of thought to families, often providing organised children's activities, baby-sitting, baby-equipment rental, baby packs plus strict noise and speed restrictions. If you are prepared to compromise your love of 'raw' camping in exchange for a few creature comforts, it may well be worth the sacrifice, especially whilst your kids are that much younger or you are just introducing them to the scene.
Do remember when comparing what tour operators have to offer, that the cheapest deal may not represent the best bargain. It is essential to compare site facilities before you book. These vary considerably, from the most basic to the sublime. The range of campsite amenities may be a major factor in helping you to make up your mind. You may want to check too how far the site is from the nearest town or beach; whether there is a regular bus service, laundry facilities, equipment to hire, a swimming pool or something for the kids to while away the hours if it rains.
Setting Off
For most kids the anticipation of getting to a site is just about more than they can bear. Children have little appreciation of either time or distance. How they behave on the road largely depends on their boredom threshold and how well prepared you are to tackle the situation. If you end up getting agitated and bored, the chances are they will too.
Anything that can keep your kids amused and self absorbed, especially on long car journeys is worth taking along. Besides the obligatory bat and ball, though, keep a limit on bulky toys and books that will only weigh you down. Still, bear in mind that kids can take a while to adapt to new places. A few established favourites will give them an added sense of security. Remember, too, that children can get just as irritable camping as they can at home, especially if the weather's bad. One useful ploy is to keep a few pre-wrapped, stress-busting goodies up your sleeve for moments of intense boredom or when the going gets really tough.
Try taking
- Snap together plastic construction toys, such as stickle bricks, Lego or K-Nex.
- Hand puppets for their versatility and portability. They are always a mood lifter.
- Non-stain, washable colouring pens. Enough said.
- A disposable, automatic camera for a kid's eye view of the trip.
- Pocket versions of the classic travel toys; Etch a Sketch, Scrabble, etc.
- A personal stereo. Include a blank tape for older kids to record their own audio travel diary
- Hand-held video game. Over the age of 3 this has to be top of the diversion list, but keep an eye on battery consumption.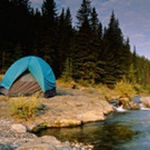 Setting Up
With kids in tow you have to decide whether to share one tent or have separate ones. Although two tents offers you an obvious degree of privacy from one another, using one tent is more convenient in bad weather or if you have smaller children that you might need to keep an eye on. Equipped with their own tent children can develop a sense of proprietorship, similar to their bedroom at home. Make it feel homely with their sleeping bags spread out, pillows with a familiar pillow-slip, toys plus their own pack of clothes. Pitch your two tents very close together with the children's directly facing yours. Spread mats out on the ground between the tents to form a safe play area. Get your children to sleep with their heads by the door where they can easily see you through the netting. Putting them to bed early when you still have a light on in your own tent helps. For early morning wakers, have books and toys ready for quiet playtime.
Do
- Let your kids participate in everything, even if it means more work for you - Pitching tents, building fires, preparing meals, washing laundry. Make it a team effort.
- Help kids build their own picture journals. Even very young children can have fun with this. Include drawings and treasures collected on outings, such as leaves and shells.
- Try a family hike, however short. Motivate your kids down the trail with, a song ('The Ants Go Marching'), a story ('We're Going on a Bear Hunt') or try going a little way ahead, leaving treats along the way.
Don't
- One last piece of advice... Don't spend long hours on the road when campsites are just a place to spend the night; nothing creates boredom faster in children!

Take a look at our great value
family holidays here

Need help finding a great camping holiday? Contact our
helpdesk at
amelia@responsibletravel.com