Celebrate 30 years of Tasmanian World Heritage Wilderness with this Free Tasmania app for iPhone
Free new Tasmania app allows travellers to walk in the footsteps of early eco-travellers who stirred up a modern day revolution in an ancient land.

30 years ago the Tasmanian Southwest Wilderness was listed as a World Heritage Site, the only place on earth to fulfil seven out of the ten criteria, bringing to a successful conclusion a world wide campaign that saw environmental activists protesting to save Tasmania's natural heritage from being sold down the river.
To celebrate this landmark decision that put Tasmania on the eco-tourism map, Tourism Tasmania (in association with responsibletravel.com) is inviting travellers to explore the diverse natural wilderness with a unique iPhone app that showcases the best that Tassie has to offer.
Scan the QR code to download the app.
---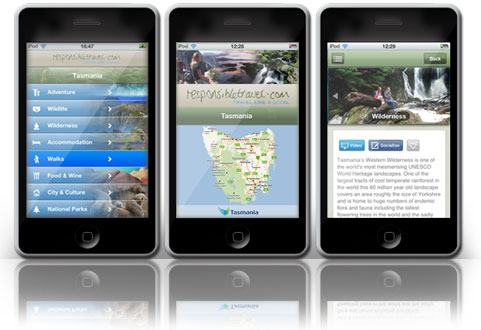 About the app
Available for
free
on all Apple devices, the app allows travellers to explore Tasmania's rich natural diversity, research and enquire about tours and places to stay, discover how to have an intimate encounter with weird and wonderful wildlife, and even listen to the call of the most iconic resident, the Tasmanian Devil.
Features:
Audio, including the Tasmanian Devil's call!
Videos
Image galleries of natural wonders
Plot the route of famous walks using GoogleMaps
Read articles about Tasmania's sites
Comment with Facebook
Find tours and places to stay

To start exploring your Tasmania simply log on to your app store and search 'Tasmania', or visit the Apple app store on your mobile to download the app.



See our Tasmania holidays here
---