Our campaign...
Why?
Our 2004 survey found that 67% of people didn't like the way mass tourism damages the culture & environment in resorts, and 88% felt that tour operators had a responsibility to preserve the environment & cultures, and benefit local people. Yet Thomson Holidays UK, MyTravel and Thomas Cook (3 of the big 4 UK holiday companies) had not published policies for responsible tourism.
Success:
Up to 1,000 tourists per day signed our petition to change this and soon after the FTO - who represent the big operators that we had targeted - publicly committed to their members publishing policies for responsible travel and tourism within a year.
Read more
.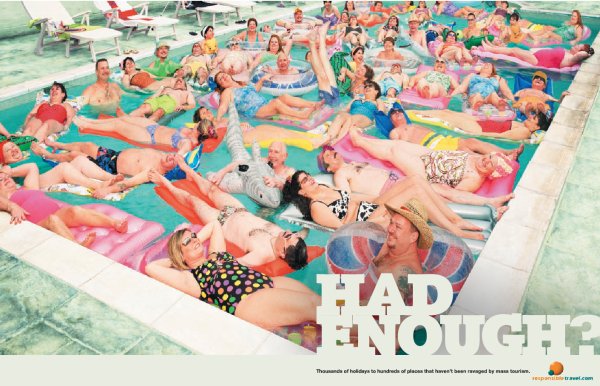 Double page spread advertisement for The London Evening Standard.
Copy reads:
Thousands of holidays to hundreds of places that haven't been ravaged by mass tourism.