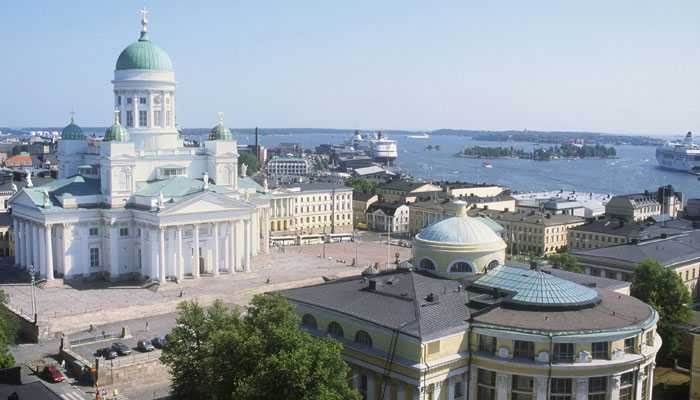 Helsinki Cathedral and Senate Square
Helsinki Cathedral is one of the city's most popular tourist attractions – and it's not difficult to see why. This distinctive landmark is Neoclassical in style and features four small domes at its corners and a striking tall green-roofed dome at its centre.
The cathedral's interior, designed for its Lutheran congregation, is relatively sparse, but does contain a statue of Luther, as well as one of Mikael Agricola, who is considered to be the father of the Finnish Reformation and Finnish literature.
The cathedral has two side pavilions; the one on the west houses the church bells, while the eastern one is home to a small chapel. From the cathedral a wide staircase leads down to Senate Square, where a somewhat regal-looking statue of Tsar Alexander II of Russia surveys the scene. Around the square you'll find a range of imposing buildings, including the Government Palace – still the seat of Government today – and the main university building.
On the square's south side is a line of 18th-century merchant houses, which have been renovated and now house an enticing selection of boutiques, cafes and restaurants which are well worth a visit.
History of Helsinki Cathedral and Senate Square
When it became the capital of Finland in 1812, Helsinki's centre was established around Senate Square and architects Carl Ludwig Engel and Johan Albrecht Ehrenström were tasked with laying out the city plan.
Engel and Ehrenström favoured Neoclassicism and created a geometric town plan inspired by the style. As part of this new town plan, all trading activities were moved to the Market Square, and Senate Square became a symbolic space, representing the heart of the city.
Government, municipal, church and academic institutions, designed in the grand Empire-style architecture of St Petersburg, were built around the square, and the new cathedral was started in 1830.
Construction began in accordance with Engel's design, but after he died in 1840, Ernst Lohrmann added the four small towers around the main dome, as well as the two side pavilions. The cathedral was completed in 1852 and was considered a tribute to the then Grand Duke of Finland, Tsar Nicholas I of Russia. As such, it was known as St Nicholas' church until Finland gained its independence in 1917.
Today, in addition to serving its own congregation, Helsinki Cathedral also hosts major state and university events, and the square is a popular place for residents and visitors to see in the new year.
Our top tips for Helsinki Cathedral and Senate Square
Stand on the steps leading from the square up to the cathedral for a superb view over the roofs to the South Harbour. A great photo opportunity.
Don't miss a visit to the Bock House, on the south side of Senate Square. Inside here you'll find a range of Finnish handicraft stores selling everything from one-off jewellery and textiles to hand-crafted ceramics and Christmas decorations.
Did you know that Finns drink more coffee per capita than any other nation on earth? Try a cup of Finnish coffee for yourself at Café Engel on Senate Square, with table service and a traditional atmosphere.
For traditional Finnish cuisine book a table at Restaurant Savotta just off Senate Square, which serves up old-fashioned dishes in an authentic atmosphere.
What's responsible about it?
Visiting the boutiques, cafés and restaurants of Senate Square helps to keep these independent businesses running – and the ancient buildings that house them occupied.
Read more about
Helsinki holidays
and
things to see & do