Make sure your dive doesnít destroy what youíve come to see By
Justin Francis
, responsibletravel.com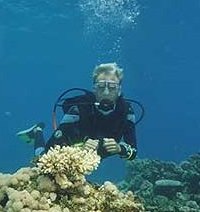 Itís a privilege to be able to enter and experience the magical underwater world. However coral reefs around the world are under extreme threat, and if we want to ensure that our kids can enjoy the same wonderful experiences then we need to dive responsibly. My top tips for responsible diving Ė
1. Anchors cause serious damage to reefs. Ask your skipper if they will be using a mooring, and about how they ensure the reefs will not be damaged.
2. Make sure that your point of entry to the water is away from fragile corals, itís all too easy to damage them as you enter.
3. Practice your buoyancy over sand before moving towards corals and reefs. Even the sand kicked up by fin kicks close to corals and vulnerable organisms can damage them.
4. Look donít touch. Even robust looking corals and polyps can be destroyed by the gentlest touch.
5. Resist the temptation to feed fish and discourage others from doing so. You might affect normal patterns of behaviour and/or encourage aggression.
6. Ask your tour operator for their responsible tourism and diving policy Ė if they havenít got one they are probably not taking it seriously. Find responsible dive operators on responsibletravel.com.
7. Poorly treated waste from hotels destroys water quality and corals. Ask your hotel how they manage grey water.
8. Do not buy and gifts or souvenirs that are made from corals, shells or hardwoods. If you witness trade in these items report it to
www.earthdive.com
via their science log.
9. Remember that local communities may have used the seas and reefs for their own purposes for generations. Make sure that they are compensated for allowing us to enjoy their heritage by ensuring local communities benefit financially from tourism Ė think local about hotels, restaurants & where you buy your crafts.
Finally, a word about diving with sharks. The state of Florida banned chumming to attract sharks in 2001 because it changes their natural behaviour (and in some cases may attract sharks to tourist areas with possible consequences for safety. Of course diving with sharks is a huge thrill, valuable as a way to educate people about sharks, and a good way to earn local communities an income. However if you choose to dive with sharks our view is that you should do so with a responsible operator that dives with small groups, causes minimal obtrusion to the environment and ideally doesn't use the enticement of chumming.
Justin Francis is Managing Director of on-line travel agency responsibletravel.com.

Try scuba diving for yourself, check out our
Scuba diving holidays
or our
marine conservation volunteering
holidays.