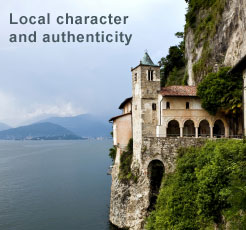 Local character and authenticity
Our site visitors want interesting and beautiful places to stay. Whether they want to relax by the pool or get out on a bike, it's the difference and uniqueness of the place, its people, culture and nature that really interests them.

Too many accommodations 'export' a UK or US look/feel/experience to other places. We're really interested in hotel design, staffing, foods and experiences that reflect local character and differences. Other places tend to commodify or fake up cultures and history to serve up to tourists. We find this to be demeaning to guests and local people. Something truthful, sincere and genuine is more honest and more rewarding for everyone.

It could be that we find this in a small or medium sized property or even a large one (although this is far less likely) – there are no absolute rules on size.