Responsible Travel holiday voucher terms & conditions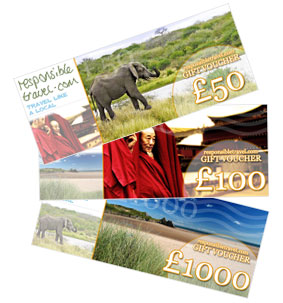 Please give the voucher code to the operator at the time of booking. Without the voucher code the operator will not be able to apply your voucher discount.
Vouchers can only be used against holidays or accommodations marked as eligible. The holiday page will have 'Vouchers accepted on it. If there is no mention of voucher use on the holiday page then vouchers cannot be used against this holiday.


Only one voucher/voucher code can be used per booking.


Vouchers can be replaced if lost, stolen (but not used) or destroyed. Just e-mail us.


Vouchers can only be used with Responsible Travel members towards full and final payment for any holiday or accomodation marked as eligible. They may not be used against a deposit or other part payment.


Vouchers are non-refundable and non-exchangable.


Your voucher can be used against multiple bookings.


In the case of vouchers with a minimum spend the full minimum spend must be reached within the same booking in order for the voucher to be redeemed.


Any refund associated with your booking will be in vouchers, to the extent that the vouchers were used to pay. Where payment was made in cash and vouchers, and the refund is less than original payment, the cash portion of the payment will be retained before any part of the vouchers.


Vouchers can only be used to pay for the holiday or accommodation as seen on Responsible Travel and cannot be used towards other expenses such as food, drink, spa treatments etc.


To use your voucher you must make your initial holiday enquiry via our website. If you do not register your initial enquiry with the holiday provider via our website and instead contact them directly then your voucher cannot be used against the holiday.


VAT charges are applicable on all corporate voucher orders.


Use of the Responsible Travel website constitutes acceptance of our disclaimer and privacy policy.

Any questions please email rosy@responsibletravel.com


Convert currencies