Win a wonderful 15 day tailor-made holiday to Spain worth over £4,000
Weíve teamed up with handmade holiday specialists
Pura Aventura
, to give you the chance to win a fabulous self-drive holiday exploring northern Spain from off the beaten track.
This premium 15-day self-drive experience introduces you to some of northern Spainís most beautiful landscapes, from the sun-drenched vineyards of La Rioja to the spectacular peaks of the Pyrenees as you travel all the way from Bilbao to Barcelona.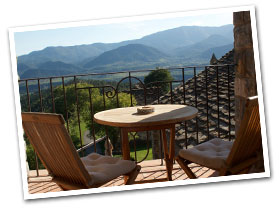 Just some of the highlights:
Savour the tastes of La Rioja, with a private guided tour of its markets, tapas bars and vineyards.
Enjoy private guided walking in the stunning Ordesa National Park
Explore historic Pyrenean towns all the way to Barcelona
Discover hidden Barcelona with a private walking tour through the old city.
Stay in unique and beautiful hotels throughout your journey
Return flights from the UK with
Vueling
are included in the prize!
6 lucky runners-up will also receive a taste of Spain right here in the UK, with a voucher for a meal or wine from our friends a
La Tasca
worth up to £20 each!

More information about the holiday

Find more Spain holidays here!
Update 11 Feb 2013: This competition is now closed - winners announced soon!

Terms & Conditions:
1. Only one entry per person/email address allowed. Entrants must have answered the question "What do you love about Spain?" to enter.
2. The competition starts on 21st January 2013 and closes at 4pm GMT on Monday 11th February 2013.
3. The main prize is a 15 day "Walk Spain - Rioja & Pyrenees Self Drive" holiday for 2 from Pura Aventura, plus flights for 2 people from London to Bilbao & Barcelona to London with Vueling. Total prize value £4334 (subject to flight costs).
4. One place each for two participants aged 18 or over on any departure of "Walk Spain - Rioja & Pyrenees Self Drive" holiday (excluding July & August) may be booked by contacting Pura Aventura at info@pura-aventura.com / 01273 676712 before 30 June 2013. This prize does not cover any additional extras or optional extras, meals are excluded unless indicated as part of the holiday. The prize is completely non-transferable, non-refundable, is not liable for 'Lifetime Deposit' and is only valid as a prize for the responsibletravel.com, Pura Aventura, La Tasca & Vueling competition as advertised. The prize has no alternative monetary value.
5. This prize is not a package holiday and therefore is subject to the individual terms and cancellation policies of each provider.
6. Flights and are provided separately by Vueling and must be booked and consumed before 30 June 2013 by contacting tania.galesi@vueling.com at least 15 days prior to the outbound flight . The winner must inform the dates on which he/she wishes to travel, with name, surname and passport number of both travelers via email and must book both outbound & return flights at the same time. Flights are subject to availability at the time of the reservation and blackout dates.
7. Outbound and return travel must be completed by 30 June 2013 and cannot be extended beyond this date. Flights are not subject to changes of any type nor cancelations.
8. 1 piece of luggage per person per flight (up to 23kg) may be checked in free of charge.
9. Flights Barcelona-London are only available after 22 March 2013.
10. All elements of the holiday are subject to the providers' general terms and conditions.
11. Eligible participants must be in possession of a valid passport and are responsible for purchasing a visa if required. The prize winner must arrange comprehensive travel insurance cover for themselves for the duration of the promotional travel.
12. This promotion will be governed by English law and the English courts have jurisdiction to hear any disputes in relation to it.
13. On acceptance of this prize, you are deemed to have read and agreed to these terms and conditions.
14. The prize is non-transferable, non-refundable and cannot be exchanged for cash or any alternative and cannot be sold or auctioned.
15. There are six runner up prizes each consisting of a voucher from La Tasca. There is no cash alternative. The prize is non-transferable and non-refundable. These voucher prizes will be one of the following: Voucher for a dinner for 2 at a La Tasca restaurant with the £9.95 menu OR £20 voucher to use at any La Tasca restaurant OR voucher for a free bottle of wine. A prize code will be emailed to each winner by La Tasca. Vouchers cannot be used on public holidays (for example Valentines, Mothers' Day etc) nor in conjunction with any other offer.
16. Entry is via an entry form where name, email and the answer to the question "What do you love about Spain?" are added.
17. Entries will be judged by the responsibletravel.com team based on skill to determine the winner and six runners up.
18. No purchase necessary.
19. The winner and runners up will be notified within 28 days of the end of the competition by email. If the promoter is unable to contact any winner/runner-up within 30 days or they prove to be ineligible, an alternative winner/runner-up will be chosen. We reserve the right to substitute any prize for a similar product.
20. The promoter's decision is final and no correspondence will be entered into. By entering the promotion you agree to be bound by these Terms and Conditions.
21. Entrants must be aged 18 or over. The promoter reserves the right to refuse any entry which it considers in its sole discretion to be ineligible in accordance with these Terms and Conditions.
22. The promoter accepts no responsibility for lost, damaged, incomplete or delayed entries. Proof of entry is not proof of receipt.
23. The promoter accepts no responsibility for any damage, loss, liabilities, injury or disappointment incurred or suffered by you as a result of entering this competition or accepting any prize. No responsibility is accepted for any occurrences resulting from an entrant's connection to the internet via the Promoter's website. The promoter does not accept responsibility for any damage (whether material or non-material) caused to participants, to their computer equipment or to data which is stored on them, or to their personal, professional or commercial activities. Nothing in these Terms and Conditions shall exclude or limit the Promoter's liability for death or personal injury caused by its negligence or for fraud.
24. You agree that the promoter may feature the name and county of the winners in future promotions and publicity materials.
25. The promotion is run by responsibletravel.com Ltd, Pavilion House, 6 Old Steine, Brighton, East Sussex, BN1 1EJ.
26. The promoter reserves the right to amend these Terms and Conditions or to modify or cancel the competition without notice in the event of a catastrophe, war, civil or military disturbance, act of God or any actual or anticipated breach of any applicable law or regulation or any other event outside its reasonable control.
27. These Terms and Conditions will be exclusively governed by and construed in accordance with the laws of England unless you as an entrant are a Scottish or Republic of Ireland resident in which case you may choose the law of your residence. You irrevocably submit to the exclusive jurisdiction of the courts of England and Wales again unless you are a Scottish resident or a resident of Northern Ireland or the Republic of Ireland.