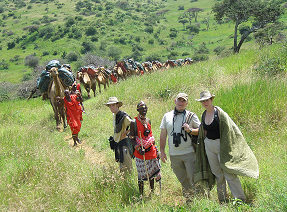 This week it was announced that MyTravel and Thomas Cook - 2 of the country's 4 biggest tour operators - will be merging. As the 'Big 4' of tour operators are now down to 3, are we witnessing a further decline of mass tourism and the rise of specialist tour operators?
Thomas Cook have agreed to merge with MyTravel to cut costs - a predicted £75 million a year saving - and combat competition from low-cost airlines and Web-based travel agents.
This latest merge highlights a major change in the tourism industry which has in the last 10 years seen a decline in mass tourism and an increase in people travelling with smaller operators.
Whereas in 1999 package tourism contributed over 55% to the holiday market, this share had dropped to 47% by 2003.
As a Responsible Travel
survey
shows, 76% of people don't like the way mass tourism damages the local environment and culture, with 52% of people feeling that mass market tour operators don't offer the most interesting holidays, indicating that the average package holiday in the sun is going out of fashion.
Justin Francis, co-founder of Responsible Travel says: "The fact that major travel companies are struggling is a real indication that many people have had enough of mass tourism. Most people want a more authentic holiday that increases the benefits to local people and minimises environmental impact."
There are obvious advantages of travelling with a smaller, more specialist operator; the traveller will usually receive a more personal service from smaller operators who have a real passion for the destination. In addition, these operators are experts on their destination and can give detailed (often first-hand) advice to the traveller. However aside from this, specialist operators also tend to care about people and the environment, and minimise the negative impact from their holidays.
This is one of the reasons why Responsible Travel has over 200 smaller specialist operators on our site, making it the first place to look for a more interesting and authentic holiday that minimises impact on the environment and culture.
Responsible Travel was the first business in the world to use the term 'responsible travel'. The concept is now part of a much wider movement, being widely used in the media and government, which is setting up strategies for responsible tourism. Many companies have now adopted responsible tourism policies, and below we have profiled a few of the specialist operators' categories that are featured on our site:

Wildlife specialists
We work with 22 specialist wildlife operators whose mission is to offer you inspirational wildlife holidays. Some of our operators run tailormade travel itineraries in association with the Worlds' leading conservation organisations and experts. Their trips combine high standards and personal service, and your journey will provide the economic, environmental and ethical incentive to protect our world's biological and cultural diversity.
Click here to see all our wildlife holidays
Tailor made
We have 15 members who specialise in tailormade holidays and they would like you to discover some particularly special parts of this earth seen through the eyes of the people who live there. Their empathy with the land, their respect for the wildlife and its habitat, and their deep-rooted beliefs in their traditional lifestyle will often leave a lasting impression on you.
Click here to see all our tailormade holidays

Safaris

On our site we have 18 specialist safari operators who believe that sustainable, sensitive tourism is an invaluable help to developing the communities and preserving the iconic environments of sub-Saharan Africa. They aim to encourage more people to visit Africa by promoting enjoyable and informative trips – whilst maximising the benefits these generate for the local economies, environments and host communities in Africa.
Click here to see all our safaris
Small group adventure specialists
We have 18 small group adventure specialists on our site. Committed to culturally and environmentally responsible eco-tourism, some of these operator's grass-roots style of fun, imaginative, and often budget holidays take you almost anywhere in the world.
Click here to see all our small group adventures

Family specialists
We have 12 travel specialists for families on our site. They can offer small group adventure tours, or tailormade trips to local as well as remote and less-travelled places. Efforts are made to, and travellers are advised on minimising cultural and environmental impact.
Click here to see all our family holidays
Walking specialists

We have 15 specialist walking operators that can offer walking holidays in spectacular regions, staying in traditional villages, based on principles of sustainable tourism. Often they aim to let their clients experience their surroundings as an insider and understand the local ways of life.
Click here to see all our walking holidays