Train travel is an excellent way to cut down the number of flights you need to take a year. Not only does it help to reduce your carbon footprint, but travelling by train is a great way to see more of the countryside and meet other locals on your route.
You can search and buy your tickets and passes here for train journeys in the UK and Europe.
Europe train travel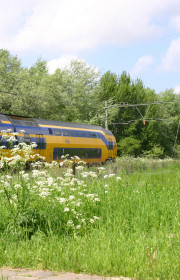 Europe has a fantastic rail network. If you're traveling from the UK to the continent you can hop on the Eurostar and be in France faster than if you had chosen to fly. Once you're there, you can easily pick up trains to the rest of France or its neighbouring countries hopping on and off on the way.

Search and buy your
Europe train tickets here
InterRail passes give you the freedom of extensive travel across European countries for one all-in price that offers incredible value for money. There's no age limit and they're totally flexible, depending on your itinerary and budget.

More information and buy your
InterRail pass here
UK train travel
Apart from reducing your carbon footprint, taking the train is great for avoiding the traffic jams! What's more, you can save up to 39% if you book ahead.

Search and buy your
UK train tickets here
More train travel...
How about our
iconic rail journeys
, like the
Trans Siberian railway journey
, or the
Trans Asian Express
.