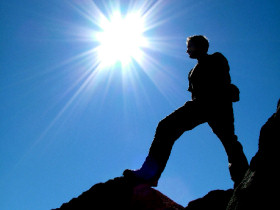 Walking holidays by their very nature are low impact and allow you to experience the area at a pace not afforded by other types of holiday.
Whether you're exploring the hills of
Andalucia
or on a walking safari in
Kenya
a walking holiday allows you to take the time to engage with local people and to fully appreciate the beauty of your surroundings.
The important thing when choosing your
walking holiday
is to ensure that you travel with a responsible tour operator. On responsibletravel.com we offer hundreds of walking holidays all around the world.
We work closely with the tour operators to ensure that they have developed responsible travel policies that ensure that local people receive maximum benefit from tourist revenues and that there is minimal environmental impact.
Ask your tour operator if they have a responsible tourism policy. All responsibletravel.com members have to have one. Make sure it explains how they minimise environmental impacts and support the local economy. If you are traveling with a responsible operator, they will probably draw your attention to ways you can minimize impact on your walk.
But don't take our word for it...
here are some of the things you can do, and the best practices, as told by your fellow travellers:
Make sure you don't damage vegetation or disturb wild animals.
"The effect of hill walking on local flora and fauna was explained so that we were all aware of the consequences of our actions"

Take all your litter with you.
"Throughout the trip our trackers were voluntarily collecting garbage (plastic papers, and bottles) even during the night patrol.


Try to support the local community by using local businesses, guides, and accommodation, and supporting any community or environmental projects.
"From the tracker, to the woman who cooked food for us, to ex-poachers who guided us in Periyar, I had the feeling that they were proud to do what they were doing."
"We ate in local restaurants. Had our hair done on the last day in the local hairdressers. All our food was local and in season. I felt welcome in the village"
"We had some very 'local' experiences, e.g. Turkish coffee in a remote house/cafe, which seemed to benefit local traders without becoming too intrusive."


Buy local crafts, however avoid anything made from endangered species, hard woods or ancient artefacts


Find out what sort of things you can bring with you to your destination from your operator beforehand. Pens and books are usually favourites.


Read up on local cultures and learn a few words of the local language. Respect local traditions and holy places - if in doubt ask advice.
"Polite words and being able to ask directions (however haltingly) go a long way if you manage to get off track in one of the tiny villages like we did."
"Quatrotondeta is a wonderful and quiet little mountain village and perfect for observing Spanish life".
"The guides and all other assistance was from the local Berber population. These people did benefit from the trade but also added a huge amount to the experience sharing their knowledge of the culture and country and their irrepressible spirit."


Use water sparingly - it's very precious in many countries and tourists tend to use far more than local people


If you experience or see anything which you feel could be improved, let the operator or guide know. They should value your comments as truly responsible operators are always looking for ways in which to improve their operations and make them more responsible.
"The lodge has an all-encompassing environmental ethos and everyone on the course was like-minded."


When trekking, you may want to ensure that your porter's working conditions are right (read how to in this mountain porters and guides article ).
"The trek was well organised and the porters and guides seemed happy and well looked after... At the end of the trip any spare clothes/equipment the trekkers had was fairly distributed amongst the team"

What about cycling?
Cycling is a great low carbon option should you prefer to use two wheels to get about rather than just your feet. It has the added benefit of allowing you to cover more ground during your holiday, whilst still being able to stop off wherever takes your fancy. Whether you are a cycling fanatic or novice, there are cycling holidays to suit everyone, read our classifications . Most of the tips above apply as much to cycling as they do to walking.



Interested in going on a responsible walking or cycling adventure? Then why not start searching responsibletravel.com or get in touch with rosy@responsibletravel.com or phone 01273 823 700 so we can help you find the right trip