With the increased concern about flying, UK holidays are enjoying somewhat of a comeback.
Having come a long way since the Victorian era when people first started holidaying, there is now a lot more to a holiday in the British Isles than Butlins and building sand castles at Skegness. Not that there's anything wrong with that, but with a greater variety of accommodations and activities on offer, everyone, even the more sophisticated and discerning traveller, can have a great holiday in the UK. This includes some good options for families as well.
We now have a dedicated accommodation manager at responsibletravel.com who has dramatically increased the number of accommodations we have on the site, you can browse our great selection of responsible
UK holidays here
.
By booking a holiday in the UK you would not only be reducing your carbon emissions compared to long(er) haul flying, making it the environmentally friendlier option (especially for a short break), but you could also be exploring some of the world's finest and unique countryside.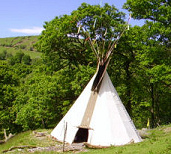 From the Scottish Highlands down to our very own Brighton coast, the UK has some spectacular scenery, lovely weather (most of the time!) and amazing wildlife to offer, along with some of those typically British delights we so rarely get a chance to fully enjoy...
For example, Britain is renowned for its pubs, music scene, festivals and wealth of historical interest. We have holidays in the diverse and spiritual town of Glastonbury, the scenic city of
Edinburgh
and the legendary
Loch Ness
. Britain is not just for culture vultures though - whether it is a romantic getaway you're after, an adrenaline filled adventure weekend or self catering accommodation for families, there is something for everyone. For something really unusual, take a look at our
tipi
accommodation, our
houseboat
accommodation and an apartment in a
former Abbey
.
Of course there is plenty to appeal to foodies too – sample the unique flavours of Scottish smoked salmon, Cheddar cheese and asparagus just to name but a few examples which are world renowned, readily available and plentiful. Have a look at some of the cooking holidays in the UK we have on offer. Wildlife enthusiasts would also find plenty to interest them, whether it is birding,
whale watching
or just enjoying the natural environment in one of the UK's national parks such as the
New Forest
,
Peak District
and the
Cairngorms
.
However should you wish to go further a field you can – there are trains to almost anywhere in the UK and Europe. This form of travel, often dubbed as 'real travel', allows you not only to enjoy the destination itself, but also the journey there as you sit back with a good book and watch the scenery float by from your window. Find lots of ideas for train travel in our
lower carbon travel
section and on this Responsible Tourism Awards winner's web site;
http://www.seat61.com/
.
One more advantage of a hassle-free holiday in the UK is that you can avoid check-in queues, airport stress and related toddler tantrums (if travelling with your family). You could be exploring wonderful beaches, lochs, meadows, hills and forests within a few hours of leaving home – and you won't even need to take your passport!

See more
UK holidays
By Iris Coates, responsibletravel.com