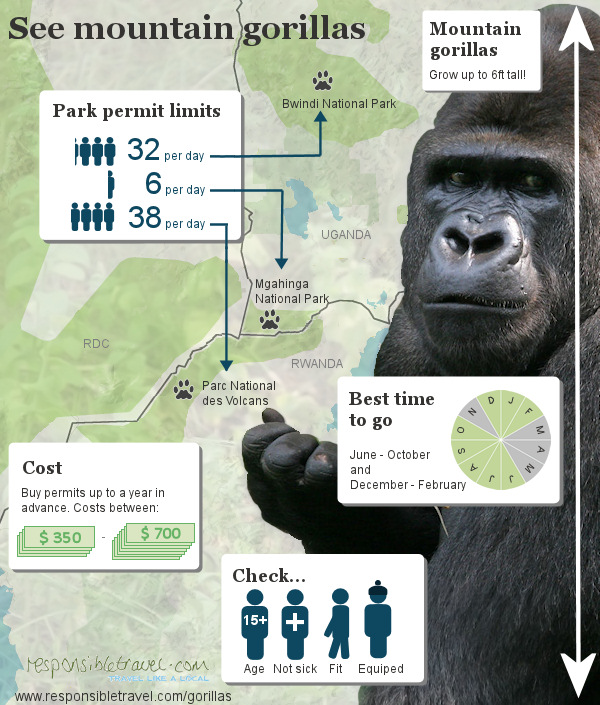 Mountain gorilla Key facts:
The mountain gorilla can be found in Uganda and Rwanda and DRC and are critically endangered due to logging, political unrest and poaching. The largest of the species, these giants can grow to 6 ft tall and prefer dense open canopy forests.
When to go
The best months for gorilla trekking are June – October and December - February
Get your permit early to avoid disappointment!
All gorilla trekking requires a permit and each park has a maximum it allows per day:
Bwindi National Park, Uganda: allows 32 a day
Mgahinga National Park, Uganda: allows 6 a day
Parc National Des Volcans, Rwanda: allows 38 a day
The permits can be bought up to a year in advance and can be arranged by your tour operator. The costs vary but you can expect to pay between $350 and $700 US Dollars.
Checklist
There are a few basic regulations you need to consider before booking a gorilla holiday;
You have to be over 15 years of age
You cannot be sick or have any infectious disease
Trekkers must be fit as reaching the gorillas can take anything between 2 and 5 hours trekking
Trekkers must be well equipped, which includes warm clothing for the wet cool climate high in the mountains
Our top selling gorilla safaris
5 day gorilla holiday in Rwanda
11 day gorilla holiday and safari, Uganda
10 day gorilla trek & safari, Uganda