Jane Lucken review 3 Jun 2008
1. What was the most memorable or exciting part of your holiday?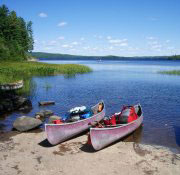 Gentle paddling during the day enjoying incredibly vast skies, calm blue water and forests of white pines. And lying back on sun-warmed rocks in the evening watching the Milky Way emerge and listening to the loons calling across the lakes. Learning how to track animals, brew pine needle tea, make rope out of bark, start a fire in the rain and read weather patterns.
2. What tips would you give other travellers booking this holiday?
The camp sites are simply a natural clearing in the forest near the water, with some rocks for a campfire. Every site has a 'toilet,' i.e, box over a hole a short walk from the tents. Most days it was warm enough to swim and we washed on shore, abiding by park rules, with a bucket and bio-degradable soap. The weather changes fast so bring thermals and a wooly hat for nightime or to warm up after rain.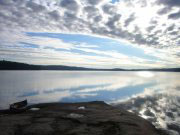 I was worried that 7 days would be too long but in fact 10 would have been better.
3. Did you feel that your holiday benefited local people, and minimized impacts on the environment?
The trip encouraged total respect for the environment and showed me how to live in the wild with minimal impact.
4. Finally, how would you rate your holiday overall?
Wonderful. Came back feeling healthy in mind and body. It's not all silent mediation. Much of the time is spent setting up camp, cooking supper before it gets dark and lugging gear over the portages. But this chance to focus single-mindedly on physical tasks created the distance from my everyday life that I was looking for.