Justin Francis review 31 Oct 2009
1. What was the most memorable or exciting part of your holiday?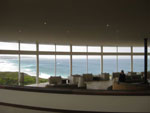 Walking into the lodge is like walking into the something from a James Bond set - and I mean that in the best possible way! The views from the main room pretty much are a show stopper - vast circular glass windows show off wilderness on every side. In front the majestic Southern Ocean, behind just wild bush as far as the eye can see...
The rooms are very private, and look our directly onto the Ocean - we watched a big lightning storm come in as if we were all alone in the world. The meals, the spa, and the personal service are of a really exceptional standard. In fact I would go so far as to say that this is the most luxurious lodge I've ever seen (even in magazines...). The lodge really lived up to its reputation, and made us feel very special for the day and a night we stayed...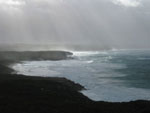 3. Did you feel that your holiday benefited local people, and minimized impacts on the environment?
Getting permission to build here required exceptionally high environmental standards - in both the build, and in how the lodge is now run. You will notice the solar, the water butts, but possibly not how every room can be individually 'shut down' to save energy when not occupied. It's cleverly designed, and as unobtrusive as any building could be in this wilderness. Part of the deal was that no other buildings will follow nearby, thus securing this special place