Isle of Wight self catering nr Shorwell, England
Responsible tourism
Responsible tourism: Isle of Wight self catering nr Shorwell, England
Environment
With help and advice from Hampshire & IOW Wildlife Trust, Island2000 and the Environment Agency we have learnt how to manage and preserve the natural wetland, creating a lake and scrapes with changing levels, to help increase the diversity of birds, dragonflies, water voles, and amphibians. The lake was created in March 2012 and already we have seen significant changes with an increase in dragonflies and damsel flies, visits from a Cormorant, an unidentified wader, Mallards and Canadian geese.
Being surrounded by heavily cropped farmland, we provide an oasis for wildlife and a valuable area for migrating birds. We have planted trees to provide shelter for native and migrating birds and put up nest boxes for kestrels, swifts, swallows and little owls. In the last couple of years we have seen an increase in Kestrels and Buzzards and now have regular visits from a Sparrow Hawk. Areas of the river banks have been left to go wild, and the wild flower meadow is allowed to grow throughout the summer, providing cover for smaller birds, other wildlife and increasing the habitat for insects. Areas of the wetland are left to grow and then topped off every couple of years to allow the native flora and fauna to flourish. By doing this we have seen a marked increase in the number of Marsh Orchids.
With the education and information that the local wildlife trusts have supplied us, we can help to inform our guests about both the flora and fauna specific to our area, from Red Squirrels to the Glanville Fritillary Butterfly. Our guests can sit quietly, watch and enjoy the wildlife in any of the areas, from the wild flower meadow to the lake and wetland.
Wherever possible we work to reduce, reuse and recycle and encourage our guests to do the same. Our food waste (and that of our guests) is made into compost using a rodent proof Biolan composter. Garden waste is composted traditionally. Our County Council encourages residents to sort their waste so with recyclable items collected separately to general rubbish. Bins are supplied to encourage this. When we take our regular walks along the beach we make an effort to take along a bin bag and collect the waste plastic that gathers on the tide line. By doing this we hope that the beaches continue to be wonderful places for us and our visitors to go.
We have water butts where ever we can and the sanitary fittings have been selected to economise on water use. Loos have half flush facilities, washing machine a half load/water saving option, taps and showers have water saving aerators.
We are creating a formal garden ensuring plants are chosen appropriate to the conditions. In some areas we have used plants able to survive in waterlogged soil and in others we have had to use drought tolerant plants! Observing the seasons and land carefully has enabled us to refine this and reduce our reliance on using a mains water hose.
We have installed a Ground Source Heat Pump to supply hot water for the cottage and heating for both buildings, in order to reducing our reliance on oil. We have also installed solar PV panels to off-set any increased electricity usage by the GSHP and supplement the additional usage by visitors.
There is no public transport in our area, so we are somewhat reliant on the car. However, we both use our bicycles for the shorter trips to the village shops. Many of our guests have done the same. Whilst the cottage is ideally placed to take advantage of the walking and cycling routes, visitors can only reach us using their own vehicle.
Where possible I source items from local suppliers and use environmentally friendly products in the home. We shop in our local village very regularly possible and buy locally grown produce which is usually fresher and tastier!
Community
Living on an island means there is a clear focus to source as much as you can locally. We encourage our visitors to use local village shops and buy locally grown produce. We do this ourselves and therefore know which farm shops sell great quality meat, where to buy locally caught fish and where to get locally grown vegetables. We have also found that those restaurants and pubs that have an emphasis on local produce, serve the best food, so it is an easy job to recommend them to visitors. We have cards and leaflets in the cottage and are happy to give our guests recommendations. There are many local craftsmen and artists in our area and we support the annual Open Studios event by displaying leaflets and helping our guests to choose which to see. We supply written information on places that are open all year round that display hand crafted goods and can advise visitors about which are unique to the Island.
Richard is the Secretary of the IoW Hang gliding and Paragliding Club, encouraging locals and visitors to use the flying sites responsibly whilst having fun too! Susan is a member of the West Wight Painting Circle and regularly volunteers as a steward at their exhibitions.
Landscape
From historic sites to ancient woodlands our local landscape can help create long lasting memories for our visitors. The self catering barn has chalk downland and forested areas to the north and west, namely Limerstone Down, Brighstone Down & Brighstone Forest, cared for by the National Trust and Forestry Commission. To the north east and east are Northcourt Down, Sheards Escarpment & Chillerton Down. To the south east you can see St Catherine's Down, another area of chalk downland managed by the National Trust. The south is dominated by coastal farmland stretching from St Catherine's Down to the western point of the island and the Tennyson Heritage Coast (a Site of Special Scientific Interest -SSSI). This area also provides a rich variety of habitats due to the formation of cliff faces and chines (steep sided river cuttings leading to the sea). The Little Barn is surrounded by some of the best land and seascapes of lowland England.
We provide guests with a wide range of literature to learn about the culture and history of the Island and have enough basic knowledge to describe some of the geological nature of the Island which is rich in dinosaur remains. Maps are provided in the cottage to show visitors where they can find historical castles & manor houses and the military buildings which have played a key part in some of the big aeronautical and shipping events of UK history.
It was important to ensure that the cottage, when it was renovated, did not change the character of the area. We maintained the original timber clad appearance and planted trees to soften its effect on the surroundings. Where ever possible we used local suppliers and locally sourced materials, particularly when working with brickwork or sandstone. Local builders and craftsmen were used during the conversion, all of whom understood the importance of preserving the area. When The Barn was re-thatched we used a local thatcher who advised us on ridge styles fitting for the agricultural history of the building.
Popular similar holidays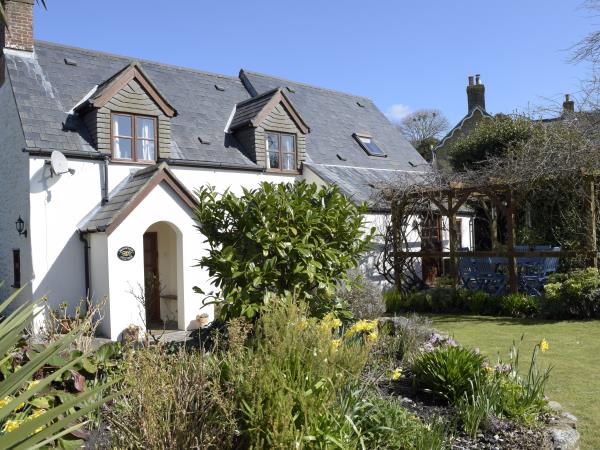 Delightful cottage & garden in picturesque village location
From £385 - £945 per cottage per week (sleeps 2-6)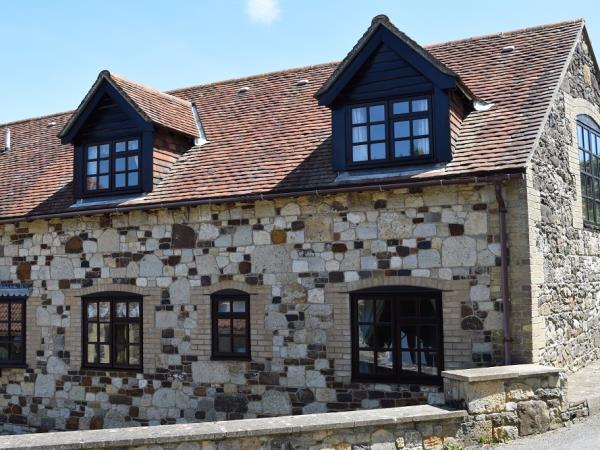 Quiet cottage on edge of Brighstone village, Isle of Wight
From £375 - £785 per week (sleeps 2-4)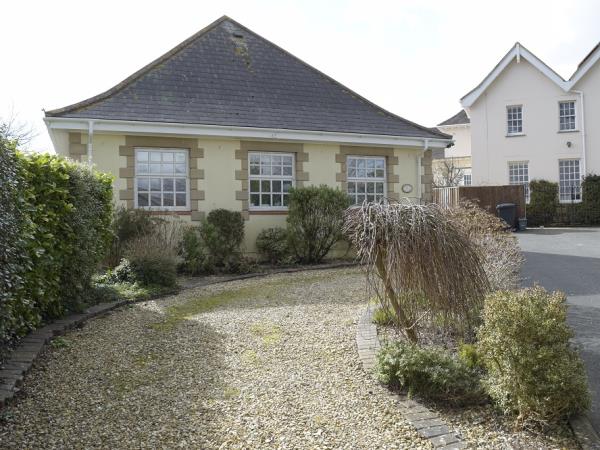 Delightful chalet bungalow in Port La Salle, Yarmouth IoW
From £499 - £1129 per cottage per week (sleeps 2-6)