Kelimutu Crater Lakes eco lodge, Indonesia
"Tucked on the edge of a national park, this ecolodge boasts cottages & private rooms with mountain views & the constant soothing sounds of the river. It's the perfect base for treks, nature walks & cultural encounters."
Highlights
Bordering Kelimutu Crater Lakes National Park | Tropical gardens | Activities include mountain treks, bird watching, meeting the Lio people, art tours with options to draw & paint | Tours to Ende & Sukarno's former home | All local staff | Riverside location in the mountains
Description of Kelimutu Crater Lakes eco lodge, Indonesia
The Kelimutu Crater Lakes Eco Lodge is the fifth eco lodge of our lodges built and managed based on Green Globe principles. On the edge of The Kelimutu Crater Lakes National Park on a beautiful setting beside a burbling river in a valley with our own rice fields, it is a base of visit the crater lakes of changing colour (the spiritual home of the Lio people). The lodge has beautiful gardens which will be expanded intime as the company has purchased land accross and up the river. Other activities include birding, hiking in mountainous scenery, visiting villages where local ikat weavers live, and touring around seeing how the Lio people live both on the coast and in the mountains.

We try to give our guests a total experience of culture, the beauty of nature and good healthy food and sleep quality. We hope that you will meet our staff as friends and interact with local people on your tours.

Our speciality tailor made tour is an Art Tour organised with our own international guide where artisits of any type and proficiency can enjoy drawing or painting in this panters paradise. The lakes change all the time and paintings could be a unique addition to the walls of homes. We can adapt to any size of group.

We also have tours further afield to Ende and its environs. Ende is the capital of the Regency and is famous for being a location where Sukarno Indonesia's first President (1945 - 1966) had a home which can be visited.

The Lodge employs 100% local people who live in the Moni area, is mainly powered by solar cells, has all its sewage recycled on to the gardens, recylces much of the rubbish waste, composts all our biodegradables, and has a Conservation Fund from all bookings made through our travel company Ecosafari Indonesia, grows organic food which includes most of our rice, some fruit and vegetables; we hope also to produce our own coffee shortly. Most of our tours use local guides and all use local transport companies or our own driver.

Apart from our Conservation Fund, which currently supports development of eco homestays, we are committed to ecological sustainability in the area around the lodge recording birds and butterflies (indicator species) and some flora species. Also over 80% of our net profit is ploughed back into either new eco lodges or development in current lodges eg the further use of solar energy.

You stay with us is very important

By staying with us, your money will create local jobs,assist in our main aim of showing local people that the environment can create sustainable jobs and also have a great time.
Rooms, food and facilities
There are currently a total of 11 double rooms of three types all with attached bathrooms and hot water. Five cottages with with their own verandah; these are not suitable for three persons. All cottages face the gardens Mount Kelimutu in the background - a fantastic view on a good weather day. Five rooms in the main building above the restaurant which can take an extra bed if needed. One room under the office near the front of the lodge beside the river. The sound of the river is fabulous at night and lulls you yo sleep. This is the most private room and suitable for honeymooners. Other facilities of the lodge include a shop (mainly selling beautiful, local, ikat weaving), an office for all your administrtion needs, a restaurant open for breakfast, lunch and dinner; also coffee and tea any time, a simple bar (soft drinks, beer and some local wine), a guide, a vehicle service to the airports of Ende or Maumere. Our travel company is always available to guests for forward travel needs anywhere in Indonesia. The lodge has good mobile connection but does not have a telephone line; thus guests cannot use land phones, send faxes or emails.

Responsible tourism
Responsible tourism: Kelimutu Crater Lakes eco lodge, Indonesia
Environment
Situated beside a river in a lovely valley nestled in the forest, this exquisite lodge with beautiful views of the mountains is mainly solar powered for electricity and some hot water, recycles all sewage through reed beds, attempts to separate and recycle some of its waste, grows some of its own food, uses local produce, supports local women's weaving groups. The lodge is also a great base for hikers, birders, weavers, artists and anyone who loves mountain scenery.
Energy. The Lodge is 100% solar energy powered on sunny days. A solar energy system supplied by Solar Power Indonesia costing over $ 70,000 is essential in the non air conditioning environment to augment very poor local supplies.
Community
This is a local community lodge; built by the community for the benefit of the community and funded entirely by profits from our other eco lodges in other parts of Indonesia where key staff were trained. All staff are local residents of the village of Moni (except the Operations Manager who comes from nearby Maumere).
The lodge supports local tourist businesses (bird guides, vehicle charter) and works with the Kelimutu Crater Lakes National Park to bring more income for betterment of this unique and wonderful park with its famous crater lakes which change colour and are woven into the spiritual history of the community.
Local crafts. We support women weavers in a local village by purchasing their product for our shop and bringing tours to see them. We purchase almost 100% locally or food and drinks
We have just purchased the rice padis accrossthe river of whioch 50% production goes to the local people. This land is also protected.
Popular similar holidays
Small eco hotel for those wishing to visit Komodo National Park
From US $90 per double room per night
Fantastic primate ecolodge in the Indonesian rainforest
From US $60 - US $160 per double room per night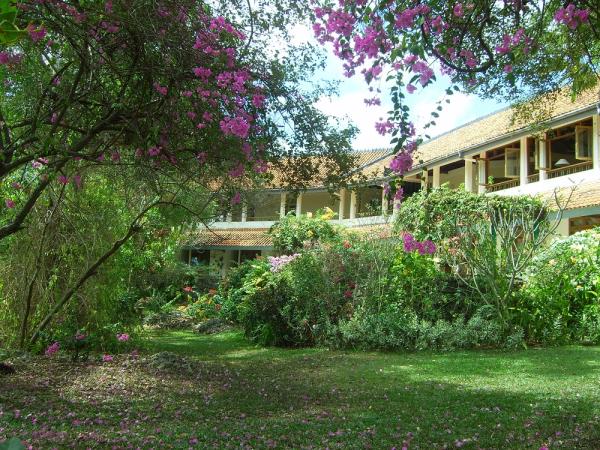 Ecolodge situated in a conservation area
From US $60 per double room per night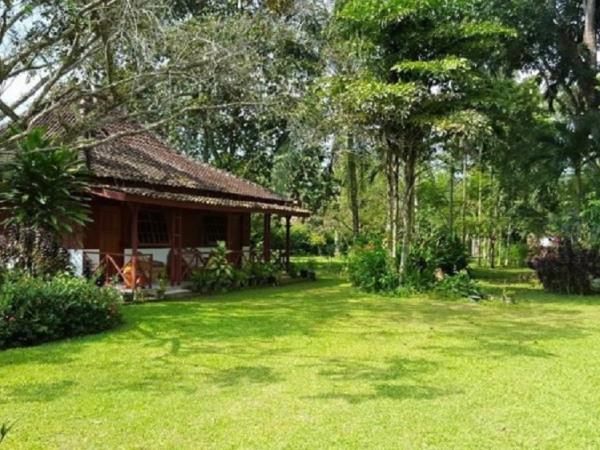 Ideal for wildlife enthusiasts
From US $65 per double room per night