Rural Hampshire holiday cottages, England
Description of Rural Hampshire holiday cottages, England
The five homes at Inadown Farm have been built on the footprint of the old grain store in the style of an old Hampshire clapper barn. Set in the tranquil and beautiful countryside at Newton Valence close to Selborne, the homes have all been completed to a very high standard and are furnished and equipped with guests comfort and convenience in mind. There are two units that sleep 2 people and three units for 6 people.

Adjacent to the owner's riding stables and school our holiday guests may also enjoy the extensive riding that is available in the vicinity and over the fields and lanes around Selborne. Selborne was the base for Gilbert White's book " Natural History of Selborne" and a visit to the Gilbert White house and the Oates Museum is a must.

The South Downs National Park is on the doorstep and there are many opportunities for walking and cycling in the immediate area with a good network of bridleways and footpaths. The flora and fauna is varied and it is not unusual to catch glimpses of Small Blue butterflies, nuthatches and bunting as well as larger birds of prey and deer.

The larger towns of Petersfield and Alton are within a few minutes drive and Winchester and Guilford within a 40 minute drive. Nearby are the Watercress line at Alresford and Jane Austen's house at Chawton. The Queen Elizabeth forest and Butser hill are popular for walking and cycling whilst Goodwood for horse racing and Lasham for gliding make a great day out. The Historic Dockyard and Gunwharf Quays in Portsmouth are well worth a visit. Beaches at West Wittering and Hayling Island provide for wind and kite surfing or just a bucket and spade day out for the children.
Rooms, food and facilities
There are 5 units at Inadown all are named after some of our fields:

Goldridge - sleeps 2 - one bedroom - ensuite shower room

Maplescombe - sleeps 6 - three bedrooms - bathroom on ground floor, shower room on first floor

Middledown - sleeps 6 - three bedrooms - wet room on gorund floor, bathroom on first floor. Middledown has downstairs twin bedroom, next door to a family shower room and is suitable for guests with limited mobility.

Pleasure Row - sleeps 6 - three bedrooms (two ensuite, one bath one shower) and bathroom on ground floor

Whitedown - sleeps 2 - one bedroom - ensuite bathroom

Each larger home has a dishwasher, washer/dryer, fridge/freezer, wi-fi internet access, TV, DVD, Radio and CD player. The two smaller homes have the same equipment as the larger ones with the exception of the dishwasher and freezer. All have large sliding doors to the patio area.

Private parking is available and there are designated outdoor seating areas in the large shared and patio garden. Each home has garden furniture.

A No-Smoking policy operates within the site.

We accept well behaved dogs at £20 per dog per week.

Horses are welcome to stay at the adjacent stables on a short break livery deal.

Baby equipment is available to hire as follows:

Baby Kit, (Travel Cot, Highchair, Stairgate) @ £20 per kit per week

or individually: Travel Cot @ £10 per week, Highchair @ £10 per week, Stairgate @ £10 per week.
How to find us
Nearest Train Stations either Petersfield or Alton.

From London:
Using the A3M: Turn off the A3M onto the A339 to Selborne at the first roundabout since leaving London. After the village 'pinch points' turn 1st left towards East Tisted and Newton Valence. In ¾ mile turn right to Newton Valence, up to top of hill and continue straight through the village. Go down the hill, over cross roads. In 3/4 mile turn left into the stables yard (opposite Inadown Farm Livery Stables sign on right).

From London:
Using the M3: Turn off the M3 at Junction 4 on to the A331 to Farnham. Join the A31 south, stay on the A31 around Farnham and continue until you reach the Chawton roundabout. Take the A32 south, through Lower Farringdon, ¾ mile after Lower Farringdon, turn left towards Newton Valence. In ½ mile turn right into Inadown Farm Stables and Holiday Homes, the sign is on the left opposite the turning.

From Newbury:
Take the A34 South to Winchester: At Winchester take the A31 sign-posted Alton. Immediately after Four Marks, turn right to Newton Valence. Stay on this road till you see a sign post to Newton Valence, cross the A32. In ½ mile turn right into Inadown Farm Stables and Holiday Homes, the sign is on the left opposite the turning.
From Southampton:

Take the M3 north to Winchester. Take the A31 to Alton off the M3. Immediately after Four Marks, turn right to Newton Valence. Stay on this road till you see a sign post to Newton Valence, cross the A32. In ½ mile turn right into Inadown Farm Stables and Holiday Homes, the sign is on the left opposite the turning.
Responsible tourism
Responsible tourism: Rural Hampshire holiday cottages, England
Environment
WILDLIFE: We are committed to sustaining the wildlife and environment and are keenly aware of the Gilbert White heritage surrounding Selborne and Selborne Common from his book the "Natural History of Selborne", we shall be encouraging guests to visit the Gilbert White House and the Oates Museum. We provide walk directions and each property has an explorer map centred on the area including footpaths and bridle ways.
Within 2 miles is Noar Hill a Site of Special Scientific Interest which we encourage visitors to explore. Noar Hill is a mosaic of chalk grassland and scrub with areas of beech woodland around its perimeter. The many ridges, banks and hollows not only provide a variety of habitat niches but also create an unusual and historic landscape to walk through and explore; you could easily imagine that you are on a Doctor Who set.
Floristically Noar Hill is very rich, with over a dozen species of orchid, including a nationally important colony of musk orchids, and strong populations of cowslips as well as scarcer species such as early gentian and hairy rock-cress. There are also numerous juniper trees throughout the site. Butterflies include declining species such as the duke of burgundy and brown hairstreak, and there are other invertebrates of interest: glow-worms, rufous grasshopper and the bizarre fairy shrimp, which lives in ephemeral puddles on the rutted track and survives as eggs when the puddle dries out. One of the best ways to be part of the countryside is to go out for a hack on one of our horses, or to bring your own horse. We promise to show you some of the loveliest parts of the chalk escarpments and hangers in this part of the South Downs.
BUILDINGS: The re-development of the former grain store at Inadown has been undertaken with the utmost care to ensure that it is in keeping with the surroundings. Local craftsmen have been employed in the process, indeed our builder grew up in the village and understood how important this aspect was. The external finish of the new holiday homes has emulated the style of an old Hampshire Clapper Barn. Inside the homes are highly insulated and energy efficient with full length double glazed doors to the front enabling our visitors to enjoy the hustle and bustle of the stable yard during the day, keeping an eye on the horses ove the way. In the evening the holiday homes create a secluded comfortable terrace on which to enjoy local food and wine. On the farm we endeavour to preserve older buildings whilst bringing them up to date by the use of renewable energy supplies such as solar power.
Community
FRIENDS AND NEIGHBOURS: We have worked hard in developing our "Welcome Pack" to include local shops and businesses. We are great supporters of Hampshire Farmers Markets which can be found throughout Hampshire every weekend, with a great range of producers providing local, fresh food. We're proud that everything the producers display actually comes from Hampshire or within ten miles of its fruitful borders, we are sure visitors will be tempted to bring some back to Inadown to prepare and eat. We also have several great farm shops nearby and our local community shops in Selborne and East Tisted have a wide range of goods.
We have links with our local tourist information office and have a wide range of leaflets in each property with details of local attractions for all interests. . We also have details on locally owned fishing lakes, golf courses, independent shops, (especially those in Selborne,) local pubs and bike hire. We have links to Hampshire County Council places to see and what to visit on the website too.
LOCAL CRAFTS AND CULTURE: We are proud that this area has so much to offer and we encourage our guests to explore. In Selborne we have a local gallery with ever changing exhibitions and we have works by a local artist in each of our holiday homes. In nearby Froxfield there is the wonderful Barnsley furniture workshop employing local apprentices and we encourage guests to visit on one of their regular open days. Nearby there are some wonderful National Trust Houses to visit. Jane Austen's house and Gilbert White's house have a range of events which we publish information about and we have theatre and opera events nearby. We try to sustain local jobs by employing local people both for the stables and the holiday homes and we know they will be delighted to help guests with any recommendations. We encourage guests to write in the visitors' books and give their own recommendations of great places they have visited and events they have enjoyed.
Landscape
EXPERIENCES IN THE LANDSCAPE: The East Hampshire Hangers are remnants of ancient woodland that cling to steep chalk slopes. This landscape has inspired many writers and artisits. A 21 mile long-distance footpath, the Hangers Way, runs through the landscape. Newton Valence lies near the heart of this landscape and we have a wide range of resource material, books and maps for clients to use. We will encourage them to use our fields and footpaths carefully and with respect for grazing animals, wildlife and the environment. Directly from the door guests can walk, cycle or ride into this wonderful landscape. We provide secure cycle storage with emergency cycle kits; cycle hire can be arranged locally and we provide livery for your horse or you may arrange a trek with us. We encourage our stable staff to learn about the landscape so you may enjoy it to the full. You can see some of the lovely paths they use on our riding website.
CONSERVING AND ENHANCING OUR LANDSCAPE: As part of the development of the holiday homes at Inadown we have conserved the boundary walls made from local Selborne brick and flint. The outside terrace has been fenced by a local joiner and planted with native hornbeam trees. In the years to come these cordoned trees will provide shade and shelter for the native bulbs and plants beneath. We value the diverse ecology of the verges in this part of Hampshire and we encourage Hampshire County Council to protect them. As you travel round the countryside you will see local signs indicating that the verges should be left to flourish. We protect traditional hedgerows and conserve wildlife and flora on the farm. Our use of the local bridleways and footpaths ensures that they reamain easily passable for visitors making their way across this lovely landscape.
Popular similar holidays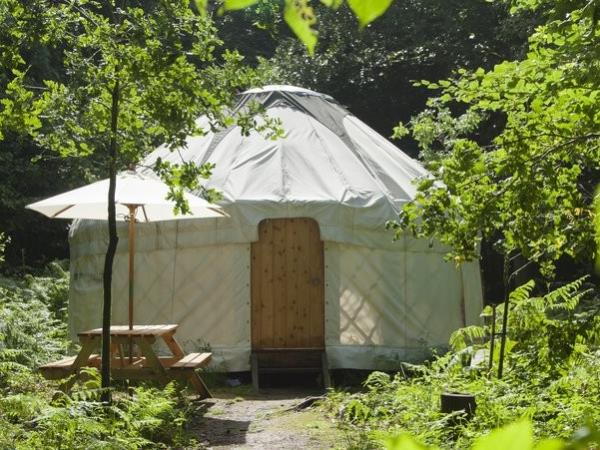 Elegant yurts in 150 acres of ancient woods river & wildlife
From £270 - £495 per yurt (3 nights)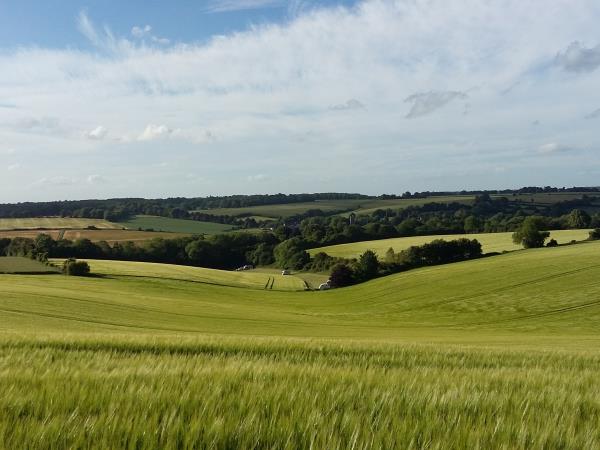 Tranquil caravan site in idyllic South Downs setting
From £10 per pitch per night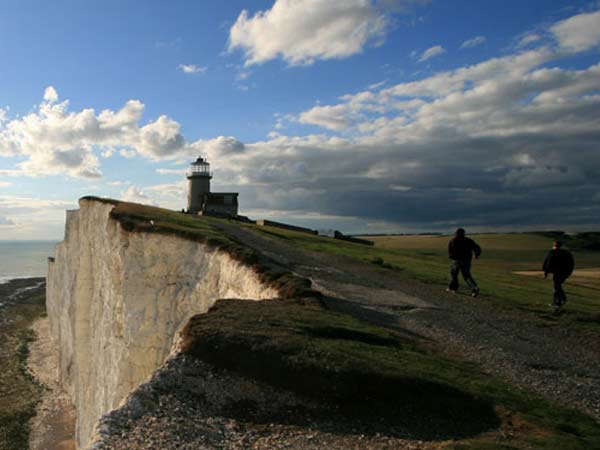 Beachy Head lighthouse B&B with panoramic South Downs view
From £138 - £210 per room per night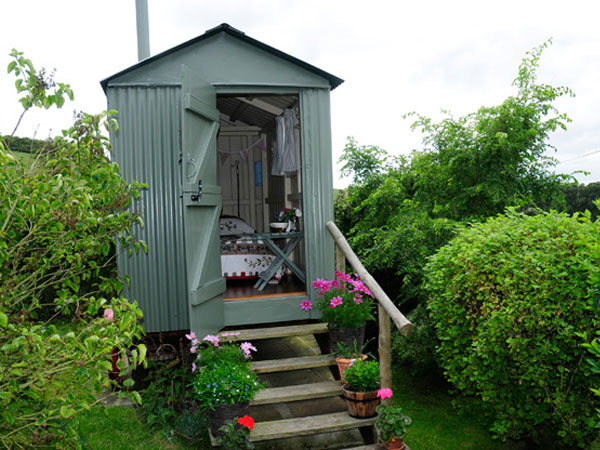 Experience a night in a shepherds hut in the South Downs
From £50 - £80 per accommodation per night