Droxford self catering cottages, South Downs, England
Description of Droxford self catering cottages, South Downs, England
Our cottages are between the three villages of Droxford, Hambledon and Meonstoke which all offer their own charm.

For those cricket fans, Hambledon is not to be missed; it is more commonly known as the 'cradle of cricket.' Due to the fact that it was at the heart of the sport in the late 18th century, when Hambledon Cricket Club established the rules we play by today. The Bat and Ball Inn, which formally acted as the pavilion and clubhouse, is stocked with cricket memorabilia. In the West Meon churchyard you can find the grave of Thomas Lord, the founder of Lord's Cricket Ground.

Droxford is famed for being the meeting point of Churchill, Eisenhower and de Gaulle where they discussed the forthcoming D-Day invasion in a train carriage at Droxford Station in June 1944.

This area of Hampshire is a haven for walkers and cyclists with numerous trails and paths offering a wide selection of outings including, the Cheriton Walk, East Meon and Butser Hill and the Hambledon Cricket Pub walk – a local favourite that encompasses beautiful open countryside up to the Broadhalfpenny Down which gives beautiful views which ends up at a Hambledon Pub.
Rooms, food and facilities
We have 5 different cottages to choose from.

Teal Cottage - 3 bedrooms, sleeping 6. Spacious providing good disabled access, southerly and easterly views from 2 bedrooms.

Sundew Cottage - 3 bedrooms, sleeping 6. Cosy cottage boasting a wonderful layout and panoramic views.

Hedgehunter Cottage - 4 bedrooms, sleeping 8. Spacious cottage with views of the Meon Valley from 2 bedrooms.

Glenside Cottage - 3 bedrooms, sleeping 6. Peaceful cottage with panoramic views.

Early Mist - 4 bedrooms, sleeping 8. Offering a quiet retreat with southerly and westerly views from 3 bedrooms.

All of our cottages have an open-plan dining, kitchen and sitting area with French windows that lead out on to a private patio with southerly views overlooking the Meon Valley, Solent and Isle of Wight.


The kitchen is well equipped and includes an oven, hob, microwave, dishwasher, washing/drying machine and a fridge/freezer. If you would prefer locally prepared and handmade meals are available to book for breakfasts and dinners allowing you to sit back and relax. For special celebrations or a family dinner a local chef can prepare and serve a gourmet meal for you in your own cottage.

The bedrooms have 3-foot twin beds or a 6-foot double complete with bedding. One bedroom in every cottage has an en suite communal bathroom with bath that has the possibility of being closed off. All other bedrooms have en suite shower rooms.

We welcome pets in two of our cottages at a supplement of £20; we also require that your pet has a flea and worm treatment 48 hours prior to your stay here.

We have a range of equipment for children such as a cot, highchair, baby bath, books, toys and games.

When you arrive you can expect a welcome hamper filled with tea, coffee, milk, bread and butter.

Upgraded packages are available for all guests.
Wheelchair access:
Teal Cottage - 3 bedrooms, sleeping 6. Spacious providing good disabled access, southerly and easterly views from 2 bedrooms.
How to find us
By Public Transport

Within a 10 mile radius there are 10 railway stations, we are happy to collect you from:

Botley, Hedge End, Portchester ,Fareham, Swanwick, Cosham, Bursledon, Petersfield, Rowland Castle, Eastleigh.


From the A32 at Droxford
Enter the B2150 to Hambledon and Waterlooville (opposite Merington's Garage).
Go under the railway bridge, past the "Hurdles" pub.
1¼ miles from Droxford, you pass the "Reduce Speed" sign for the crossroads and ¼ mile later at the crossroads, there is a bungalow on the left hand side.
Turn left up Sheardley Lane and NOT at Bushey Down Farm on the left along the B2150.
we are ½ mile up the hill on the left hand side. Turn left after Skeldale House into the main car park area.
Responsible tourism
Responsible tourism: Droxford self catering cottages, South Downs, England
Environment
We've been extremely conscious of minimizing the impact we have on the environment when renovating the chicken houses and site into a beautiful holiday location. The chicken houses have been re-roofed with steel roofing and clad with timber, all constructed by a local labour force and made in the UK. We are intending to use solar/photo-voltaic panels to create some of our own energy.
When creating vehicle access to the cottages as well as levelling out the ground, we used an arbourcultural method to reduce any damage to our mature trees. During the construction process, it was discovered that we had a badger sett along one of our boundaries; to preserve this we erected a fence in order to separate the sett from our site.
There is a strip of woodland contain oaks up to 150 years old, that runs for over half the length of our site. We are also lucky to have a beech hedge and a number of hedgerows made up of a mixed native species which are a haven for nesting birds who also like the blackberries from our undergrowth brambles, blackthorn and elder. Our cottage garden has some ornamental trees and shrubs in addition to two semi-mature specimen oaks and leylandii hedging.
As for wildlife, in addition to our neighbours the badgers, we also have roosting owls and bats, which we are extremely careful not to upset with our building work. We encourage a diverse range of birds in with feeders, as well as creating nesting habitats within the hedgerows.
Community
The cottages are situated between the three villages of Droxford, Hambledon, and Meonstoke. We used all local tradesmen for the construction of the cottages as we like to feel integrated with the area.
The on-demand chefs who are available for hire are all drawn from the local area, again in order to support and sustain our local community. The hampers that are provided on arrival also contain locally sourced produce from suppliers.
We also are home to Bowman's Ales brewery that produces award winning real ales such as Swift One and Wallops Wood. They are in fact brewed on our land!
We recommend a number of locally owned pubs and restaurants, including one just down the road on Droxford High Street, The Bakers' Arms, who were not only awarded with the title in 2012 of 'The Best Hampshire Roast,' but also serve up locally produced Hampshire sausages in addition to Bowman's Ales.
Landscape
Our cottages are nestled in-between rolling arable and pasture hills on well draining chalk soils and clay farmland, situated on an area of rich archaeological findings. Just 3km from the Old Winchester Hill Fort and burial mound, it actually dates further back to the Mesolithic. Flint implements have been found as well as the Giants Grave, a Neolithic long barrow 1km north of the site.
The first record of our site becoming a racecourse is featured in the Hampshire Telegraph on the 23rd April 1864, where it was described as Hambledon Hunt Steeple Chase. In fact the Grandstand dating back to around 1900 still exists on the site.
The cottages are positioned on a hilltop with views of Portsmouth and Southampton, and on a clear day you can see out to the Isle of Wight, which is over 20 miles away! We've created a communal grassed area that incorporates existing trees, but also new specimens we're bringing to the area, as well as the creation of a wildflower meadow.
The site is curved in shape, which is dotted with a line of mature oaks, suspected to date back to its racecourse days.
Popular similar holidays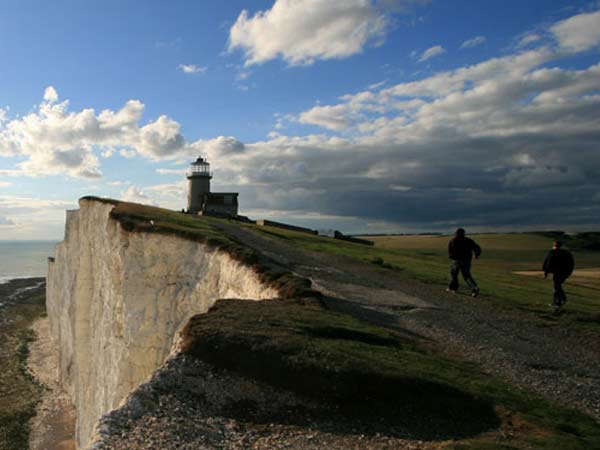 Beachy Head lighthouse B&B with panoramic South Downs view
From £138 - £210 per room per night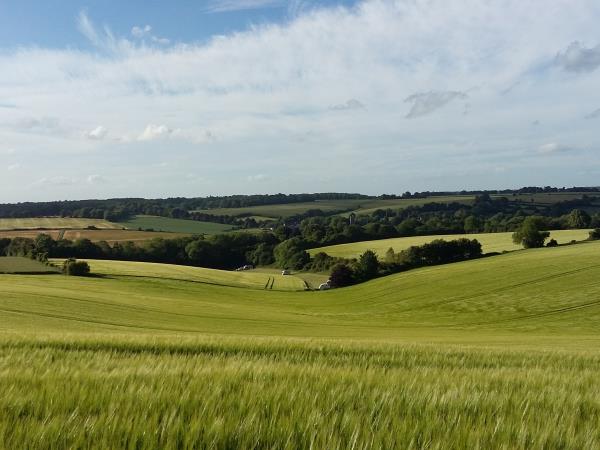 Peaceful caravan site in idyllic South Downs setting
From £8 per pitch per night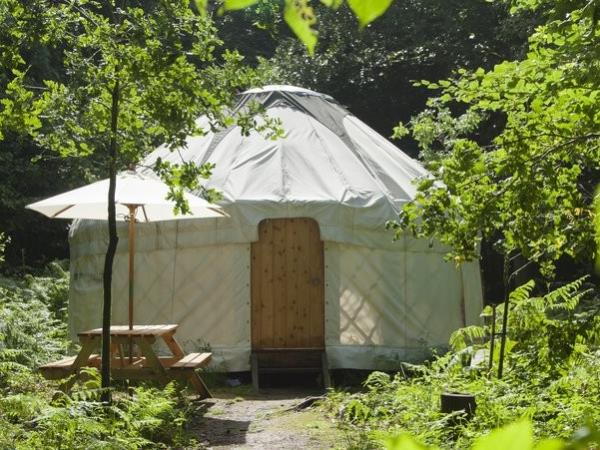 Elegant yurts in 150 acres of ancient woods river & wildlife
From £270 - £495 per yurt (3 nights)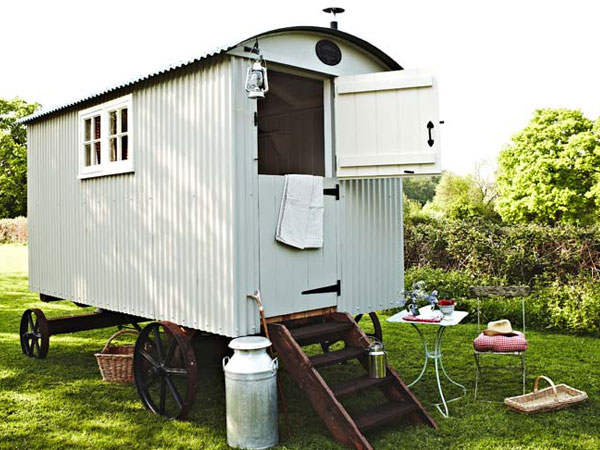 Magical shepherds hut retreat in the Sussex countryside
From £100 - £120 per accommodation per night