Lewes town centre bed & breakfast, England
Description of Lewes town centre bed & breakfast, England
A warm and cosy cottage tucked away in the centre of Lewes town, in the South Downs National Park. Located only a short walk from pubs, shops and fields we are situated down a nice and quiet lane but only minutes from the bustle of the town.

Enjoy your breakfast in the delightful little garden at the foot of Brack Mount, surrounded by flowers, vegetables and wildlife. Only a 4 minute walk to Lewes Castle, 3 minutes from the pub, 8 minutes from the train station and 12 minutes to the South Downs; we're perfect for walkers, cyclists and people who just want a break. Lewes town has so much to offer with a thriving music scene and local art works displayed in our galleries.

The history of Lewes is amazing to learn about and a trip to the Castle or the Priory is an interesting addition to an afternoon of exploring the range of shops and eateries in the area. For walkers and cyclists there are lots of places to experience the landscape. I can point all guests in the right direction depending on how you want to spend your time, to make sure get the most out of your time in Lewes.

Rooms, food and facilities
We have one twin and one single bedroom, both of which are very comfortable with lovely views. There is a bathroom and separate toilet near each room. Other facilities in bedrooms include; TV, radio, wash basin, razor point, hair dryer, tea and coffee making facilities and ironing facilities.

How to find us
Train: London (Victoria Station) direct to Lewes (about 1 hour); Gatwick (35 minutes); Brighton (15 minutes).

Car: M23 from London, A23 then A27 to Lewes; from Brighton and Eastbourne, take the A27 to Lewes.

We can supply individual directions when we know which area you are coming from; we send visitors a detailed map when acknowledging deposits.
Responsible tourism
Responsible tourism: Lewes town centre bed & breakfast, England
Environment
The building is an 1840ís terraced cottage and has a tiny but very lovely garden. The cottage itself used to be three cottages that were going to be torn down to build a motorway through this area of Lewes. Luckily the motorway was not built and a local forester bought the cottages and restored them. He used the beams from a nearby 17th century cottage, so the inside of the cottage has a 17th century look about it with beautiful old beams holding the place up.
My garden is small but has a lot of lovely wildlife packed into it. Thereís a little pond that has goldfish in it that attracts some beautiful dragonflies. I have a range of flowers such as Delphiniums, Bluebells, Roses and Buddleia; the Buddleia attracts a lot of lovely butterflies into the garden. Right behind my house is Brack Mount which attracts a lot of birds and in the garden I have bird boxes, a bird table for putting out bird feed and a beautiful ceramic bird bath. I like to grow lots of fruit and vegetables. I have my vegetables growing in old beer barrels. I grow runner beans, broad beans, peas, courgettes, potatoes and tomatoes (which you might find in your breakfast in the summer). I also have blueberries and blackcurrants growing; an apple tree and autumn fruiting raspberries that grow at the bottom of Mount Brack in September.
I also manage to fit a compost heap into my garden where my food waste goes and I collect all the old leaves from the trees and keep them in black sacks; after a while they turn into really nice compost too. I have a big water butt and smaller tubs dotted about as well to collect water for the garden.
The B&B is really accessible as itís just on the edge of the town centre. The train station is only an 8 minute walk away and you can get to the Downs in about 12 minutes. Itís a good location for walkers and cyclists as the Downs are very close and you can store your bikes in the garden. Once youíve finished your day of walking there are pubs and restaurants very close if you don't feel like doing much more walking. There is also a great bus service that runs quite regularly through Lewes between Brighton and Tunbridge Wells.
Community
Lewes has a huge amount of things going on and really good music and art scenes. There is live music on almost every night in one of the 20 or so pubs. There are great classical concerts on and the Lewes Theatre Club put on some really interesting local plays. We have three art galleries; St Anneís, Lansdown Studios and Gallery Hop Gallery. Hop Gallery also has a pottery workshop, framer and ceramicist. During Art Ways there are lots of open houses and open gardens where people display their artwork and you can go and look round. The Needlemakers is a place is a good place to visit. It used to be a factory that made needled, but now it is home to lots of little shops including a popular cafe and a great book shop called Skylarks. Itís a real bookshop run by friendly people and if they donít have the book you want theyíll get in for you really quickly. I would say all the shops are really convivial; it really is a great town.
There are some great places to eat and drink nearby. There is a very nice family run Italian in the town called La Famiglia. The Lewes Arms is only 3 minutes away and is delightfully cosy with some really nice food. The John Harvey Tavern is by the river and has some really good music nights. The Pelham Arms does some really nice pub grub or if youíre looking for something a bit smart, the Pelham House Hotel has some really good restaurant food. The pubs all of course sell the locally brewed Harveys Ale.
Lewes introduced the Lewes Pound to promote using local businesses. About 150 businesses in Lewes accept the Lewes Pound and itís a really great way of making sure that peopleís money is going back into the community. I make sure to put literature about this and things that are going on in the guest bedrooms.
I personally am part of the Lewes town Partnership that brings together different organisations and groups within the town to try and find solutions to problems that face the town. I am coordinator of the Lewes B&B group that lists places for people to stay and things to do in and around the town. Lewes has some great markets that I like to go to at the weekends. There is a market on Saturday that I like to shop at. The Friday market at Market Tower has local food and other things for sale. I particularly like the Flint Owl Bread stall for some wonderful bread and at the Food 4 You stand you can get a delicious salad plate. Thereís a wide range of things for sale with great cheese, fish, fruit, veg and lots of gluten free chocolates and cakes. I get my eggs from a local farmer who has a stall at the Sunday boot-sale; sometimes theyíre so fresh that they are warm!
Lewes town is part of the twinning association and we are twinned with Blois in France and Waldshut-Tiengen in Germany. We go and stay in their houses and they come and stay in ours. This is a really great way to get people from different countries and cultures to experience our town and landscape, whilst getting to experience theirs myself.
Landscape
The cottage has a very big landscape view of the Downs from both the bedrooms thatís quite delightful to look at. You can see the rolling hills in the distance over the chimney tops and in winter when there are no leaves on the trees you can see the river flowing down below. On the other side of the house you look out onto Brack Mount where there are lots of shrubs, grass and trees. We are surrounded by total countryside. Brack Mount is man-made mound that dates back to Norman times and was once one of two motte and bailey castle keeps. Itís directly opposite the mound that is home to the remains of Lewes castle. The area that the cottage is in would have been the moat beneath the mound. William the Conqueror handed over Lewes town to his thought to be brother-in-law William de Warenne in 1068; he was going to build the castle on Brack Mount. Itís thought that he changed his mind and built Lewes Castle on the other mound. Instead this mound would be used as a lookout tower; some recent aerial photos uncovered some of the wooden base that might have been constructed there.
The Priory also has some interesting history and is well worth a visit. It was torn down when Thomas Cromwell was destroying all of the monasteries. The Sussex Archaeological Society has wonderfully restored the ruins and you can walk around it and find out the story of where everything would have been, thanks to the handy information boards.
The Priory is just one lovely walk in the area; there are so many different routes you can take in and around Lewes. There is a great circular walk that I can show you on your map. Itís just a short walk to the river where you can go on a beautiful riverside walk and see the swans gliding through the water. Since Lewes is in a gap between the Downs you can approach them from two directions. To west you can go up by the prison to Kingston ridge and to the east you can climb up a steep lane to the golf course. Both of these routes take you up onto the South Downs Way, or if youíre just out for a day then the walk over the golf course and down to Glynde is lovely; you can get the train back after having a drink in the wonderful pub they have there.
Popular similar holidays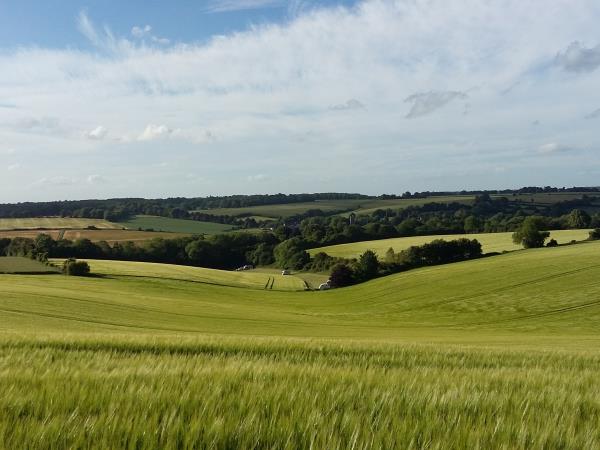 Tranquil caravan site in idyllic South Downs setting
From £10 per pitch per night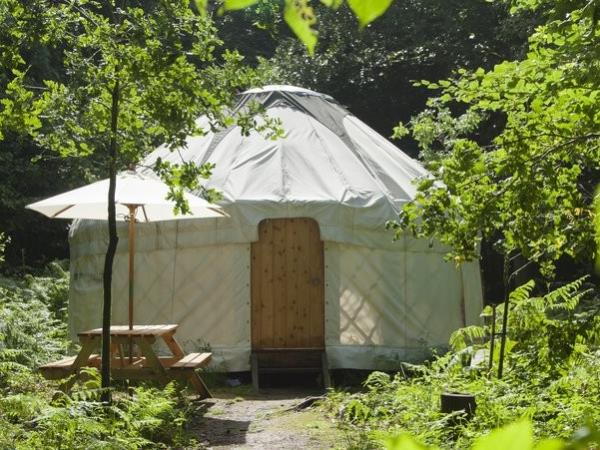 Elegant yurts in 150 acres of ancient woods river & wildlife
From £270 - £495 per yurt (3 nights)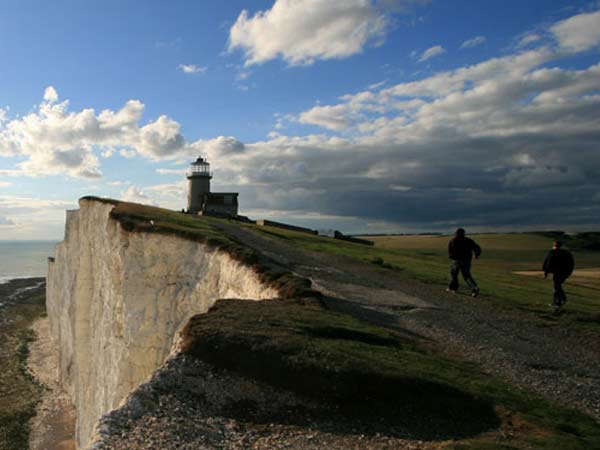 Beachy Head lighthouse B&B with panoramic South Downs view
From £138 - £210 per room per night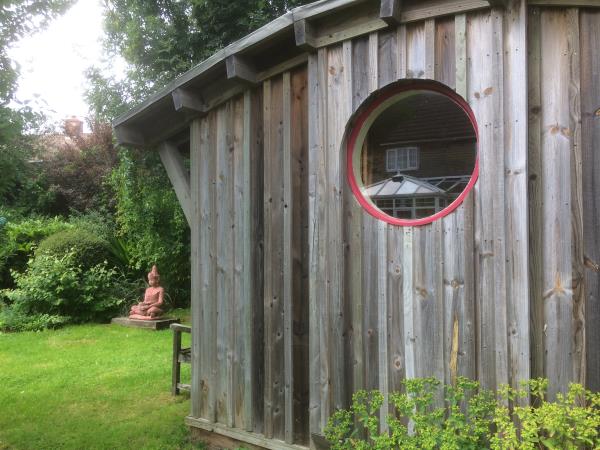 Unusual B&B near Lewes, South Downs for plant-based diets
From £65 - £90 per couple per night