Tobago villa apartments near Bacolet Beach
Responsible tourism
Responsible tourism: Tobago villa apartments near Bacolet Beach
Environment
Tobago is a place famed for its relaxed atmosphere, natural beauty and abundance of interesting wildlife, and there's plenty of opportunities to reconnect with nature during your visit. I live nearby and can offer advice for things to do and how to get there. Balcolet beach is just a few minutes walk away, so you won't need a car to relax by the sea, you can wander down there any time you want to. Before you decide to rent a car, research what you'd like to see and alternative ways of getting there as you may find that renting a car isn't the only option, at least for the whole duration of your stay. Cycling is a possibility, though Tobago has limited flat areas and this may be more suitable for keen/expert cyclists! Planning trips using a bike or public transport will help lower the carbon footprint of your stay.
The villa is decorated in a traditional, rustic style, in keeping with their beautiful surroundings nestled between the sea and the more bustling capital of Scarborough. The area is great for birdwatching, and many species can be spotted in the villa's surroundings. There are also birdwatching tours that can be arranged for guests, where you can learn more about the biodiversity of Tobago and visit some beautiful areas along the way where exotic birds make their home.
As well as exploring on dry land, don't forget about Tobago's stunning underwater world! The Island is surrounded by bright reefs featuring over 300 species of coral and over 600 species of fish! It's best to travel further up the coast or over to the Caribbean sea side to explore underwater, and there are many eco dive companies that work in harmony with the environment to ensure that its biodiversity and beauty is preserved. As your guide will tell you, it's important to stay a safe distance away from the reefs to ensure that you don't damage them by touching them at all. You'll also find the world's oldest protected rainforest in the Western Hemisphere on the Island, which is one of the main things that makes Tobago such a great destination for eco tourists. You can hire a guide to take you safely through the Forest's nature trails and learn all about its diverse flora and fauna at the hands of an expert.
Community
There is a great sense of community in Tobago, and there are a range of smaller more personal places to stay and visit here. Tobago is proud to have less sprawling resorts or hectic party spots that its neighbouring caribbean islands; people here like to sit back and take things slow! Don't worry though, you can still enjoy a holiday that filled with action and adventure, tourism is the main source of income for many Tobagonians, and there are plenty of locally owned companies offering water sports, horse back riding and mountain biking amongst other activities. Tobagonian's are known for giving a warm welcome and taking time to get to know visitors, and we arrange for guests to meet with tour operators and local people working in the industry over dinner to learn more about the things on offer during their stay. This kind of personal introduction benefits both the visitor as they have the opportunity to ask questions and helps tour operators to secure the bookings they need to sustain their business and livelihood.
We also offer long term employment to two local women who help with cleaning and preparing for new arrivals, and we employ two local guys to look after the yard. There are many fantastic restaurants in Tobago and most are run by local people and using produce sourced fresh from local suppliers, rather than larger glitzy restaurants serving frozen, imported meals. This of course offers a more authentic feel for what Tobago and its people are all about, and ensures the money you spend helps support local people.
Popular similar holidays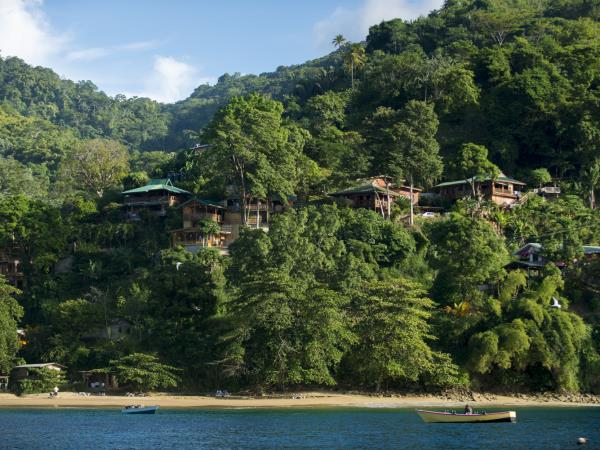 15 beautiful accommodations in unique eco resort
From £95 - £270 per accommodation per night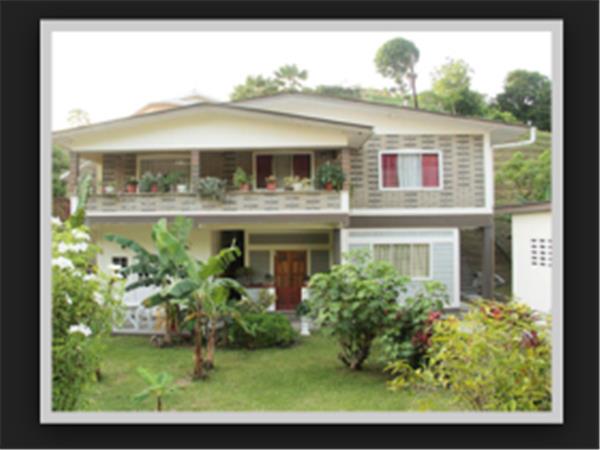 Escape the hustle & bustle with this rural Tobagonian B&B
From US $100 per accommodation per night
Eco nature retreat in a beautiful & unspoiled part of Tobago
From US $60 - US $200 per room per night