Responsible tourism
Responsible tourism: Tobago self catering beach apartments & cottages
Environment
We're proud of Tobago's status as a premier eco-tourism destination and we do all we can to support this and encourage responsible travellers to enjoy what this amazing Island has to offer.
Tobago's pristine beaches are just one of the many things that make Tobago so special; the Island's underwater reefs and the oldest rainforest in the Western Hemisphere are also spectacular and filled with marine and wildlife. Over 1000 species of animals and plants have been identified in and around Tobago's waters up to a depth of 200 ft (60 meters) – from the microscopic to the majestic. The accommodation is about a 10-minute walk from Back Bay, a small secluded bay between Grafton and Mount Irvine Bay, where snorkelling is supposed to be the best. It's important to take care when snorkelling to ensure that you have a minimal impact on reefs and marine habitats. Also, just a 5-minute walk downhill from the villa, there is a fully equipped PADI dive shop on Grafton Beach offering introductory and refresher courses, these guys are well equipped to show you the wonders of the underwater world in Tobago!
Tobago is one of the few places left in the world to which critically endangered populations of Hawksbill, Green and giant leatherback sea turtles return every year to lay their eggs. We'd encourage responsible turtle watching that doesn't disturb the turtles and hatchlings.
Community
Alongside all of the fantastic things to do in Tobago there's always a smiling local who can offer you expert guidance and insider knowledge on the local area. As mentioned previously, there are great guides working on the Island that can show you around some of the most beautiful areas, from the underwater coral reefs to the protected rainforest. Let us know what you're interested in seeing and doing and we'll put you in touch with the right people.
Visitors are given a warm welcome in Tobago, where tourism is embraced and valued by the vast majority of locals. Guests are welcome at local events, from larger annual parties like the Jazz Festival to the weekly Sunday school street pan party! This event is great for getting to know the locals, joining in with the celebrations and do some people watching!
Tobago is home to 210 species of Birds and these self-catering holiday apartments available for rent here are ideally situated close to a 200-acre Wildlife Sanctuary & Cocoa Estate bird-watching trails. You can make a difference to local people and wildlife during your stay simply by visiting places like these.
1 Reviews of Tobago self catering beach apartments & cottages
---
Reviewed on 15 Aug 2018 by
Nicole Adams
1. What was the most memorable or exciting part of your holiday?

A day out at Pigeon Point Heritage Park including a glass bottom boat tour to Buccoo Reef, the Nylon Pool and No Man's Land.


2. What tips would you give other travellers booking this holiday?

Take your own kettle; knives and forks were so well hidden under the towels in a tray that we were happy we'd brought our own. Bring your own towels (if you have high standards) and extra toilet paper as house-keeping is hit and miss. We eventually had to beg for replacement towels on day 5 even though we were told house-keeping was every 2-3 days. Don't use the dryer at night as it is loud and squeaky. I guess the term 'you get what you pay for' springs to mind. The decor is tired and many aspects of the property is in need of repair. The placement of the washer and dryer next to the taps and fuse box.


3. Did you feel that your holiday benefited local people, reduced environmental impacts or supported conservation?

In terms of booking the tour guide at Pigeon Point, definitely yes. Where we stayed, definitely no as there has been no work carried out on this property for quite some time. The elements have nothing to do with it's neglected state.


4. Finally, how would you rate your holiday overall?

It was great to catch up with my aunt who lives on the island. As we had pre-booked our hire car, we were able to take her out and about almost every day.
I guess the term 'you get what you pay for' springs to mind. The pictures of the villa we rented are a lie. I also didn't expect to be sweeping and mopping the floors upon entering the villa as they were dirty. The decor is tired and many aspects of the property is in need of repair. The placement of the washer and dryer next to the taps and fuse box presents a danger.

Read the operator's response here:
We were very surprised to receive your review, as even when you checked out, my wife and I both came to say good bye and there was absolutely no
indication of any issues, neither were any reported during your stay.  Additionally a large portion of your time on the island during the days was spent in the
apartment. One can only assume you were happy there?

To comment on one item where you reportedly "had to beg for replacement towels", you were asked more than once by housekeeping if you wanted room
service and declined it. Also on arrival, you will recall it had been raining and you all entered the apartment with wet shoes.

Our Villa and apartments are exactly as the photos on our website. We are frequently told when guests arrive that it is exactly as they saw in the photographs.

99.9% of our guests over the last five years, foreigners and domestic travellers alike, have enjoyed staying with us with hundreds of great reviews on many
platforms. There are always those who think perhaps they are going to stay at a '5 star Hilton' (which we do not pretend, in any way to be) but choose to book a
self catering, inexpensive vacation instead.
 
We are sorry we were unable to deliver to your "high standards" and expectations. We do hope you enjoy your next vacation, wherever you stay.

sincerely,
Mike

Response from Customer to Operator response:
I'm very surprised at your response to my review Mike.
It was not raining when we arrived at the accommodation on 2 August 2018. I took pictures of the area when we arrived and there was no rain.
The apartment was very hot. Presumably you'd turned everything off despite knowing that we had booked almost a year earlier.
You informed us that the owner; Glory, was abroad celebrating her sons birthday and would be returning on the Saturday morning.
You also informed us that house keeping would come by every 2-3 days. This did not occur. We never met your house keeper, nor do we know what she looks like.
When your son was asked for replacement towels, we were told to put them in the dryer or wash them ourselves. We also asked about the rubbish and he told us to leave it out the front.
I messaged you on WhatsApp shortly after my husband spoke with your son to confirm what we were told by him. This was on 6 August 2018. You responded that the house keeper would be in the following day - 7 August 2018 - five days after we first arrived. I'm more than happy to provide screenshots of our conversation.
I'm surprised that as you spent so much time observing our comings and goings, you failed to notice that your house-keeper repeatedly failed to show. I note also that you ignored my follow up query - on 6 August 2018 - about using the broom to sweep up the dead flies on the verandah, after the heavy rainfall on 4 August 2018. If I was 'happy' there, I'd spend less time cleaning and repacking our suitcases as the chest of drawers and bedside cabinets are falling apart and therefore unusable.
My comments that the decor is tired and in need of updating is true.
Yes, we did stay at the Hilton Hotel prior to our arrival at Hibiscus Heights. (You are free to check out my photos of our stay there on both Instagram and Facebook). However, I did not expect to stay in what was more suited to squatters.
It was only upon our return to the UK that I noted the complaints procedure which by then, was too late.
Clearly, you require proof of what we experienced at Hibiscus Heights, so pictures are below and yes, for the price paid; we expected better. It's nothing to do with 'high standards' and a lot to do with basic hygiene plus health and safety.
Perhaps if 99.9% (an interesting statistic) of your visitors were more honest, you'd do something about the property.

---
Popular similar holidays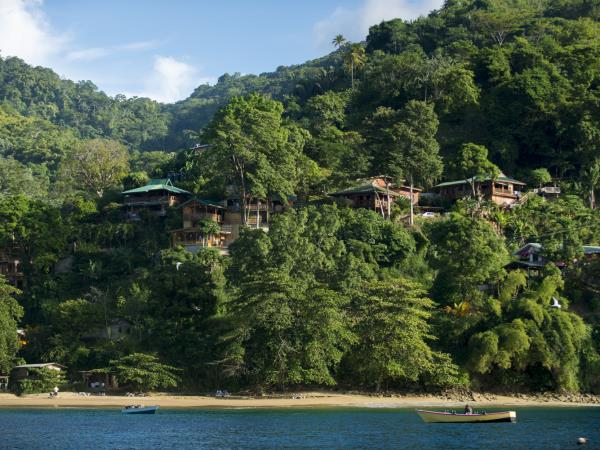 15 beautiful accommodations in unique eco resort
From £95 - £270 per accommodation per night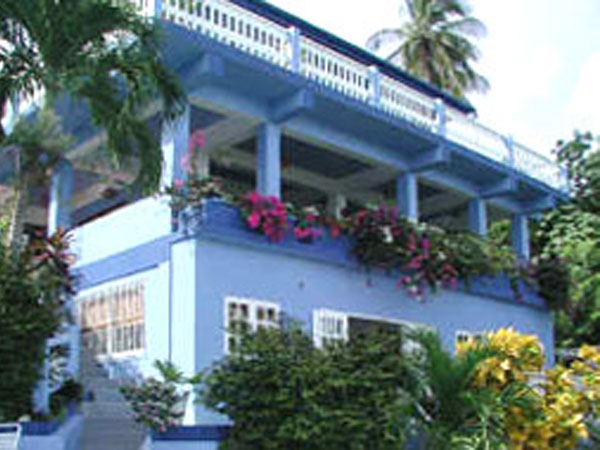 Holiday apartments overlooking the beautiful Stonehaven Bay
From US $110 per accommodation per night