"Come and explore in Andalucía as you leave your cares behind and move into a characterful B&B within one of the region's pueblos blancos, surrounded by mountain trails and sweet chestnuts."
Highlights
Ideal setting for birdwatching, biking and hiking | Close to Ronda, but not too close | Six en-suite guest rooms | Snug little library | Loungers on the rooftop terrace | on-site infrared sauna | Local gym, massages and padel tennis courts | Set within one of the seven pueblos blancos villages | Sevilla, Granada, Cadiz and Jerez accessible for day trips by car or train |
Description of Andalucia bed and breakfast near Ronda
This charming Ronda hotel is a relaxed oasis of luxury in the heart of Cartajima, one of Andalucia's famed "pueblos blancos".

Los Castaños has won the prestigous award for Best Inland hotel from the Academia Gastronomica Malagueña; a welcome surprise for resident owner, Di Beach, and also an enormous source of satisfaction.

Cartajima is one of seven small villages in the undiscovered Alto Genal Valley close to Ronda. This quiet village lies between lush chestnut trees and spectacular mountain scenery - marvelous walks for the energetic, a convenient centre for cultural expeditions for the enthusiastic, peace and quiet for the world-weary.

This romantic part of secret Spain is only 45kms from the bright lights of the Costa del Sol, 1.5hrs from Malaga airport and 15mins drive from Ronda.

Some of the activities our guests have enjoyed include:

Exploring Andalucia and city sightseeing
Walking and hiking
Birdwatching: eagles, migrating birds and rare endangered species
Visiting paleolithic cave sites near Ronda
Sketching, painting and creative writing
Mindfulness colouring provided with sketching materials
Relaxing and getting pampered
Enjoying the hotel's infrared sauna.

Getting out and about:
Visit the romantic cities of Andalucia: Ronda (15 minutes drive), Sevilla (90 minutes drive), Jerez (90 minutes drive) and Cordoba and Granada both of which are an easy train ride away - which makes for an exciting day trip.

Walking options:
For walking holidays in Spain, the Alto Genal is unbeatable. This is a quiet, undiscovered valley with 7 tiny villages scattered around the higher reaches of the Genal River. One side of the valley has rough limestone crags which make for exciting mountain walking whilst the other side is covered with sweet chestnut trees. In spring there's a wide variety of wild flowers and migrating birds; in early summer chestnuts flower and a musky scent fills the air; and in autumn the chestnut trees go through a spectacular palette of red and gold. Walks vary from one hour to five hours, easy to moderate, and we supply detailed walking notes. And a 'rescue service' should you get tired.

Cycling ideas:
Our accommodation is the perfect base for exploring the Andalucía's Alto Genal Valley by bike. There's nothing over 3500ft and the weather, either side of summer is great. July and August are a bit too hot for anything more energetic than supping a beer in the shade. There is myriad unfrequented, good quality tracks linking the seven villages, and there are also level gradient tarmac roads in between. Cartajima is centrally located in the Alto Genal thus affording access to the whole valley. There is ample storage space for bikes inside the B&B. We also have three extreme routes for more experienced cyclists.

Birdwatching:
We are lucky to have Peter Jones, ornithologist extraordinaire, available for a day's birdwatching. Peter will collect you at breakfast and give you a wonderful day out returning in the late afternoon. Birds, flowers, geology, culture - bliss!
Responsible tourism
Responsible tourism: Andalucia bed and breakfast near Ronda
Environment
Cartajima is a small but thriving community. The town hall, the Ayuntamiento, are doing a great job keeping traditions alive and providing opportunities for youngsters to keep them in the village.
My intention is always to help where I can, employ only local people or companies, encourage villagers to participate in small sustainable tourist enterprises, and do what we can to create entrepreneurial opportunities.
At our Andalucia accommodation we employ only women from our village who traditionally do not have the opportunities available to their male counterparts. We encourage our employees to take as active a role in the running of the accommodation as they can, and hope to offer them training in all aspects of hotel management. Our purchases are all made within a 20 km radius of the village except for a few specialist items but less and less of the things we need are sourced outside our local area preferring Andalucian products and services. We strive to keep our environmental impact as low as it can be whilst retaining the level of luxury that our guests demand. Some of our projects have been culturally unacceptable such as composting. I tried to rent a little bit of land outside the village where we could make compost but the people are frightened of the idea, believing that it will attract unwanted vermin and others (wild boar perhaps!) apart from that failure I believe we have put in place over the years many energy and resource saving systems - no disposables, low energy lighting, solar panels, drought resistant plants where possible to mention just a few of our efforts.
Community
In regular meetings with the mayor of this small community, we try to help him explore ideas for generating wealth in the village. We protest about outside workers coming in and environmentally unsustainable plans. We promote tourism to him as the future for the village - a sustainable, useful sort of tourism that will enable the villagers.
We contribute generously to all traditional events in order to assist the village in retaining its cultural heritage. Easter and the summer feria are the two main festivals which we support and encourage our guests to participate.
In an effort to spread the wealth, we encourage our guests to explore the village and patronise the bars and little shops. Each room has a folder with information about what is available in Cartajima, the Alto Genal valley, and in nearby Ronda. Our guests are always culturally sensitive and find that the villagers are eager to talk with strangers - not so many come this way!
3 Reviews of Andalucia bed and breakfast near Ronda
---
Reviewed on 24 Jun 2008 by
Marina Harvey
1. What was the most memorable or exciting part of your holiday?

We enjoyed every part of our holiday. The food was exceptional and the hotel could not be faulted in any way. We had two fantastic days out with Peter Jones a local bird expert who showed us all the wonderful birds and wildlife in the area.


2. What tips would you give other travellers booking this holiday?

There are no shops in the local area so make sure you have water with you when you go off walking!


3. Did you feel that your holiday benefited local people, and minimized impacts on the environment?

We did not use a car and enjoyed the wonderful walks in the area, used local bars and restaurants.


4. Finally, how would you rate your holiday overall?

Brilliant, fantastic.

---
Reviewed on 29 Sep 2007 by
Annette Kelly
1. What was the most memorable or exciting part of your holiday?

Well we only spent a few days in Cartajima, but there were quite a few highlights. After seeing the many traditional Andalucian rugs that adorn the hotel, we got to buy a fabulous one from a couple who also live in Cartajima - this was a lovely experience. On our last day we went to the Alhambra in Granada, and there are no words to describe how fabulous this is. We also really enjoyed meeting other guests at the hotel around breakfast, dinner or after-dinner drinks. Di, the owner, really makes an effort to ensure everyone has the best possible time, and the relaxed, friendly atmosphere is truly enjoyable. We had dinner one evening in the Moorish courtyard, and it was just fantastic - Di's tapas are really tasty!


2. What tips would you give other travellers booking this holiday?

If you want to see the Alhambra, make sure you pre-book your tickets online a few days in advance. The same-day tickets for sale on site sold out soon after midday, and the hundreds of people queuing to get in were turned away. If you can, go and check out the Pileta's Cave, near Benaojan - its prehistoric cave paintings are simply amazing.


3. Did you feel that your holiday benefited local people, and minimized impacts on the environment?

Our holiday did benefit local people when we went to eat out in the village. I wish there were more shops in Cartajima, even though I understand the difficulties they would face to stay in business in such a small place. The pharmacist was really helpful when we went to get some medicine for our one-year-old son.


4. Finally, how would you rate your holiday overall?

We had a great time. This hotel is a gem - so lovely, relaxed and friendly, with beautiful furnishings and fantastic service. We also really appreciated the Andalucians' incredible warmth to our one-year-old son.
This short holiday was just a taster - we will have to go back to Spain and Andalucia, as there is so much more to see and do.
---
Reviewed on 26 Jan 2006 by
Aine Allen
1. What was the most memorable or exciting part of your holiday?

Many things:
i) Masses of early spring orchids and dancing lambs along the base of Los Riscos.
ii) The view of Pujerra -lighted like a star - from the balcony at night.
iii) The purples and browns and greens of the competing seasonal colours, viewed on hills as you walk from Parauta to Aqualeara.
iv) The generous, enthusiastic guide to the villages and to Ronda, richly embellished with fascinating insights to the history - provided by Denny.
v) The generosity of all our hosts with their advice for us to maximise our experience of the place.
vi) The friendliness and hospitality of Antonio at Torrichelli's in Juzcar.
vii) Many more .....


2. What tips would you give other travellers booking this holiday?

i) Be clear about your contract: what is the cost and what exactly is included.
ii) Know that (if you arrive late in the day) it will cost a lot to get to/from the airport at Malaga to Cartajima - as much, if not more, than the cost of your flights!


3. Did you feel that your holiday benefited local people, and minimized impacts on the environment?

Yes, we gave custom to shops and restaurants. We walked everywhere; we did not hire a car.


4. Any other comments?

Five of us went to Cartajima with the intention of doing the walks between the villages of the Alto Genal. Two of us stayed with Diana at this accommodation and three stayed somewhere else. We had a terrific time: the scenery is beautiful, the paths between the villages provide for an interesting mix of challenging and relaxing hill-walking, and the villages themselves are so full of character. We were pleasantly surprised by the cooperation between the different holiday providers in Cartajima and the way they communicate with one another so as to make the whole holiday experience a good one for visitors to the area.

We were a little surprised with the anomaly between the advertised accommodation conditions and what we actually experienced: the cost in this accommodation was quite high but two of us had chosen it, despite that, for the comfort and the extras - we did enjoy the comfort; but we were a little disappointed to not have the pleasure of Tapas in the evenings. These are small things and did not dampen our enthusiasm about the holiday. Since the area is so beautiful and the people running the holidays are so warm and welcoming and helpful, we would like to think that visitors would not be reluctant to return.

Overall, this was a revelation for us all, that there is such a beautiful unspoilt place; that the people who have moved in there, to provide the holidays, have such regard and respect for the place and its people - that they share their love of the place so enthusiastically.

Read the operator's response here:
When calculating rates for 2006 I decided I wanted an all-inclusive price with no hidden extras so I included the 7% tax. I have apologised to my guest for this misleading contradiction and only wish she had told me so that I could have put it right at the time.

The issue of the tapas was my fault. My guests had plans for dinner every evening with the three other ladies in their party who were staying elsewhere. It felt awkward to inquire why they weren't staying here for the tapas (which are tantamount to a meal rather than just appetisers)! But I realise my mistake now and they have accepted my offer of dinner when they return.

---
Popular similar holidays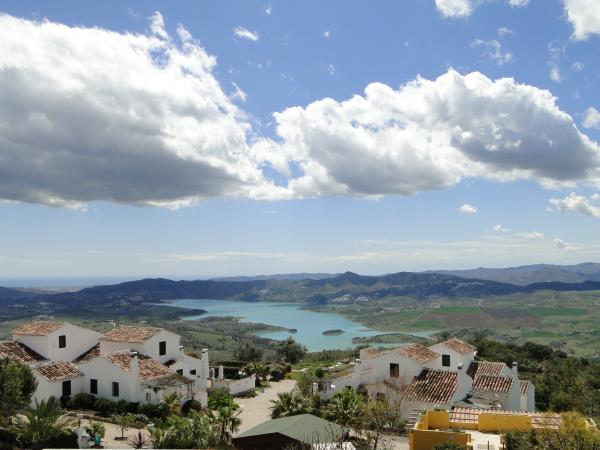 Spacious apartment with breathtaking views over Lake Vinuela
From €145 - €205 per apartment per night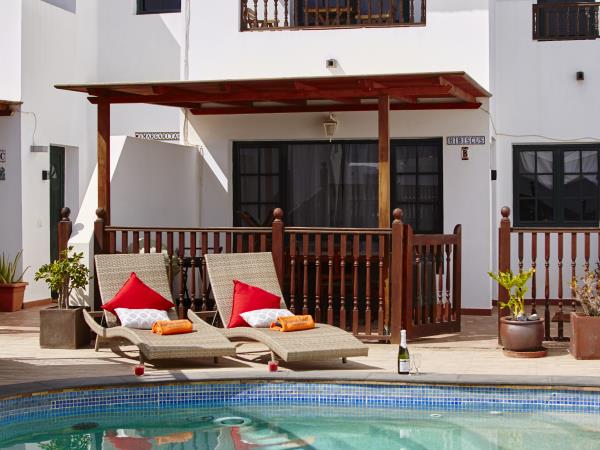 Stunning Villa-Solar Pool-Quaint Fishing Village-On the Sea
From €95 - €135 per accommodation per night (sleeps 2-4)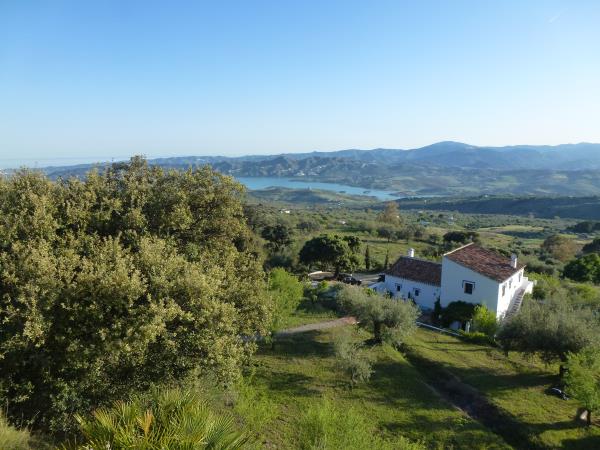 Idyllic Andalucian farmhouse with stunning private pool
From €879 - €1479 per accommodation per week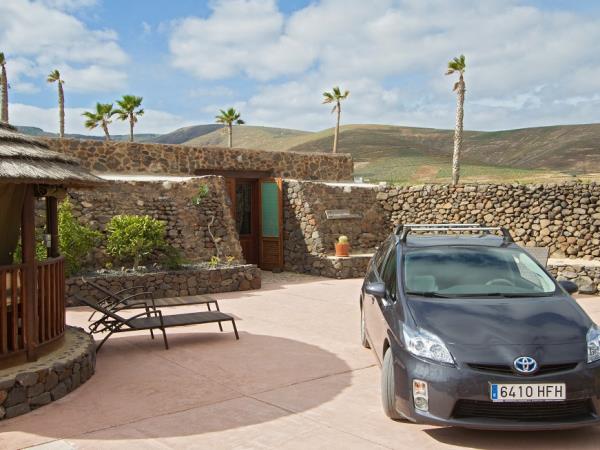 Lux villa @ Beach, inc Hybrid Car, Tropical Garden, Pool
From €215 - €395 per house per night (sleeps 4)