French Pyrenees self catering cottages
"Four gorgeous holiday cottages in a very tranquil spot in eastern French Pyrenees. With swimming pool, beautiful gardens and stream. Lots of outdoor activities on the doorstep. "
Highlights
Four self catering cottages in Vallespir Valley | Family friendly cottages | French Pyrenees activities | Remote, riverside location | Close to Spanish border | Mount Canigou | Swimming pool | Options for mountain biking, hiking and canoeing
Description of French Pyrenees self catering cottages
Our French Pyrenees self catering cottages are located on an 18th century fruit farm in the Pyrenean Vallespir Valley, the most southerly in France. This recently renovated Catalan style 'mas' or farmhouse, is wonderfully tranquil, enveloped by Pyrenean peaks but only 50km from the Mediterranean coast.

We pride ourselves on the peace of our home, where we have four private cottages, all with their own terraces and barbecue areas. With superb dark skies, the star gazing is second to none, and our mature gardens and stream area are retreats not only for our guests but also an array of birds and butterflies. We also have eleven acres of chestnut and oak forest, which are very popular with our families with small children, as a safe and beautiful area to wander around.

We are located at an elevation of 750m in the shadow of Mount Canigou (2784m), in the Vallespir Valley, the southernmost valley in France just near the border with Spain, which you can access following a stunning mountain road. And although we benefit from the southern European heat in summer, our mountain location means that the evenings stay cool and refreshing.

We do recommend that you hire a car to stay at our self catering cottages, so that you can explore nearby market towns, the coast, or enjoy many of the outdoor adventures on our doorstep. We are happy to chat through these options with you including mountain biking, horse riding, canyoning and, at the coast, surfing and sailing.

Responsible tourism
Responsible tourism: French Pyrenees self catering cottages
Environment
We recycle as much as possible. We have large compost bins and encourage our guests to compost as well.
We have our own solar energy for hot water. We have our own water source, and for more than ten years have coppiced our own wood to heat via wood-burning stoves, some with back boilers.
So we have no resourse for additional energy other than electricity, and even that we've managed (with five houses in the complex) to reduce our consumption to less than the average UK family uses for only one household!
We grow our own vegetables, and feed ourselves from these, from our chickens, their eggs and occasional meat bought directly from local producers.
As far as the land is concerned, we coppice sustainably, we clear our meadows with a few animals and sensitively with strimmers that mulch once the flowers have seeded, hence creating wonderful flower laden fields to sustain an amazing amount of wonderful butterflies and insects.
We never use pesticides, we never use weed killers and we make our own fertiliser from chicken and donkey droppings ... and also nettles soaked for a few days in water. It all works a treat ... gives us great vegetables at no cost, no detriment to the environment and is so terribly simple.
Our waste water is recycled through septic tanks and flitration beds. Our water comes naturally from the mountain river and is filtered into a holding tank.
We have restored the buildings over the years by using as much of the materials as was possible on the land. El Casot for example, was rebuilt from scratch using stones cleared when clearing the fields. The walls were built not with concrete, but with lime mortar. The wood came from the forest to make beams and chestnut planks.
We won't pretend it was possible to restore and rebuild everything using the materials found on the property. Of course we had to use local building merchants etc., but we did our utmost to use materials found here, and to rebuild and restore sympathetically to this environment. We think we succeeded. We hope our guests agree.
Our tiny campsite, was built with chestnut cut not 100m from the site itself. We have two bell tents erected on forest platforms in a secluded field by our stream. It has a dry toilet and an ambiant heated shower, as well as an open canopy summer kitchen.
The swimming pool does require chlorine to function. However, we don't have the standard sand filter, we have a diatomite filtration system that filters down to a mere 2 microns ... meaning we need very few chemicals to keep the pool crystal clear. Our guests are often surprised at not tasting or feeling the effects of chlorine.
Community
We buy our produce locally.
We buy cheese from our neighbours 2km away (Can Nadal), we buy organic beef from our neighbours 4km away (Mas del Roure). We buy honey from our neighbours 5km away (La Ruche du Haut Vallespir).
When we go to the shops we shop in the nearest market towns of Prats-de-Mollo or Amelie-les-Bains. And when here we try always to buy local organic produce. There are a couple of great bio stores on the Amelie-les-Bains market on a Thursday.
There are also a few local bio producers not 15 minutes away from our house.
We direct our guests to the same above local suppliers. As well as to good organic vintners further down the valley. One of which comes to the local market town of Prats-de-Mollo on a Friday morning for the market.
We also direct our guests to the many good local restaurants, including the Diamant Noir in our own very small mountain village.
Popular similar holidays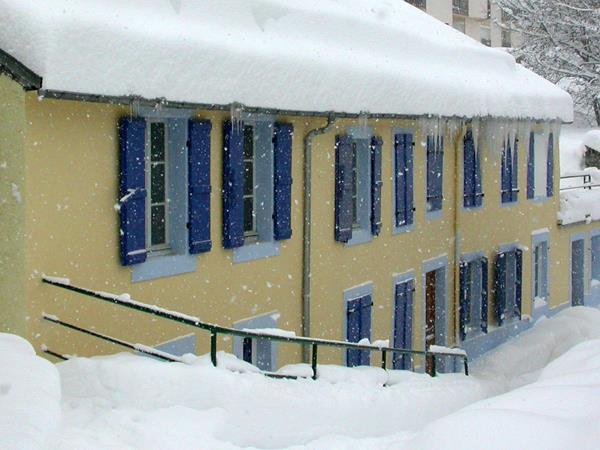 Catered ski chalet in Bareges, Grand Tourmalet, Pyrenees
From £405 - £540 8 days per person per week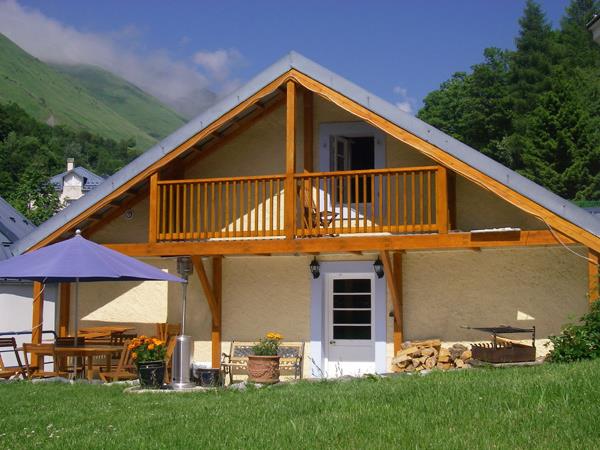 Lovely catered guesthouse in the high mountains
From £405 - £450 7 days per person per week