Responsible tourism
Responsible tourism: Bali eco lodge bungalows in Indonesia
Environment
Our Eco Stay operations comply with international guidelines for sustainability. We have on site hydro electricity (pelaton wheel). Light bulbs are 1 watt at the most 5 watt. All our refrigerators and freezers are the latest Sanyo Energy efficient models, on site treatment and disposal of sewerage and waste water (septic system) - we have showers only and half flush toilets and we have a grey water recycling system...
Every second day, bottom sheet is cleaned, top moved to bottom, clean on top. Towels are air dried in the sun on racks, unless placed in basket in bathroom for washing. We also have on site organic food production, and non toxic pest control and house keeping (we use local Bali Astli products, throughout the property). We practice sustainable landscaping and land management - no forest trees were used for construction, only local farm grown timbers used. We have a system of sorting composting and recycling.
Composting: after clearing unproductive chocolate trees for food garden development, we are allowing the carbon rich chocolate (slow to decompose) compost anaerobically in piles with cow manure and rice husk. We had a lot of material to work with and insufficient energy to do this any other way. We look forward to composting aerobically in the near future.
Grey water: (wash water) We use the stretch filter treatment technique, the aim is to remove large particles and fibres to protect the subsequent infiltration pipes from clogging, and transferring it as soon as possible for treatment into a biologically active, aerobic soil zone environment where both macro and micro organisms can thrive.
We practice:
- recycling; organic waste, glass, metal, paper.
- eco stay is reintroducing native fruiting trees
- we have several ponds that we are preparing for aquaculture. (creating a habitat).
- we have numerous areas throughout the property where natural vegetation is allowed to flourish.
- our office is as paper free as possible.
- we only travel away from home to collect guests and do the shopping and of course go to ceremony's.
Our Eco bungalows are creating a safe haven for native birds and animals
We are increasing environmental awareness in the local community
- firstly by being here and showing the locals that outsiders are very concerned for our planet.
- providing a rubbish collection and recycling service.
- educating the locals on the benefits of growing your own vegetables.(they grow there own fruit)
- reintroducing traditional organic rice farming techniques.
We have an ongoing commitment to the sustainable management of The Kupe Kupe River System. We are set to implement a study of the river system to ascertain its water quality and viability to villagers who can access the system.
Community
We provide free internet access to locals. (24/7) We create small business opportunities for locals, such as car hire, workshop facilitators, and bamboo shingle production. We also support the local banjar (village council) with regular donations. We recently donated Rp 2 million to the village gamelon group to purchase new uniforms. We pay for a teacher to instruct local kids on Silat (traditional martial art) and purchase their uniforms.
We teach locals English, twice a week for one hour. We support out side charities like The Sea Shepard Conservation Society, The Tasmania Wilderness Society and Tabo Monastery (Tibetan Buddhism) with yearly donations totaling $750. We have literature on the virtues of these organisations in our library and John is nearly always wearing a Sea Shepard tee shirt.
Guests are encouraged to partake in the many activities we have on offer which invariably involve one or more of the villagers in some way. Whether it be guiding, driving, instructing, cooking or gardening. The local community is the main stay of our business. There is no public transport in our area so all transport is provided by the villagers, unless of course, punters have there own transport.
All our staff (11 full time & 10 part time) are from local villages, either Kanciana, Kumetug, Gump Pinis or Sarinbuana Village. The construction of Our eco bungalows has been carried out entirely by local villagers, from the head contractor, down. Staff are trained in hospitality principles and permaculture practices. As many goods and services as possible are sourced locally and regularly by and from the same people, when ever possible.
2 Reviews of Bali eco lodge bungalows in Indonesia
4.5 out of 5 stars
---
Reviewed on 28 Sep 2011 by Daphne Donkin
I hesitate to write this review for selfish reasons. Why? Because this holiday is so wonderful I'd rather keep it a secret!

Situated on the southern slopes of Mt Batakaru in remotest Bali, this place is a pocket of paradise, far removed from the ravages of the 21st century. Having spent a week there I did not want to leave.

John and Cath have sensitively created a spectacular retreat. Bamboo and timber bungalows, unobtrusively nestle in the folds of rice fields. Each spacious lodge is individually designed to fit in with the contours of the valley, stylish and furnished with glorious Balinese furniture and huge canopied beds.

The sound of trickling water, croaking frogs, twittering birds and the occasional chattering gecko are all that break the deafening silence. Thankfully there is no TV or radio, though internet access is available (if you must). The views down the remote valley are breathtaking, the shades of green ever changing as the clouds scud across the sky. This place gives you time to reflect, recharge your batteries, refresh your mind; time to read a book, sketch or paint; time to wander or rest and enjoy a sublime massage.

If you want to be alone you can be, its very private. But if you fancy a trip out, John is more than happy to advise and arrange this. Ambling up to the restaurant three times a day is done with eager anticipation. Using locally sourced produce from the kitchen garden and surrounding jungle, Mini and her team prepare enticing dishes that will suit all tastes.

By creating this retreat, John has provided job opportunities for the neighbouring villagers who are delighted to welcome their visitors. Everyone has a genuine smile and, if you wish, they will happily show and share with you their customs and way of life.

This is responsible tourism at its best. It is satisfying to know that part of the cost of the holiday is ploughed back into local ventures. John is stocking the new school library and funding additional staff to teach Balinese dance and gamelan. The children embrace education with eager excitement, its very humbling.

There is nothing negative I can say about the bungalows other than it is half the world away from the UK! It is a truly delightful place and a life changing experience. I wish John, Cath and their team every success in the future.

---
Reviewed on 23 Aug 2011 by Astrid Dello
1. What was the most memorable or exciting part of your holiday?

Walking through the rice-fields.


2. What tips would you give other travellers booking this holiday?

Bring everything you need, cause you are miles away from any store.


3. Did you feel that your holiday benefited local people, and minimized impacts on the environment?

Yes.


4. Finally, how would you rate your holiday overall?

It was just great.

---
Popular similar holidays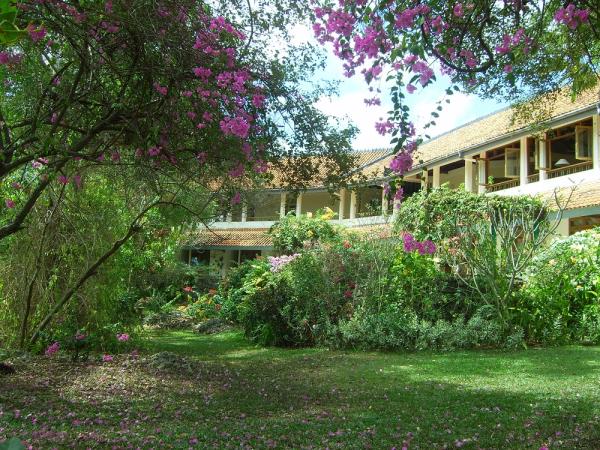 Ecolodge situated in a conservation area
From US $60 per double room per night