Alentejo rural family accommodation, Portugal
Responsible tourism
Responsible tourism: Alentejo rural family accommodation, Portugal
Environment
Regarding waste we encourage our staff and guests to separate garbage, in organic, paper, glass and plastics for later recycling or composting. Whenever possible we free the surrounding land and dirt road from rubbish (mainly dropped plastic water bottles). We recycle most everything.
The vegetables and fruits are grown organically and we use composted material derived from the house or local animal production from neighbour. Also waste grey water is purified and reused for watering the gardens. Our gardener is now experimenting organic weed control, although in the past his old agricultural habits have long avoided un-learning. Most of the produce of the organic vegetable garden is divided among several families in the neighbouring village of Outeiro, as a welcome exchange for their volunteer activities on the land.
Throughout the estate we use low voltage light bulbs and low energy appliances, cotton sheets and towels. We discourage wasteful use of electricity. The water supply is pumped and filtered from own sources, so we appreciate the using of water carefully, seeking the perfect combination of a more sustainable experience without having to forego modern comforts like warmth and freshness. That is why our floor and central heating and most hot water is provided from a state-of-the-art geothermal heat pump. This system relies on the stable heat of the earth around us in the fields. In large part of the retreat we have adopted floor heating, which makes geo-thermal energy even more efficient. Most extra heating is with open fireplaces with wood from pruned trees and some conventional heat pumps.
Part of our hot water system is also nurtured by solar heating of pipes under the surface of the roof. Use of roof solar panels is complicated as it has an impact on the original look of this 18 th century building. A micro-generator of solar photovoltaic (PV) panels hidden on the land for electricity will be adopted in the near future and will make us energy independent.
We make already use of our quality well water, which also serves our swimming pool. We are keen on establishing a more responsible attitude in relation to the surrounding cultural heritage: the Olival da Pega, a large more than thousand years old olive grove, that is threatened by illegal selling of olive trees to hotels and resorts in Spain for relative high prices. Municipal authorities and local environmental police is now taking control measures.
There are bikes for guests to hire, which is the best way to get to know the surrounding area. Unhappily, no regular public transport is available nearby. Nearest express bus station is at 15 km, however if needed we can offer shuttle service. Guests are encouraged to walk or bike to the nearby restaurant. Unhappily, local village shops are becoming rare.
Concerning wildlife and other living things, we promote and defend the link to trees, plants, herbs, insects, animals, birds, bees, frogs and toads at Monte Saraz. There is abundant bird life and a list of most birds seen on the property and surroundings is available in every room and updated by our guests regularly.
The materials for the renovation of the farmer estate, which dates back to eighteenth century, are as sustainable as available. It's been built using local and reclaimed materials wherever possible. We have been able to up-cycle most everything and we have been careful to recycle as much of the building debris as possible. Many materials are from the neighbourhood, like marble, schist, hand-made bricks and tiles. Many old doors are from local waste containers, or made by the local carpenter, an artist by nature, who also invented most of the adapted technology to keep heath outside. All restorations were done with a local group of carpenters, bricklayers, builders, using their old fashion, yet sustainable, techniques of building – increasing their self-esteem and proud. The arched ceilings in the kitchen and corridor are restored by a local artisan, craftsmanship which is vanishing in the area. The walls, mostly of adobe, are up to one meter thick and keep warm and cold outside. The restored houses as such have a low impact on the environment. In the design light and space became protagonist ingredients, wherever possible air-conditioning is avoided by proper air circulation and indirect day lighting.
Inside most buildings, we have kept the traditional whitewash, for its good properties in keeping the old adobe walls. The ceilings are also either of wooden beams and timber boards, or made of the original terracotta bricks. For the floors, we have applied the old tiles, materials and stone, but with an unconventional under floor air circulation. All the furnishings have been bought regionally or made locally. Many nice cupboards and chairs come from second-hand shops.
Community
Our philosophy is oriented on 'endogenous development' (development from within). We provide in every suite and farmhouse a folder containing information on the cultural context of the region. The silent beauty of Alentejo is little by little being discovered and we support a sustainable tourism approach to the area. No mass tourism like in other areas of Portugal. We advise our guests about the splendid landscapes with olives, winery and oak trees, its popular culture, its old history with many remnants of the megalithic era, Romans, Visigoth, Arabic occupations, its expertly cooked peasant food and wine, all enough reasons to get to know better this very special Portuguese area. Of course, we can also organize boating with gourmet picnics on the lake, provide maps for bicycling tours through the countryside, archery at the castle of the mediaeval town of Monsaraz, megalithic monument tours, local cookery classes, gastronomy-tours and wine tasting in Alentejan wineries or romantic candlelight suppers in fields dotted with olive trees and cork oaks.
Our estate is one of several tourist accommodations available around Monsaraz and we have been organising together sustainable tourism activities. We are aware that the perceptions of a rural community are focused on our guests and us. We have encouraged visitors to parttake respectfully in local community activities, contributing to cultural events and often ancient celebrations, occurring in the surrounding villages, as well as the open village festivities, of which there are many in the summer.
Our wish is to buy as much as possible from local owned shops and markets. So appliances, equipment, construction materials and tools are mostly found locally. However, for food it is getting more difficult year by year as the big corporation owned ccome hain stores have taken over and small local grocery shops are becoming rare. There are still many local restaurants with typical dishes based on local gastronomy. We ourselves love the restaurant of Manuel, friendly, tastefully, yet cheap, using many of his own produce like goat cheese, vegetables. Local kitchen at its best! Of course, we provide our guests also with info about the local shops, markets and restaurants, so they can enjoy the fabulous local produce and help the local economy. Bike hire is available, one of the best ways to see the local countryside.
Many seasonal vegetables and fruits from our own organic garden and orchard: tomatoes, green peas, oranges, lemons, potatoes, onions, carlic. The bread, warm from the oven every morning, is backed in the next village and is famous for its taste ('Alentejan bread'). We encourage our guests to go and see the bakery. We had guest that daily walked up the hill to Monsaraz (1/2 hour) to eat and shop there.
Alentejo is for us a special region, with hard working people, proud on their white washed houses with a deep sense/respect for this beautiful area. We live here now for more than 7 years. This is also a region with ongoing concerns of work for young people and actually many have left or travel away for work. In running the place, we work directly with local people and hope we contribute in a small way to the local economy, by providing stable employment and paying a fair wage. Rosette from the next village has worked with us since the beginning. She manages all related to cleaning and breakfast independently on her own way and initiative, as well as her husband who maintains the garden. All other staff are also local and hand picked by Rosette for their quality of work. Deserving our trust, they work with us with enthusiasm, we are in direct personal contact with all of them and together we have created a comfortable house and garden. They are greatly appreciated by the guests.
Popular similar holidays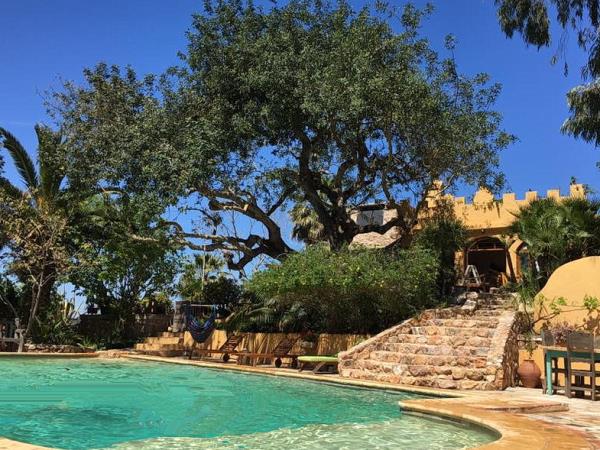 Enchanting agrotourism on 6 ha rural estate close to beach
From €55 - €225 per accommodation per night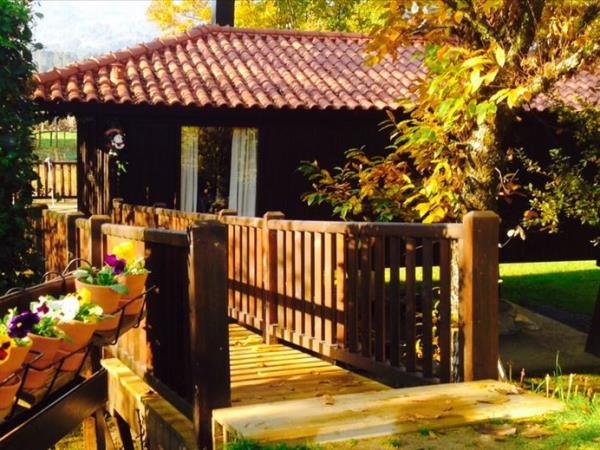 Treehouse in National Park Peneda Geres, Northern Portugal
From €110 - €160 per accommodation per night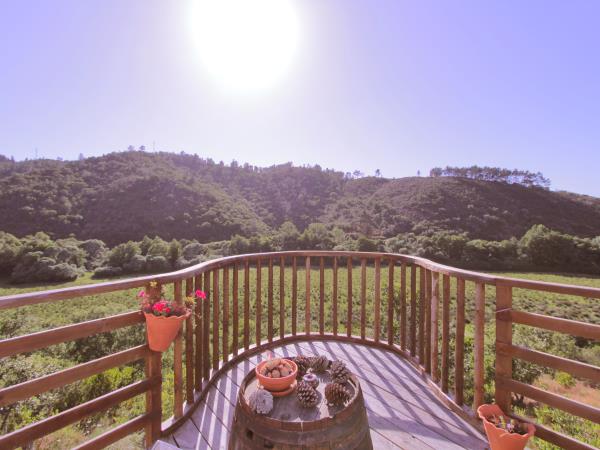 Great eco accommodation in nature reserve close to the beach
From €65 - €109 per accommodation per night (sleeps 2)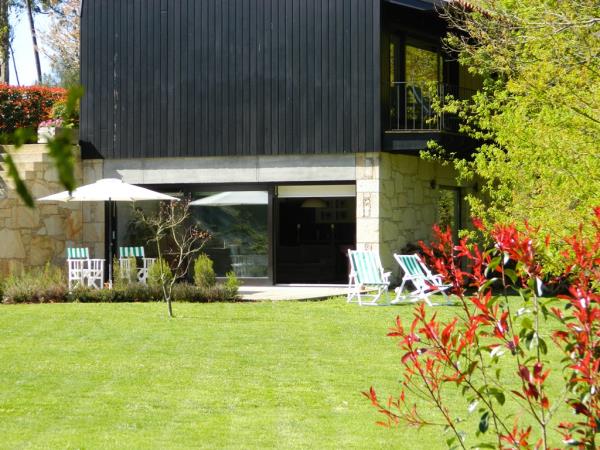 Country houses in the heart of the National Park PenedaGeres
From €95 - €130 per accommodation per night (sleeps 2)