Sussex wild camping holidays, England
Responsible tourism
Responsible tourism: Sussex wild camping holidays, England
Environment
The farm has several separate habitats amongst the meadows, mature trees, hedgerows and lake, all of which require management to maintain as wide a diversity of both wildlife and plant life. The meadows have not had artificial fertilisers for over 15 years and through careful grazing management, gradually we are seeing a return of natural meadow flowers and butterflies and orchids. The spring fed lake with origins going back to 16c iron industry, provides a habitat for a wide range of healthy coarse fish which is managed through restricted access, weed and tree clearance and natural control of stock levels. Bats, swallows and dragon flies all use the lake as a hunting ground, as does the king fisher who lives in the banks along the river, which is a tributary of the Cuckmere. The hedgerows which define the ancient field closures, are cut every two years allowing the hedges to provide winter food for the birds and mammals (which include us!)
All food grown in our vegetable garden and orchard is watered with spring & rain water stored in an underground tank near the vegetable garden. Our environmental beliefs and self sufficiency have followed simple permaculture and ecological principals providing us with a land based life style . We use eco-friendly cleaning and washing products and minimise our carbon footprint by composting waste, reducing energy consumption and re-cycling, even ash from the wood-burner is used as a pottery glaze!
Community
Our aim is to source all food locally be it from Hank, who runs the local farm shop, and grazes his animals on the farm, or fresh fish caught from local boats launched from the beach at Eastbourne, which sometimes we buy on our bike rides. We regularly support our two local pubs which are both within walking distance, and who are always pleased to greet our guests on nights when we are not cooking. We are regular shoppers at our local farmers market where we buy local cheeses, breads and game, and are often tempted by other produce not on the shopping list.
Sue being a keen potter and artist, we particularly like to arrange outings for our guests to visit any local craft exhibitions or open studios, and with both the Towner and Jerwood gallery close by we are well positioned to provide support to local craft producers.
We are proud of our old church at Warbleton which most of our guests visit during our stay with us as it provides not only as a place of worship but also an introduction to our local history, with wide ranging views over the countryside we are going to explore-and last but not least, because its next to the pub.
As hosts for WWOOFS (Willing Workers on Organic Farms) we share our lifestyle, knowledge and food with them, and they help us manage the farm and gardens while enjoying Sussex and improving their language skills while at the same time.
Landscape
Positioned centrally between the hills of the South Downs, the sea, the flat Pevensey Salt Marshes,the wooded High Weald and the heathland of Ashdown forest we have a unique contrast of landscapes . Using the bikes we provide, The 'Cuckoo Trail' provides us with safe cycling on a disused railway track to link in with these varied landscapes and rural villages.
Over the years we have developed a wealth of local historical knowledge especially about the old Wealden iron industry signs of which are still to be seen on our local walks; the river which worked the local hammer forge runs through our fields and the huge earth worked dam can still be seen on a walk across neighbouring fields. We often find interesting glass or stone bottles in the river or 'worked' flints in nearby fields, and a 25 kilo cannon ball when digging a new veg patch! . We have a fantastic variety of visiting birds, butterflies and wildlife around the farm including the kingfisher, nightingale, owls, purple hairstreak butterflies, roe deer, badgers & foxes. Bird watching from the bed has been enjoyed by many of our guests over the years!
Popular similar holidays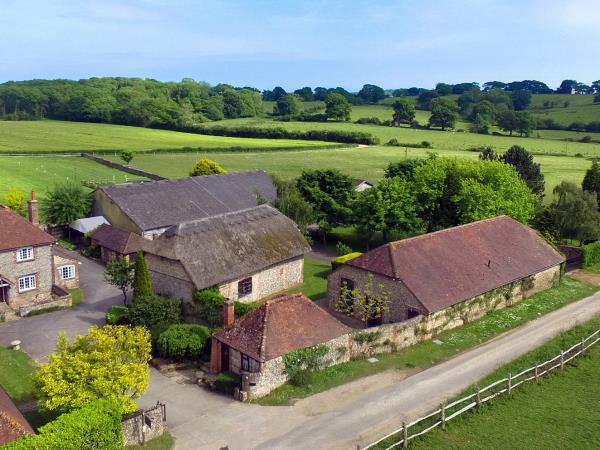 Situated at the foot of the beautiful South Downs
From £78 - £134 per accommodation per night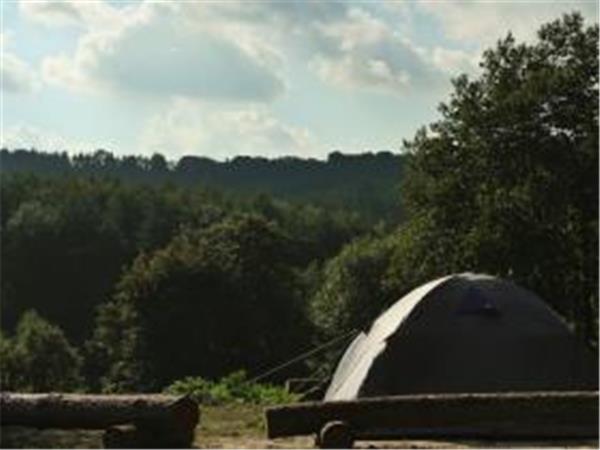 Woodland camping in Sussex with open fires allowed
From £18 - £90 per accommodation per night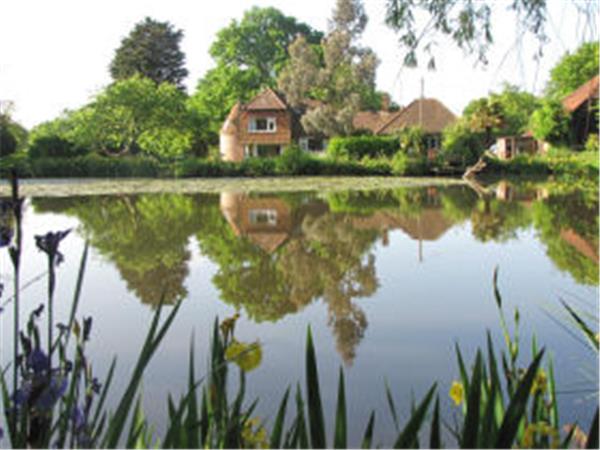 Farmhouse accomodation with choice of crafts or activities
From £35 - £44 per person per night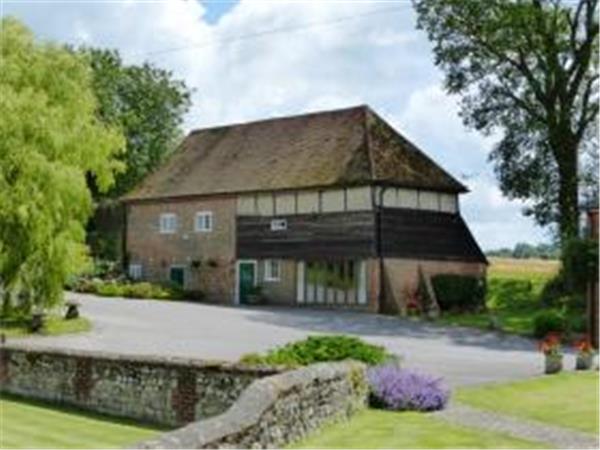 17th Century Barn in tranquil Hampshire countryside
From £625 - £1065 per cottage per week (sleeps 6)