Responsible tourism
Kanha Tiger Reserve lodge, India
Carbon reduction
Your holiday will help support local people and conservation. We must also reduce CO2. Learn about the CO2 emissions of this holiday and how to reduce them.
Environment
Our heritage in wildlife and conservation
The Sankhala Heritage:The Sankhala family has a history of wildlife conservation from the 1970's. The late Kailash Sankhala was a distinguished officer in the Indian Forest Service and Founder of Project Tiger (1973). Known as the "Tiger Man of India" he authored many books on the tiger, which serve as a great source of reference to other conservationists. His son, the late Pradeep Sankhala – renowned wildlife tour operator, successfully developed our Jungle Lodges. Pradeep was a well respected conservationist and was the chairman of Tiger Trust India.

Today the lodges are run by Amit Sankhala, who continues the legacy of conservation and wildlife tourism. His vast Knowledge and boundless enthusiasm in the field of eco tourism enables him to be head and shoulders above the rest.

Eco friendly principles and practices: Some of the cooking for our guests is done in two different types of solar cookers. This helps minimize energy use and also the food cooked is healthy and tasty. Our guests can ask for cooking lessons for solar cooking. It takes anywhere between 4-6 hrs to cook food depending on what you are cooking. It is a steel box in which you put the container of food, reflected with the suns rays, which generates the heat for cooking.

We use CFL bulbs in all our rooms which have a master switch, which guests can press before leaving the room. After all the guests have left for the park, we have a staff member check all these rooms for this very purpose. Many a times we only get limited electricity. Hence preservation for us is the key. This is the main reason that we have not installed any Air Conditioners and Electric Heaters. Instead we have desert coolers and hot air blowers which use much less electricity.

We have flush toilets to reduce water usage. For bathing we also provide buckets/mugs if clients wish to use to save water (which is used by most of our Indian clientele as its quite common in India) instead of using showers which consume more water. For laundry, we have a laundry man who washes the laundry at his own place, by hand so no washing machines!

Much of our fresh vegetables come from the organic farming at the lodge. Guests are welcome to take a tour of the vegetable garden which is cultivated only with animal manure, avoiding all pesticides and other harmful chemicals. Our garden and vegetable waste is composted in a pit which is then recycled as manure for the vegetable garden. We use a process of decomposition by worms, which is efficient and odorless. It provides us with rich organic fertilizers for our organic farming on site.

Social & community support: The local community is a part of the lodge. 95% of the workers that we have at the lodge are from the nearby villages. All the jeeps that we hire for the national parks are from local drivers. In the past we have conducted information sessions for the villagers to learn more about medicinal plants and solar cooking. The nearest medical facilities are usually 50km away, hence for common illnesses like cough, cold, body aches, soar throat, etc medicinal plants provide a vital help. For many years we had dedicated a few acres of our land to achieving this and had kept a medicinal plant expert. Today, we have these medicinal plants growing all around the lodge so our guests could also witness there uses.

All the food cooked is local and 60% of it is grown in our own vegetable plant garden. We encourage guests to do a village safari where they can learn more about the local communities and their initiatives.

We have also organized medical camps for villagers through our non profit Tiger Trust which was established by the same family that started the lodges. Tiger Trust also organized one of the only guide training workshops in Bandhavgarh and Kanha areas where guides could better understand the eco system of the park. These guides are from local villages and had very limited knowledge regarding many aspects of the park.

Guest lectures are given at the lodge where guests can contribute monetary donations to Tiger Trust. Updates are sent to guests, or they are encouraged to check our website for all the regular activities we do. The major support of funding for Tiger Trust comes from other bigger non profits like US Fish and Wildlife service and Tiger Foundation.

Public transport is promoted as much we can. The trains arrive from Delhi in local stations called Gondia and Jabalpur. These stations are usually 3-4 hours away. Hence we have encouraged many local people to invest in good air conditioned vehicles, which they can drive to transfer clients. We do not own our own transportation vehicle and only encourage more and more locals to get them. We were one of the first established lodges in this area (1989), hence have been promoting this initiative for over 15 years.

Local buses are available for the more adventurous! All our basic amenity workers like builder, electricians, plumbers even the architect are all local. In these remote areas the majority of people are self employed.

Members of Travel Operators For Tigers (TOFT): Recently, we have become exclusive members of 'Travel Operators For Tigers' (TOFT). Membership to this group is limited to only the best and most eco-friendly wilderness lodges. TOFT encourages its members to involve the local community by providing economic and social benefits to it. We feel that over the years we have made a deliberate effort to do just that, and therefore promoting action on responsible use of wild habitats (motto of TOFT).

The Jungle Lodge is planned to provide a friendly, informal and relaxed environment with lots to observe, understand and learn. It is a great place to make new friends and have long conversations about wildlife.

We hope you will enjoy the stay and make it a learning experience.
1 Reviews of Kanha Tiger Reserve lodge, India
---
Reviewed on 28 Jun 2011 by
Mark Lineham
1. What was the most memorable or exciting part of your holiday?

Picture the scene, you are sat on the back of an elephant looking down into the long grass where a stunning tiger views you with mild suspicion. Your elephant steps a couple of feet too close and... whilst it was merely a warning and we were obviously in no danger, I will never forget the noise the tiger made! Our tiger sightings (5 in 3 days at Kanha) were amazing. Peering through the edge of the forest to see a tiger looking back at you only a few metres away is something you won't forget.


2. What tips would you give other travellers booking this holiday?

Relax and let the operator take care of you. It was excellently organised from our pick up in Jabalpur to our return there a few days later. Arsh also assisted in booking train travel and a driver for other parts of our trip to India. Enjoy the food - it is immaculately prepared at the lodge. Don't forget to buy the recipe book they offer, we forgot to and I regret that to this day. Don't expect to see tigers straight away. This is no African safari. Tiger sighting requires patience and a little effort but you learn plenty while you are doing this from reading other animals' behaviours to identifying pug marks. Enjoy learning to track! Also, enjoy the other animals & birds on view.


3. Did you feel that your holiday benefited local people, and minimized impacts on the environment?

The lodge was set up in what appeared to be a very environmentally friendly way and the employees and rangers all appeared to be locals.


4. Finally, how would you rate your holiday overall?

Great. It was the highlight of a longer trip to India which also took in the Taj
Mahal, Jaipur, Ranthambore, Varanasi etc etc so the bar was set pretty high. I'm absolutely sold on India and plan to go back. If I do, you can be certain I'll try and fit in a return trip to Kanha or to the company's sister lodge at Bandhavgarh.

---
Popular similar holidays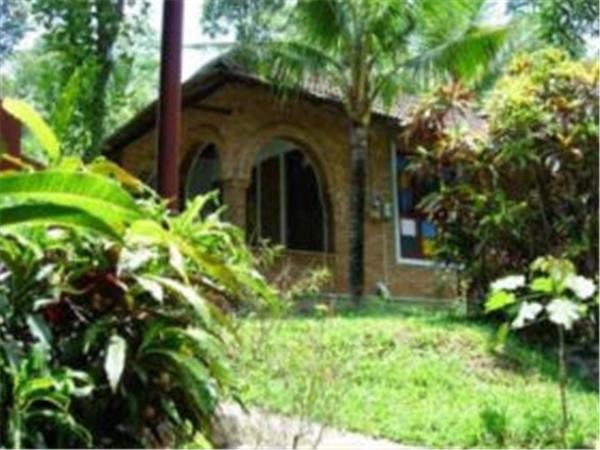 Vegetarian Culinary Holidays in Midlands of Kerala
From Rupee13500 per double room per night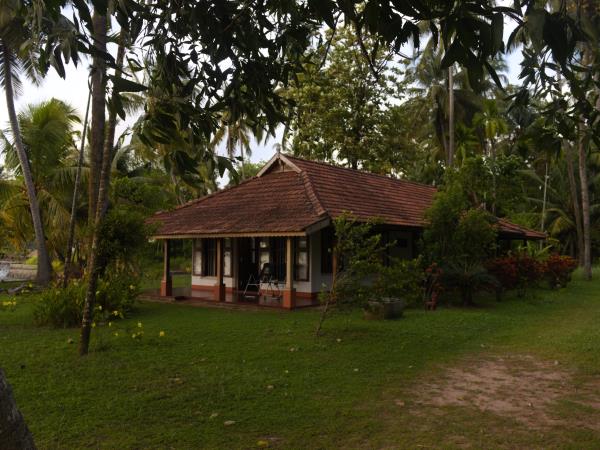 Lakeside B&B near to Fort Cochin
From Rupee3500 - Rupee6500 per room per night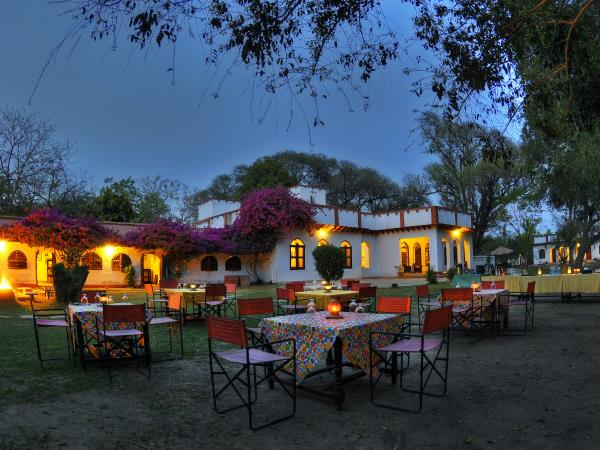 An oasis of tranquility & gracious hospitality 1hr from Agra
From Rupee5000 - Rupee9000 per room per night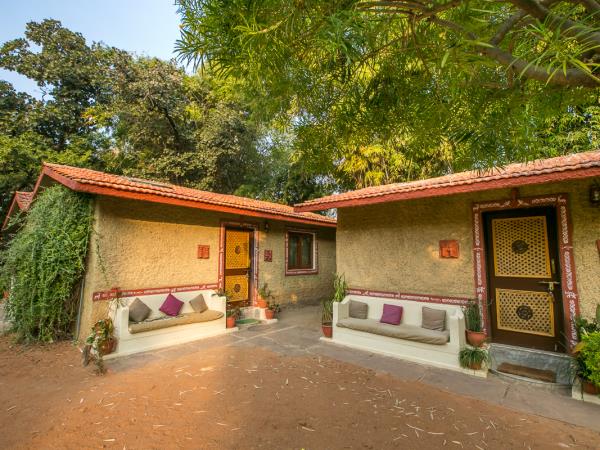 Explore India's wildlife staying in this peaceful jungle lodge
From £115 - £150 per person per night