Save £100 off your next holiday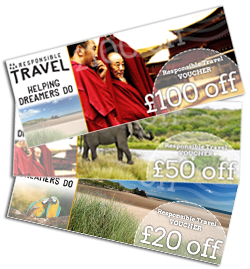 If you've booked
a holiday through Responsible Travel in the past, we'll say thank you every year with a Christmas present of up to £100 off your next holiday, whether exploring a new destination or country, a family holiday in Europe, or a life changing adventure.
To help you take another fantastic authentic, local experience you will be given a special discount code, which is exclusively for people who've previously booked with us - and you'll save more when you spend more!
Just quote the relevant code (which we will email you) when enquiring about your Responsible Travel holiday to receive your discount!
Issue of booker's vouchers depends on the booking being declared to us by either the traveller or holiday operator. Minimum spend and/or expiry date apply to selected vouchers (exact details supplied with voucher codes). For further details see our general voucher
terms and conditions
.