Angkor Wat - travel journal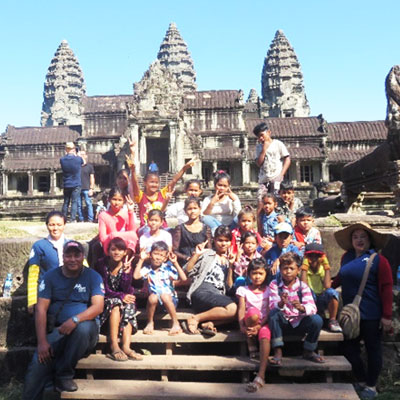 On Thursday 7th December 2017, the education centre Kaliyan Mith Siem Reap (KMSR) took a group of 20 (13 female) children, on an excursion to Angkor Wat. Accompanied by three KMSR staff, the tour was led by a guide from Buffalo Tours and funded by Responsible Travel.
KMSR has been working with the Teksen Tíbong community since 2008, and knows these children through the education centre it runs at the KMSR community centre. KMSR provides non-formal education classes to children to support them with their education in Cambodian public schools. Today, KMSRís outreach team works with 142 children in total in this particular community.
Date:
7th December 2017
7.30am:
The bus picked up the excited day-trippers from Teksen Tíbong community!
8am:
The children had breakfast at KMSRís training restaurant: ďNyam Nyam Letís Eat!Ē. Each child had a tasty and filling dish of pork and rice Ė a favourite Cambodian breakfast!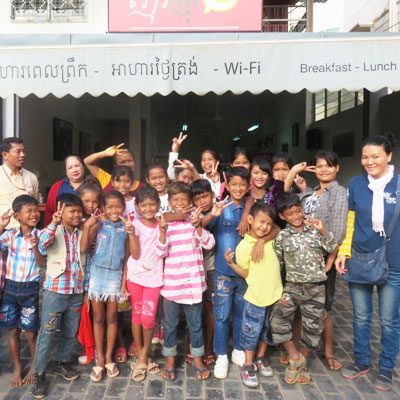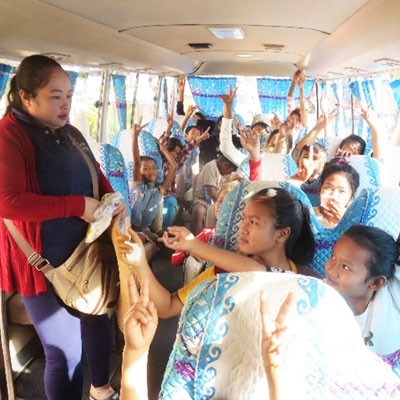 8.30am: Angkor Wat Temple:
The group set off for Angkor Wat temple. During the bus ride, the guide was able to start telling them about the history of the temples.
9:00am:
The bus arrived at Angkor Wat, and the children were treated to a guided tour of the main temple complex over the next two hours. The guide from Buffalo Tours was able to explain the historical meanings behind the designs on the buildings, and why they were selected.
11:30pm:
After over two hours exploring the main temple, the group settled down for lunch by the Tonle Oum river. They had a packed lunch from Nyam Nyam restaurant, and relaxed for a while in a nice quiet spot.
12:30pm:
After eating, relaxing, and then feeling fully refreshed, the children took part in creative activities to reflect on their excursion so far. These included sports, arts and educational games. One activity included dividing up into two groups and seeing which group could work together best to build the strongest bridge with just pieces of straw and elastic bands. They also had art activities, drawing their favourite sites so far from the morning at Angkor Wat.
2.00pm:
The tour resumed, and the children were shown around Bayon temple and the Elephant Terrace. During this time the children learnt all about the images depicted on the walls of the temple, and about what it was like to live in Cambodia during that time.
4.00pm:
After a busy day, the group left the temple complex and headed home to Teksen Tíbong.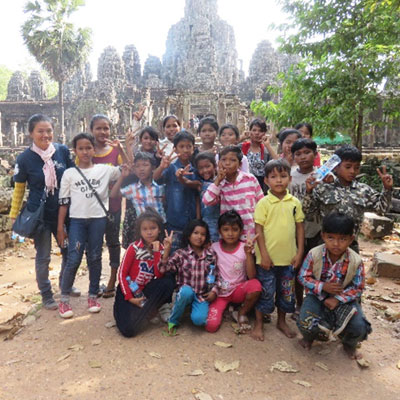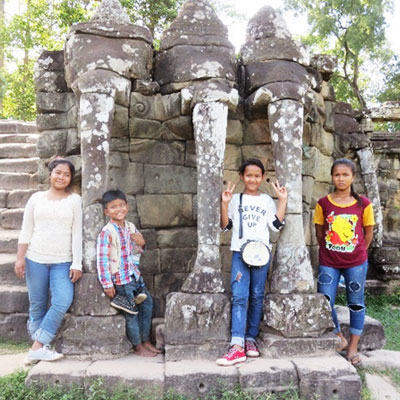 Impact:
This was a wonderful opportunity for the children to take part in this trip, it ended with them happy and having learnt lots about Cambodiaís history. The excursion was a particular success in that it was a fantastic experience they could share with friends from their community. The main highlights of the day for the kids were the delicious meals, the chance to express their reactions to the impressive buildings through artwork, and walking across the floating bridge to get to Angkor Wat.
Quotes from the day
"
"Iím happy that a driver picked me and my friends up from home to have breakfast in Nyam Nyam restaurant."

"Iím so surprised to see our history and hear many stories telling us what happened to Angkor Wat and Bayon temple."

"Iím so happy to see all these amazing temples that I have heard of, but never knew the stories. Thanks so much to the guide, you are so good."

"Iím so full after the delicious breakfast, and the teachers have taken good care of us."

"I joined the photos at Nyam Nyam and after that the driver took us to Angkor Wat."

"Thank you to who donated and to the teachers that run this so we could have a happy trip, especially to see the wonderful temples and then take us safely back home. I hope to go on a trip like this again!"

"I was in a lot of group photos with others in great places around the amazing temples"

"When we got tired we had some refreshing drinks."

"I had a nice lunch with my friends, the teachers, the driver and guide, and then we relaxed. About one hour after that the teacher led us to play some games and in creative arts."
"
About our partner organisation:
Friends International is an award-winning social enterprise founded in 1994 that saves lives and builds futures of the most marginalized children, youth, families and communities in Southeast Asia and around the world. It works to create a future where all children are safe from all forms of abuse, and become functional, productive citizens who contribute to a more peaceful, equitable and sustainable world. Friends works in Cambodia, Indonesia, Laos and Thailand, and with 45 partners around the world, to provide comprehensive services to marginalized urban children, youth and their families. Since its inception, Friends has supported the education, well-being, and sustainable reintegration of more than 300,000 vulnerable children, youth and their families.