Angkor Wat - travel journal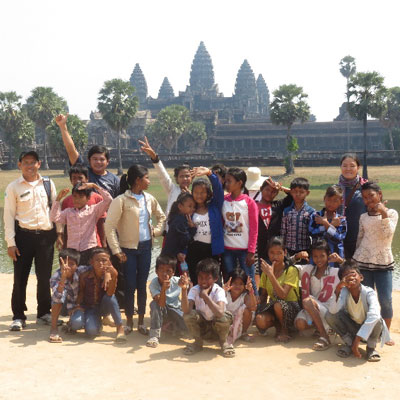 On Thursday 16 February 2017, Kaliyan Mith Siem Reap (KMSR) took a group of 11 girls and nine boys, aged between 10 and 15, on an excursion to Angkor Wat. This excursion was funded by Responsible Travel.
The children were from Chong Kneas, a community near Tonle Sap Lake, about 15km from Siem Reap town. Chong Kneas is made up of seven fishing villages, with approximately 700 families in total. A number of issues can be observed in this community including poverty, alcohol abuse, domestic violence, school dropout, seasonal work and land issues.
KMSR began outreach work in Chong Kneas in March 2012. Based on the high needs of the community, support was extended to include school reintegration, non-formal education, case management and income generation support. In July 2013, KMSR established a weekly alcohol support group and in January 2014 we opened an office to deal with the increasing amount of work in Chong Kneas. In 2016, we supported around 130 children and youth and 90 care givers in Chong Kneas.
A lot of children in Chong Kneas do not have many opportunities to leave their village. Even though it is only about 30km from the Angkor Wat temples, many of the children have never visited this historic site before.
Date:
16th February 2017
7am: Departure:
The Buffalo Tours bus picked up the children at Chong Kneas. Supervised by two KMSR social workers and supported by the tour leader, the group got ready to head off on their excursion.
7.30am: Breakfast:
The first stop was breakfast at KMSR's training restaurant Nyam Nyam (Let's Eat). Opened in September 2016, Nyam Nyam is KMSR's first vocational training restaurant for care givers. Nyam Nyam is a Khmer-style restaurant where the children enjoyed a traditional breakfast of pork and rice. The children were very well behaved and excited, as they do not often get the opportunity to eat in restaurants.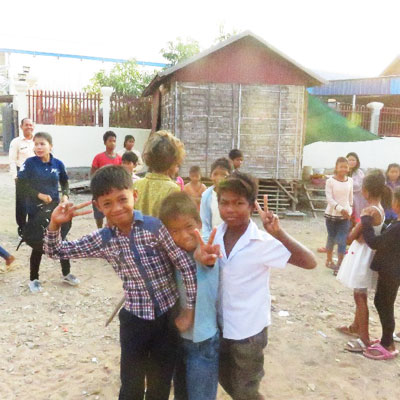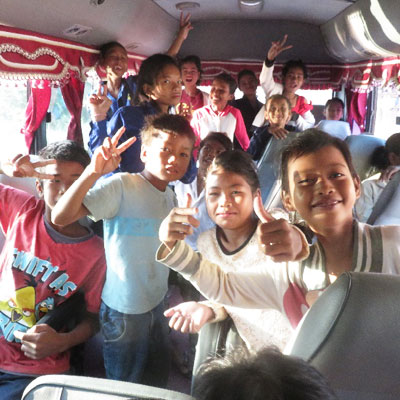 8.30am: Angkor Wat Temple:
After breakfast, the 20 children and three KMSR social workers got back on the bus and headed to Angkor Wat . Arriving at 9am, the group spent the next 2.5 hours exploring the temple. The tour guide from Buffalo Tours talked about the history of the temples, explaining who built them and why particular designs were used. Many of the children had never been to Angkor Wat before and none them knew much about the history of the temples.
11.30am: Elephant Terrace:
The group then headed to the Elephant Terrace for lunch. Following an exhausting morning exploring the temple, the children were happy to take a break for a picnic lunch of stir fried pork with mushrooms and fish soup (also provided by Nyam Nyam restaurant). After lunch, the children participated in art activities where they drew pictures of what they had seen in the morning and also painted other pictures. The children then played some fun, educational games with their friends.
Following lunch, the tour resumed with the tour guide explaining the history of the Elephant Terrace.
2pm: Bayon Temple:
The last stop of the tour was visiting Bayon Temple, where again the children got to explore and learn about the temple's history. After spending about an hour at Bayon temple, the group got back on the bus and headed home to Chong Kneas.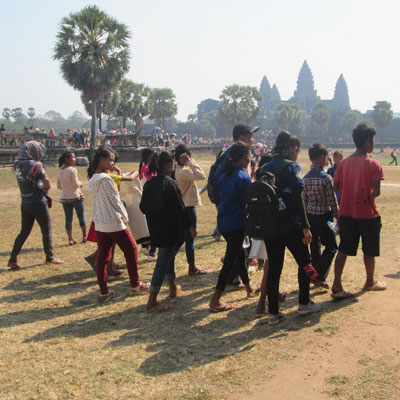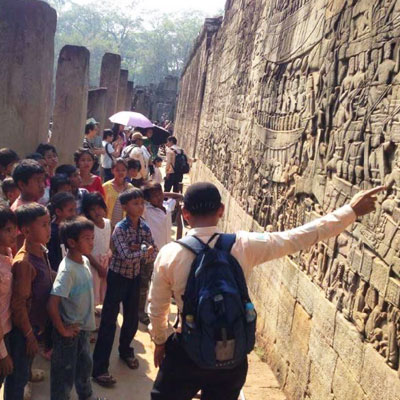 Impact:
The children had an excellent day and were very happy to have taken part in this excursion. For many of them, it was their first trip to Angkor Wat and they really enjoyed learning more about the history of Angkor Wat and the temples. They were able to see in real life what they had previously only learned about in books.
Most of the children do not have many opportunities to leave Chong Kneas, so this was an exciting day. They said that they felt happy and excited to be able to enjoy this experience with their friends. Overall the excursion was a great success and the children were asking where they can go on the next trip.
Lots of photos were taken throughout the day and, as a memento, each child received a folder containing photos of themselves and their friends, their artwork and quotes about their experiences and feelings from the trip.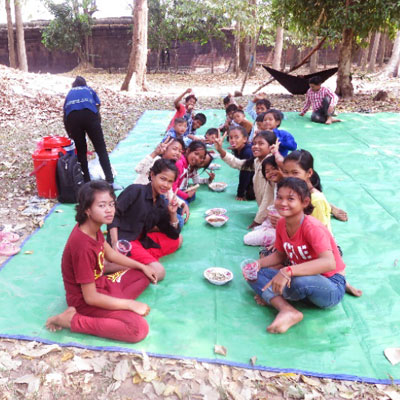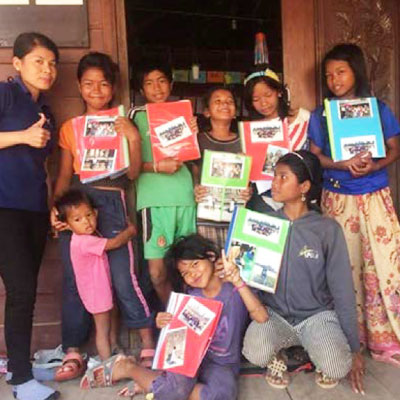 Quotes from the day
"
"On the bus I was very happy and could sing together with my friends."

"The breakfast was delicious."

"It was a very good opportunity to visit Angkor Wat with the children. Even for me it was the first time I have visited the temples with a tour guide and I learnt a lot about the history." - Kaliyan Mith Social Worker

"When we arrived I was very surprised because I have never seen Angkor Wat before, it was my first time."

"I was very happy to see the sculptures and take photos with my friends."

"I saw the beautiful sculptures and the top of Angkor Wat temple, it is very nice."

"After lunch we played educational games, this made me feel very happy."

"I am very happy to visit the temples with my friends and understand more about the history of the temples."

"If I have the opportunity I will go to visit the temple again."

"I was very happy to lead this group and see the children happy and safe." - Kaliyan Mith Social Worker

"Thank you for this visit!"
"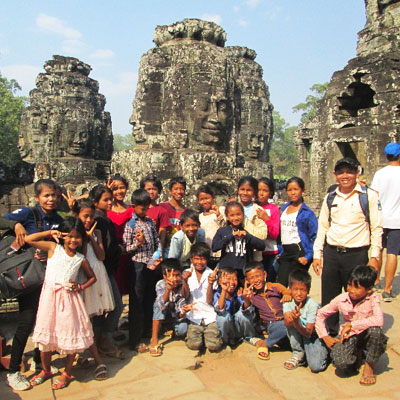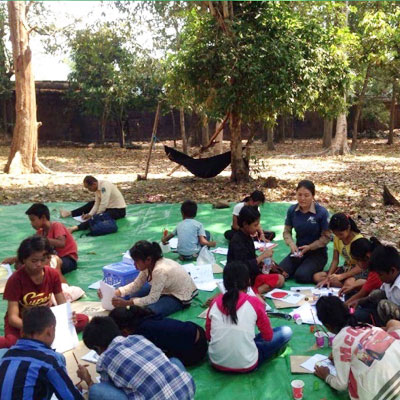 About our partner organisation:
Friends International is an award-winning social enterprise founded in 1994 that saves lives and builds futures of the most marginalized children, youth, families and communities in Southeast Asia and around the world. It works to create a future where all children are safe from all forms of abuse, and become functional, productive citizens who contribute to a more peaceful, equitable and sustainable world. Friends works in Cambodia, Indonesia, Laos and Thailand, and with 45 partners around the world, to provide comprehensive services to marginalized urban children, youth and their families. Since its inception, Friends has supported the education, well-being, and sustainable reintegration of more than 300,000 vulnerable children, youth and their families.