Basecamp Explorer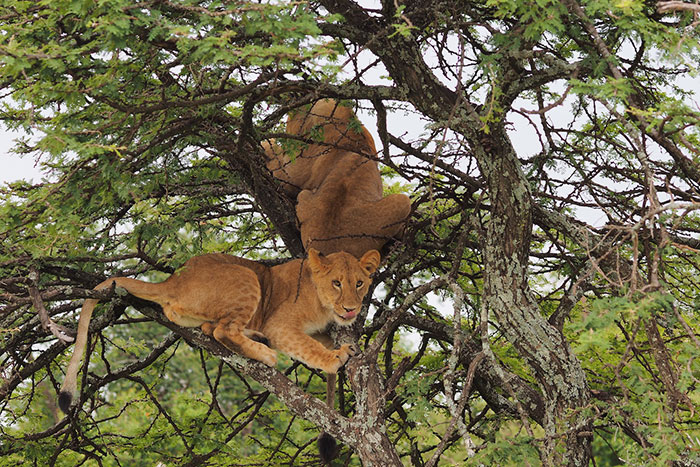 The Masai Mara National Reserve is one of the natural wonders of the world. However, it is under huge strain and the surrounding Maasai communities receive very little benefit from the tourists that flock there. With the help of Basecamp Explorer, this is beginning to change. In 2010, Mara Naboisho Conservancy was set up to protect and conserve wildlife and to work in partnership with local communities, from whom the land was leased for responsible tourism purposes. This year, through the Coming Together Campaign, the team aimed to extend the Conservancy and the good work that has begun. A Crowdfunding campaign raised thousands of pounds but there is still some way to go to protect this unique and special place for future generations to come. Here we chat with Stine Wilhelmsen to find out more.
Take action!
1. Donate to help protect the Mara Naboisho Conservancy. Email Hans Christian Magnus: hanschr@basecampfoundation.org
2. Share this story with family and friends


What's your role?
I freelance as a Project Manager for Basecamp Foundation Norway, the sister organisation of
Basecamp Explorer
, an award-winning responsible tourism operator with operations in Kenya and the Arctic.
Basecamp Explorer is a founding partner of
Mara Naboisho Conservancy
, a 20 000 acres community managed wildlife conservancy in Masai Mara, Kenya.
What's the name of the campaign?
The campaign name "Coming Together" symbolised the fact that the campaign raised funds to extend
Mara Naboisho Conservancy.
Naboisho is a Maasai word meaning coming together, which perfectly captures the spirit that enabled and sustains Mara Naboisho Conservancy.
When did it launch?
The campaign launched in April 2016 and ran until August 2016.
Tell us about your campaign in a nutshell?
The Coming Together Campaign was a collaboration between Basecamp Foundation Norway, Mara Naboisho Conservancy and the Maasai community.
The campaign used crowdfunding to raise funds for securing a wildlife corridor connecting Mara Naboisho Conservancy to the Masai Mara National Reserve, one of the natural wonders of the world. The corridor, which is vital for wildlife to move unimpeded between the conservancy and the national reserve in search for food and water, was under severe threat from fencing and land grabbing.
What inspired this campaign?
Basecamp Explorer has been partnering closely with the Maasai Community for almost 20 years to create a model where responsible tourism both empowers local communities and safeguards wildlife and their natural habitat. In 2010, we established
Mara Naboisho Conservancy
, a groundbreaking model for nature conservation.
Responsible, low-impact tourism is the backbone of the Mara Naboisho Conservancy model: revenues generated through tourism covers the lease of the land, paid monthly to more than 550 Maasai families, as well as funding for community projects such as boreholes, schools and health clinics.
To sustain this model, the tourist partners have to generate enough income to offer the local Maasai a fair lease for their land. We strongly believe that most of this can and should be raised through responsible tourism, seeing as this is an industry that also generates jobs and training opportunities for the Maasai. This is not charity, this is collaboration.
However, the current income generated through tourism is not enough to both sustain the existing area and secure new territories. To extend the positive impact of Mara Naboisho we need to use additional fundraising avenues.
Alarmed by the rampant fencing and demarcation taking place along the borders of Mara Naboisho, my close friend Anton and I decided that we had to do something. We decided to use our combined experience of online engagement and event planning to run a crowdfunding campaign.
With the support from all our friends in the Mara and across the world, we managed to raise an incredible $110 000 in four months.
Share with us a story about a person / place / animal that's currently getting a rough ride because of these issues?
There is no place quite like the Mara. Vast, open savannah as long as the eye can see, harmoniously speckled by mesmerizing Acacia trees. Yellow plains contrasted by lush riverbanks. A Garden of Eden – a paradise - providing a home for the greatest collection of large mammals left on the planet.
Despite being crowned one of the Natural Wonders of the World, the Mara is under severe pressure from external forces including modern development, land speculation and climate change. Recent years has seen a rapid decrease in wildlife, and the Maasai people benefit little, if any, from the intense and un-controlled tourism inside the National Reserve.
The deterioration of the Mara would not only deprive future generations from the chance to witness animals in the natural habitats, it would deprive the Maasai people from benefitting from the potential income of responsible tourism.
What change needs to happen to make things better?
When managed in close cooperation with local communities, responsible tourism has the unique ability to provide job opportunities for local people and protection for wildlife and their natural environment.
To protect the people and the wildlife of the Mara, we have to come together to safeguard the little land that is left. Protecting the "corridors" between protected areas is vital to avoid isolated islands that disrupt wildlife's migratory routes.
To safeguard the Mara, we need to offer the local Maasai a fair lease for their land. We believe that most of this can
and
should should be generated through responsible tourism, as this also generates jobs and training opportunities for the local people. However, immediate needs have to be meet through other initiatives such as the Coming Together Crowdfunding Campaign.
This dual approach gives our friends and supporters around the world the opportunity to have a direct positive impact by visiting us and donating to our fundraising campaigns.
How will the world be a better place if and when you succeed?
If we succeed, the wildlife of the Mara will have a safe haven where they can find protection from poaching, diminishing natural habitats, and modern development. If we succeed, local people will continue to benefit from the jobs, training opportunities and community projects that responsible tourism generates. If we succeed, we will continue to see close collaboration between responsible tourism operators and local communities, thereby setting a precedent for mutual respect, cooperation and cultural exchange.
If you had a mega-phone for 10 seconds on a rooftop to get your message out, what would you shout?
Imagine there was a model for nature conservation that not only protected wildlife and their natural habitats, but equally empowered local people, both living and future.
Imagine there was a model for nature conservation that not only benefitted the privileged few, but had an immediate and direct impact on entire communities.
Imagine there was a model for nature conservation in which you, wherever you are, could be directly involved in safeguarding the most unique wildlife territory on the planet by visiting an award-winning safari operator or donating a small amount to an online campaign.
There is. Join us in Coming Together for People & Wildlife.
If you had a 10 second slot on TV which image would you show to get your message out?
There are many haunting images of poisoned lions or poached elephants that I could show, but I would rather show a picture that captures the amazing resilience of wildlife – if its only given a chance. The two lion cubs in this photo have
come together
to find a safe haven in this tree. To me, this symbolizes the safety that Mara Naboisho can continue to offer both people & wildlife if we all chose to come together.
Is there one person who figureheads this campaign? Tell us about them and their inspiration and aspirations.
When I decided to run this campaign, I was deeply moved by the support and enthusiasm shown by all my friends at Basecamp Explorer.
The campaign would never have been as successful as it was without the support from my close friend and Head Guide at Basecamp Explorer, Derrick Naabala. Raised as a shepherd boy, Derrick understands the ins and outs of the Mara better than anyone I know. Besides helping to identify the wildlife corridor, featuring in our
campaign video
and engaging with the local community, Derrick helped me keep my spirits up by reminding me of the incredible things that can be achieved as long as we work together.
What three things can we all do to help?
1.
Spend
your next holiday with Basecamp Explorer on a
Masai Mara safari
2.
Donate
to the ongoing work of protecting the areas bordering Mara Naboisho Conservancy. Email Hans Christian Magnus for more information: hanschr@basecampfoundation.org
3.
Share
this story with friends, family, colleagues and neighbours.
What's the campaign website?
http://www.maranaboisho.com/
Main donor contact: hanschr@basecampfoundation.org
Do you have a target end date for this campaign?
The Coming Together closed in August, but our efforts to secure the areas around Mara Naboisho are ongoing. The most immediate need is to secure the eastern corridor. To avoid land speculators grabbing and fencing off this land we need to raise $50 000. Please get in touch to discuss how you can help.
Take action!
1. Donate to help protect the Mara Naboisho Conservancy. Email Hans Christian Magnus: hanschr@basecampfoundation.org
2. Share this story with family and friends


Responsible Travel's view
"
The Mara Naboisho Conservancy is a unique community partnership which puts a real value on the conservation of wildlife and natural environments. Empowering Maasai people to manage their own responsible tourism initiatives is a remarkable thing and it is a model that has proven to work – it is win, win for all involved. We urge you to support this campaign any way you can.
"