We need to diversify voices in adventure and travel: What we can learn from the Everest queue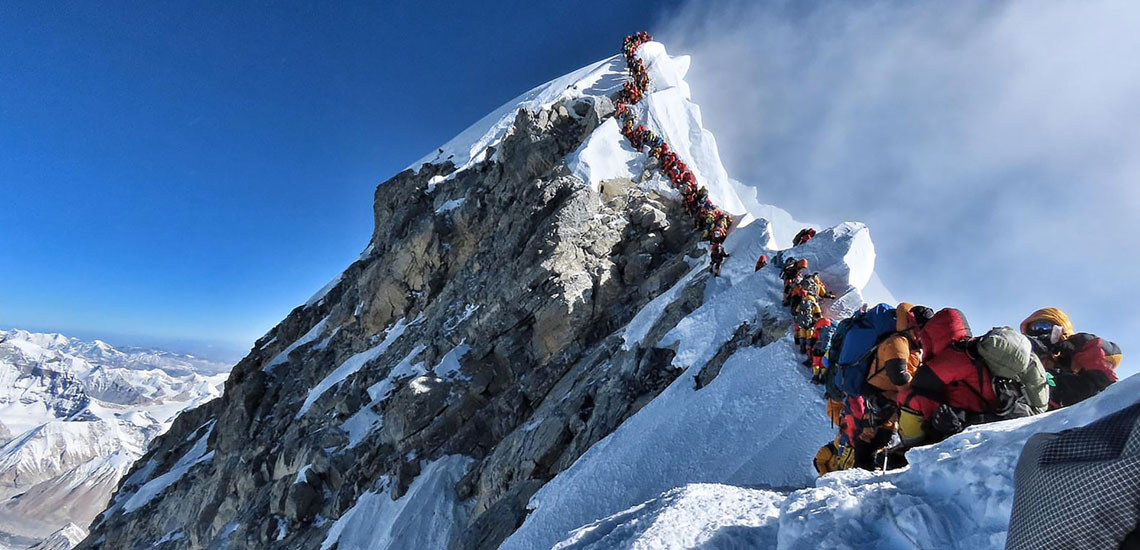 A photo of a queue of climbers waiting for their turn to stand on the summit of Mount Everest has been circulating the world's news outlets recently. Taken by a former Gurkha-turned-professional climber,
Nirmal Purja MBE
, the image has stirred a wide-reaching emotional response. As Tom Fielden, Science and Environment Editor for the Today programme on BBC Radio 4 said in a recent tweet
"There's something deeply depressing about this picture"
.
What you might ask? Perhaps it's the surreal, religious art-like symbolism of people hiking their way up into the heavens; particularly poignant when we learn that the overcrowding and delays have led to the deaths of several climbers this season.
Most worryingly, perhaps, is that this picture is a powerful metaphor for the wider overtourism phenomenon – somewhere visited for its seeming inaccessibility and iconic wild beauty and yet ironically somewhere where tourists pack in with little thought for the consequences.
Let's be clear, we're not saying that specifically climbers attempt Everest with little thought for the potential costs – especially to themselves. Each will have, of course, carefully weighed the substantial risks before embarking on their expedition – but why have they chosen Everest?
There are a variety of 8,000m+ peaks surrounding Everest that are not climbed to the same extent, neighbouring Lhotse, for example, sits at just 300m less altitude, and the actual experience of putting one foot in front of the other, the euphoria of making the summit (and even the view from the top) can't be wildly dissimilar to that on Everest. A snapshot of these peaks will reveal many more dedicated lifetime mountaineers, and far fewer commercial, amateur expeditions. It seems that in extreme adventure terms, Everest is deemed to matter most.
The other places we visit are not the world's highest mountain but people's homes and their cultural livelihoods. In those, overtourism is not destroying the tourist, but the life and soul of the places themselves. The Inca Trail to Machu Picchu faces crushing pressure from tourist numbers yet the four-day trek to Choquequirao, with arguably even more sublime mountain views, is deserted. Like Everest, it seems Machu Picchu matters more than the experience of getting there.
Are experiences being lost in the all-consuming quest for that photo or the bragging rights to be able to say "I've been
there
"?
This isn't just an Instagram problem, or one borne out of the wave of social media bragging. In the 17th and 18th Century, the Grand Tour of Europe – that rite of passage for well-moneyed and well-heeled aristocracy – is widely regarded as the beginning of tourism. At that time tourists were told where, when and how to go by Karl Baedeker's ubiquitous guide book – featuring a set route and key destinations that no Grand Tour could be complete without visiting.
Nowadays, we have a much more diverse media – yet we're still pedalling the same destinations. While our media has widened, the voices writing the guide books, sharing the Instagram photos, taking the youtube videos are still homogenous. The medium of sharing information may have changed but the idea of where and what constitutes an adventure is still being curated and projected through a very narrow lens. It's why we're all being told the epitome of adventure is summiting Everest itself, not simply the euphoria and experience of scaling an 8,000m peak. Why the Inca Trail to Machu Picchu is the trek in Peru, while Choquequirao is all but ignored.
But what happens if we diversify those voices? What does adventure mean to people of different races, ethnicities, ages or sex? We also need to hear from the destinations themselves. We need to hear more about what local people really feel about tourists visiting them and whether those tourists are really still welcome.
Sustainable growth is an oxymoron, at some point even sustainable growth becomes unsustainable when we reach its limits. Let's diversify what we understand by adventure and perhaps we can diversify our over-visited bucket lists too. If we could widen the lens that travel is projected through then perhaps in the future we won't all packed into Venice and Barcelona, Machu Picchu or Uluru. Instead we'll be treasuring each wonderfully individual experience and each individual journey – and not a small collection of photos already replicated a thousand times across the World Wide Web.