Justin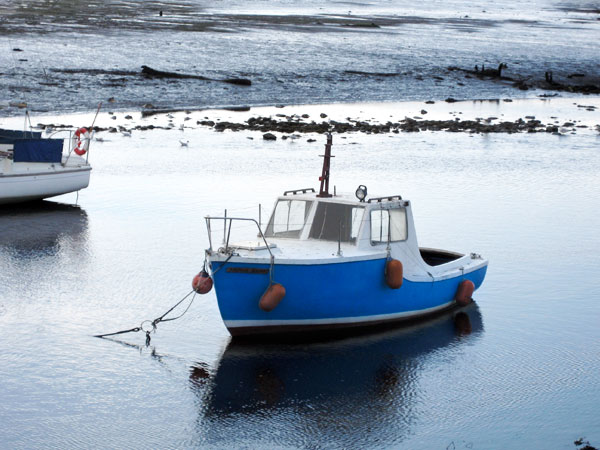 Scotland is something of a surprise on the food front, at least Wester Ross and the Applecross Penisula is. Not as frozen Mars bar in sight. All we really ate was seafood, especially scallops, crab and langoustine. Several tiny places we visited were husband and wife teams, he caught the food and she cooked it. Quite often we'd see him stagger through the door with a basket of crabs. You couldn't make it up.
Tacked to the door of the pub was a postcard advertising shellfish safaris, a few hours out with a local fisherman on his boat. We booked, and after getting lost, found a tiny jetty next to a perfect white washed cottage on a patch of grass with astonishing views over the water and mountains.
Our skipper was eager to get going, the tides wait for no man. His purpose and competence were immediately apparent. A man used to being out alone on the water. We set off, the boat just about big enough for him, us, some crates and a winch. The views from the water, and down into the water showed us different views and depths of familiar places.
He explained that his father and grandfather had fished these coasts, but it was getting harder to make it pay so he had starting taking a few guests out to pay for the fuel and upkeep of the boat. Tourism was certainly helping him, but he didn't consider himself in the tourism business. He was a fisherman, with some guests on board.
Some extraordinary things came up in his pots. Ginormous crabs eight inches across the back, brightly coloured sea urchins and of course Langoustine – lots of them – which we helped stuff into narrow crates. It was like a magic show that never ended.
We bought a few langoustine from him to take home. They were still alive when I got to the kitchen, not what I'm used to with most of my food. Lightly cooked they were incredible. Following your food back to its grower or catcher is an interesting journey.
Find your own
trip to Scotland
.
Read more in our
Blog