Justin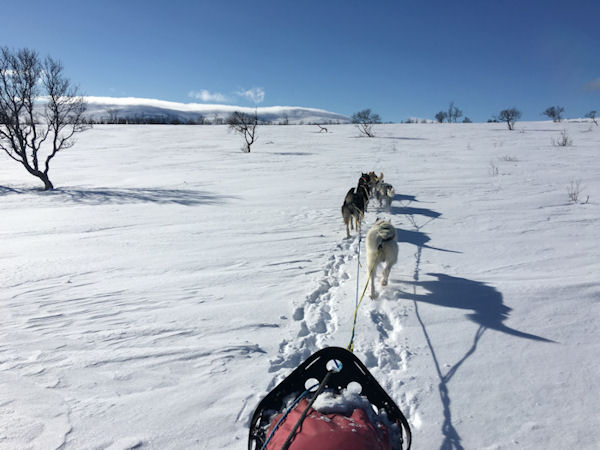 I'd always assumed that racing husky dogs with sleds in the Arctic was something that required years of training; that achieving harmony between man and dogs could only be mastered if you started at age five.
In Northern Norway I met a guy called Ketil Reitan. Ketil has been dog racing since the late 1970's. He spent 7 years in Alaska living with the Inuit, honing his skills, where he met his wife Evelyn.
Ketil invited my wife and I to his dog yard. I imagined we'd lie on the sled and admire the view as he drove the dogs. Initially we were asked to help harness the dogs, who were relatively small Alaskan racing huskies. We approached them with some trepidation, but the dogs were real softies and quite subdued.
With eight dogs harnessed Ketil said he'd now give us some training, which would take a couple of minutes. It slowly dawned on us that we were each going to drive our own dog sleds. The 'training' involved shown how to put your foot on some spikes that dig into the snow to help you slow down, and to hold on to the sled if you fell off.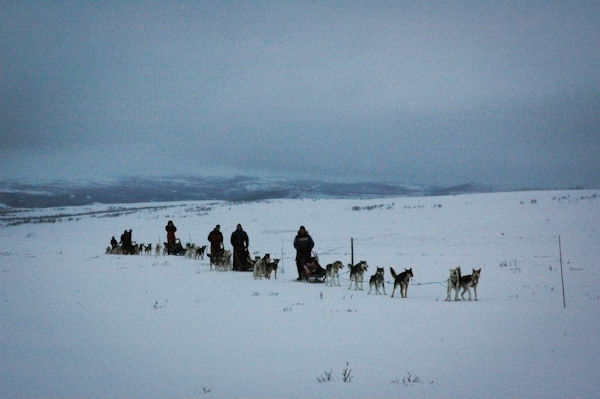 Now in the harnesses our dogs were properly revved up, straining against the sled, yelping and eager to run. I looked at my wife, then back at Ketil, and thought 'oh well, let's see what happens'. With that we lifted the spikes and with a stomach dropping surge we were off into the wild snowy landscape.
There's nothing better than the wind in your hair as you race across a frozen lake with eight dogs pulling hard. Our basic survival tactic was to copy Ketil, who was up front with his own dogs. We stood as he stood, we copied his every move and imbued every part of his being hoping we could morph into him, and somehow it would rub off on us and wash away our inexperience.
It did, neither of us fell off and we raced for hours. It pays to go with the experts.
Learn to drive your own team of sled dogs.
Find your own husky safari here
Read more in our
Blog
Photo credits: [Alaksan Husky Tours]