Justin's Travels: Sea kayaking in the land of the pterodactyls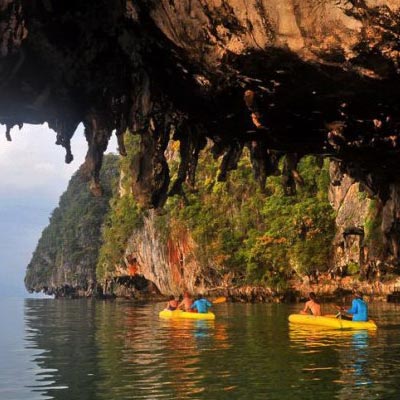 Limestone cliffs familiar from James Bond movies rise vertically out of turquoise waters in Phalong Bay, 30 minutes in a long tail boat from Phuket in Thailand. Judging the tides with the help of legendary Hawaiian kayak guide John Gray and local guide Pong Ė a former fisherman from a nearby village who John recruited and trained Ė we kayak towards the caves at the cliff base. Following John we paddle slowly into one of the caves, which quickly darken. Giant stalactites hang from the roof, and Pong picks out a colony of bats with a flashlight. The roof of the cave lowers, and we lie flat on our backs on the kayaks gently holding the rocks and pulling ourselves through until we emerge, blinking, into a spectacular hong.
A hong is a lagoon inside the island, totally invisible to the outside world but open to sky above, and surrounded on all sides by a vertical tropical forest that is growing from the 150m limestone cliffs and throbbing with the noise of insects and birds. Itís the land that time forgot, and so unworldly that I would not be surprised to see a pterodactyl launch itself from a cliff high above my head.
A strange, Zen-like calm overcomes our small group of three kayaks. The chatter during the excitement of our cave paddle dissipates and we simply lie back looking up and the cliffs in a state of total relaxation. After 15 minutes of hong flotation therapy John spots some hornbills and monkeys and we dip our paddles silently into the syrupy water and glide over for a closer look. We explore five more caves before heading towards our campsite for the evening: a 50m-wide patch of perfect and isolated beach nestling under another small island.
Following a quick swim from the beach, tents and a campfire quickly appear, as do a wonderful meal of fresh fish and Johnís stories about 10 years of guiding in Thailand and the problems of preserving this unique and spectacular environment, about which he is so passionate.
At midnight we head back down to the water; itís so dark that stars are visible right down to the watery horizon. As we paddle back towards the caves, every stroke of the paddle creates startlingly bright, spangling starbursts of phosphorescence in the water. Marvelling at that we paddle to the caves, which we enter in total darkness and feel our way through like blind cavers, 500m underground.
We feel like real adventurers, but nothing has prepared us for the effect of being in a starlit hong. We sit in silence, mesmerised by the stars, fireflies and phosphorescence.
Iíve often thought that if I could bottle up the benefits of a great holiday Ė relaxation, new perspectives on life ups and downs, and re-energisation Ė then I could put Coca-Cola out of business.
Find a
sea-kayaking experience of your own
.
Read our 'Folks we love' interview with
John 'Caveman' Gray