Ezine rate card for members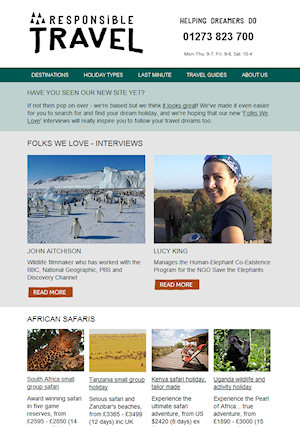 Our Ezine:
At present Responsible
Travel sends out a regular ezine to approximately
85,000 email addresses
, the purpose of which is to bring travellers to the Responsible Travel website.
To this end our ezine features mainstream product from the Responsible Travel website and occasionally includes a new operator or accommodation if the product is fairly unique. Each ezine is divided into sections which change from one Ezine to the next, we will feature only one trip per operator or accommodation per ezine, and we would expect to generate between 0 and 10 enquiries per page.
Our ezine rate card:
Paying members are able to purchase ezine slots; any inclusion requests are at our discretion and the following rate card applies:
£65 for one slot on the ezine
£110 for two slots on the ezine
£150 for three slots on the ezine
£1750 to purchase an ezine dedicated entirely to your tours and trips
**

Please note:

** Some people from the database also receive a targeted section of products based on their past/search habits, and the selection for this product is automated and chosen at random.
- Payment must have cleared before we feature your product and all prices are plus VAT where applicable
- We do not promote products on the ezine that are on our free accommodation model, paid or otherwise
- A single product cannot be featured more than once within the same month.


"We had a great response to our first feature in the Ezine with several enquiries in the first few days. This was a tenfold increase on our normal enquiry rate. I would not hesitate in recommending the Ezine as a form of marketing."
David - Caverentals

"As an operator the Ezine has proved to be an effective distribution tool, especially as the market becomes more driven towards late sales, one does not need to be discounting continuously for the Ezine. We will continue to invest on this avenue which has long term proved highly successful."
Andrew- Exodus