Free The Bears Wildlife Centre in Phnom Tmao, Cambodia - travel journal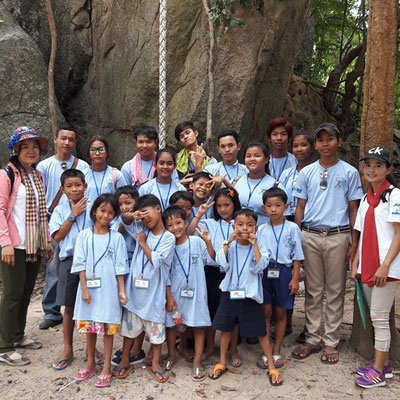 Responsible Travel has partnered with Friends International in Phnom Penh, Cambodia to support a trip to the Wildlife Rescue Centre, Free the Bears Sanctuary. Young people from vulnerable backgrounds don't usually have the opportunity to visit wildlife centres, so this trip gave young people a chance to learn about their country's wildlife and understand its habitat.
Free the Bears is a non-profit rescue centre that focuses on the protection and rehabilitation of moon bears (Ursus thibetanus), sun bears (Helarctos malayanus) and sloth bears (Melursus ursinus) across Cambodia, India, Indonesia, Laos, Thailand and Vietnam. To protect the species the centre employs a wide range of strategies that include improving environmental education, providing sustainable livelihoods, helping to increase law enforcement and researching the protection of wild bear populations.
Date: Thursday, 28th September 2017:
Mith Samlanh organised a trip for a group of 20 children (including nine girls) and young people to the Wildlife Centre Free the Bears educational program. The children and young people were aged between 10 and 24 years old and came from different slum communities. They attend vocational training courses and remedial education.
Journal:
8am - Breakfast at Mith Samlanh:
Before heading to the Wildlife Centre all the young people and children had breakfast at Mith Samlanh. At 8:30am the children and young people were picked up at Mith Samlanh and taken to Tamao mountain.
10am - 10:30pm:
The group was welcomed by the Free the Bears team and listened to a presentation about the history of the bears and their importance
10:30am - 11:30am:
The children received a guided tour around the Wildlife Centre to see different species of wild bears (sun bears and moon bears) as well as other animals.
11:30am - 12:30pm:
The children relaxed and had lunch. After this, they played some games and sang different songs.
12:30pm - 2:30pm:
The tour continued.
2:30pm:
After spending two hours exploring and hearing about wildlife conservation, the children got back on the bus and returned to Mith Samlanh.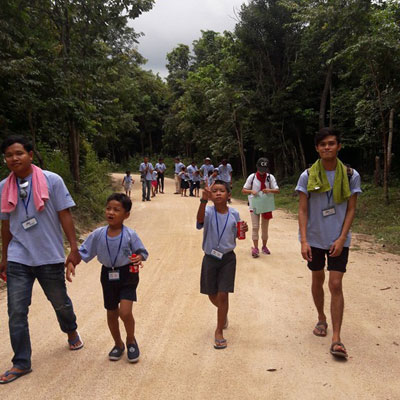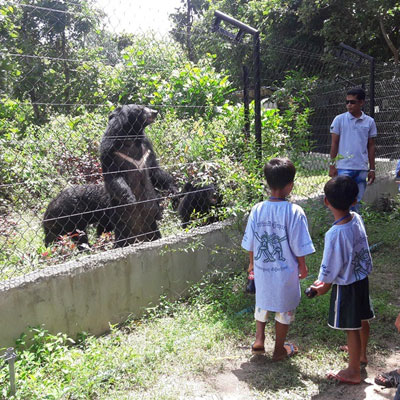 Impact:
Most of these children and young people have never been to the Wildlife Centre before and never had the opportunity to see wild animals. For many of them it was the first ever trip outside Phnom Penh. This trip was very meaningful for all of them. They were all very happy to see and learn about animals and be immersed in nature. They all learned about wildlife conservation and environmental awareness, something that they don't have many opportunities to learn.
Quotes from the social workers:
"
"I feel very happy when I see the children are engaged and learning about wildlife. This program is very good and the children have learned about conservation and how to protect our natural environment. This trip has also helped me develop relationships with the children"
"
About our partner organisation:
Friends International is an award winning social enterprise founded in 1994 that saves lives and builds the futures of the most marginalised children, young people, families and communities in Southeast Asia and around the world. It works to create a future where all children are safe from all forms of abuse, and become functional, productive citizens who contribute to a more peaceful, equitable and sustainable world. Friends works in Cambodia, Indonesia, Laos and Thailand, and with 45 partners around the world, to provide comprehensive services to marginalized urban children, young people and their families. Since its inception, Friends has supported the education, well-being, and sustainable reintegration of more than 300,000 vulnerable children, young people and their families.
Mith Samlanh was established in 1994 as Friends' first program based in Phnom Penh, Cambodia. Since its inception, the program has supported the education, well-being, and sustainable social reintegration of more than 200,000 marginalised children and young people, and their caregivers. It does this through a holistic range of inclusive programming that impacts about 15,000 beneficiaries each year.