Tour leader interview with Emma Heywood - Activity holiday in Montenegro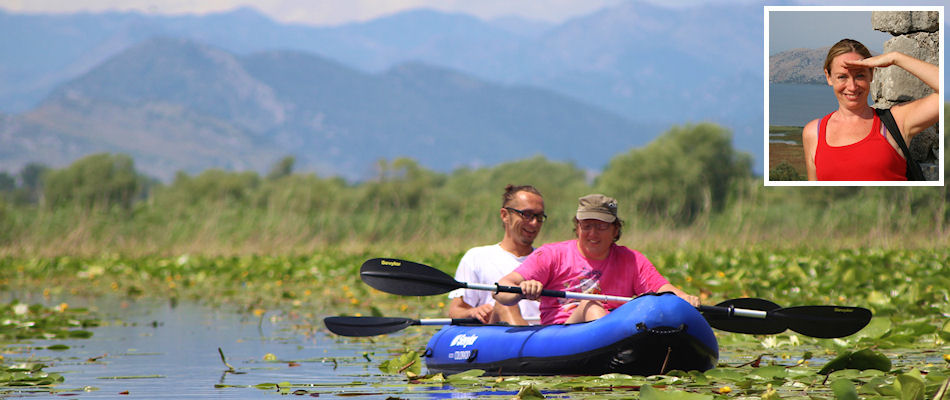 Lake Skadar and (inset) Emma Heywood (Photo courtesy of Emma Heywood)
After travelling around the world BC (before children), Emma and her husband Ben settled in Montenegro after realising that London office life was not for them. They spent a couple of years learning the language before they finally moved to Lake Skadar, where they totally fell in love with the staggering scenery and the adventures that it offered. Their activity holiday baby is now five years old. And with baby twins and a four year old boy now as well, these guys certainly are active.
The scenery around Lake Skadar is on a par with what I have seen in Africa or in Asia.
The lake is enormous, it's 400km˛ and so just perfect for kayaking. When we are kayaking on the lake, through carpets of lily pads which are buzzing with birdlife - looking across what looks like a vast mirror sometimes, it really is astounding. Often it is almost empty, apart from one or two fishermen in their traditional wooden boats, which is amazing because the lake's waters can often look just like a mirror. With the Prokletije or 'Cursed Mountains' reflected in it, which are cross border, between Albania and Montenegro.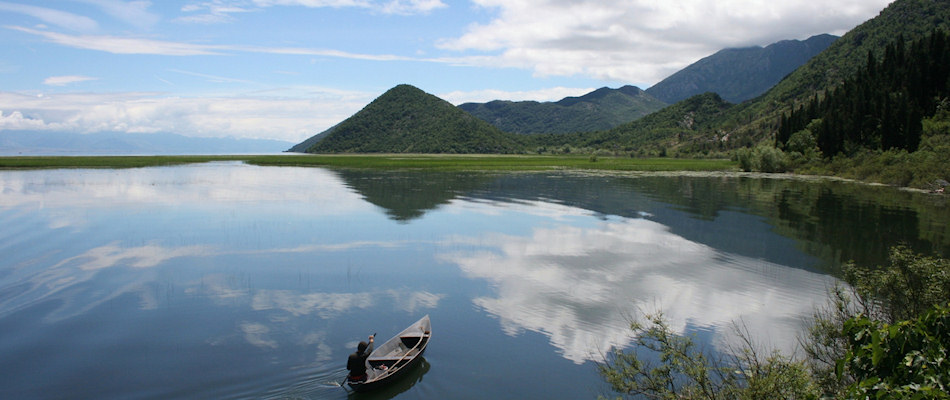 Lake Skadar (Photo courtesy of Emma Heywood)
There are so many interesting characters in our surrounding villages.
On our Walnut Valley hike we go for lunch in a mountain village, hosted by Dragan and Tanja Dajkovic. Tanja cooks up an incredible spread of home produced goodies for our guests. It really is a gastronomic treat. Such as fish balls from fish that her husband has caught. Or a wild boar ragout that he and her three sons have hunted, served with home-made wine. She also makes a homemade bread that looks like a rose, and it is just delicious. That is the first thing you usually smell when you go into their house.
Dragan is just so interesting when he talks about his village's history and traditions. He is quick to show you his hunting gun, or pull frozen game out of the freezer, with the feathers still on of course.
Because this is a very rural area where hunting is part of tradition. The other thing he enjoys encouraging our guests to do is to drink his rakija, which is an incredibly strong grappa type of drink, which local people love to make here out of grapes. It's funny, because his name sounds a bit like 'dragon', but it actually means 'beloved'.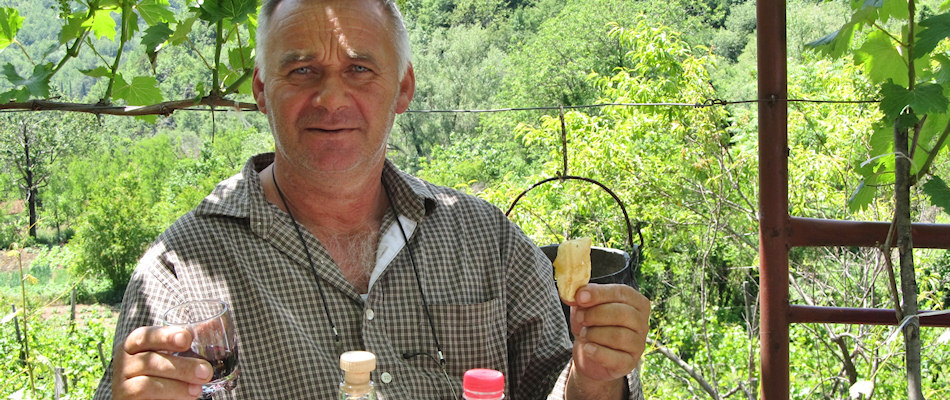 Dragan sharing his rakija (Photo courtesy of Emma Heywood)
It is part of local custom that a glass and a plate should always be refilled, and never be empty - which means that our wine tasting tours are a lot of fun.
So, it is not at all a standard winery experience, and our guests don't want to offend by refusing an offer, so they often end up a bit merrier than they expected! And with full bellies too.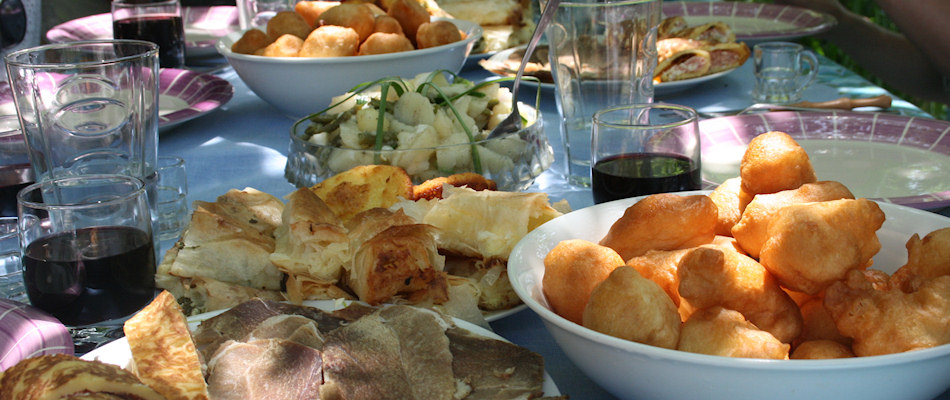 Tanja's gastro lunch (Photo courtesy of Emma Heywood)
We have built up a great relationship with the nuns of Beška Island, and they have started swapping cake and biscuit recipes with my husband, Ben, who leads a lot of the kayaking trips out there.
Here is one of our favourites.
Makes 20-25 honey cookies
1kg Flour - 200g Butter - 300g powdered sugar - 2 eggs - 250g honey - 20g vanilla sugar - about 200ml milk - Pinch of salt - half a lemon zest - 100ml water - 1 tablespoon cornstarch - 100g sugar
Make dough by putting softened butter, sugar, eggs, honey, salt, vanilla sugar, and lemon in the flour. Next, gradually add milk to form the dough. Let the dough rest for 30 minutes. Roll dough to about 1 cm thickness. Form round honey cookies. Bake for 20 minutes - first 10 minutes at 180?C, and then reduce temperature to 160?C. To make the glaze, combine cornstarch, sugar and water and bring to a boil by constantly stirring. Spread this glaze over the cookies and dust with powdered sugar. To make honey cookies with walnuts, use the same recipe and add 300 grams of chopped walnuts.
One day we were returning along the lake by kayak, after visiting the nuns at the convent on Beška Island, when a freak squall wind blew up.
Everyone just paddled for it, as the lake waters were getting quite choppy. Suddenly a motor boat came raced towards them, and it was Sister Seraphina coming to their rescue. It was our guest's 60th birthday that day, so I don't think he will ever forget it, being rescued by a nun and taken back in her boat. Kayaking is usually on a glass like lake - but there are the odd exceptions.
Guests love to take home the delicious local honey, which is often infused with sage as it grows wild around Lake Skadar.
Bee keeping is a massive tradition here in Montenegro, and we visit honey makers on our hikes, so it is a great opportunity for our guests to buy a big jar, as it lasts for ages.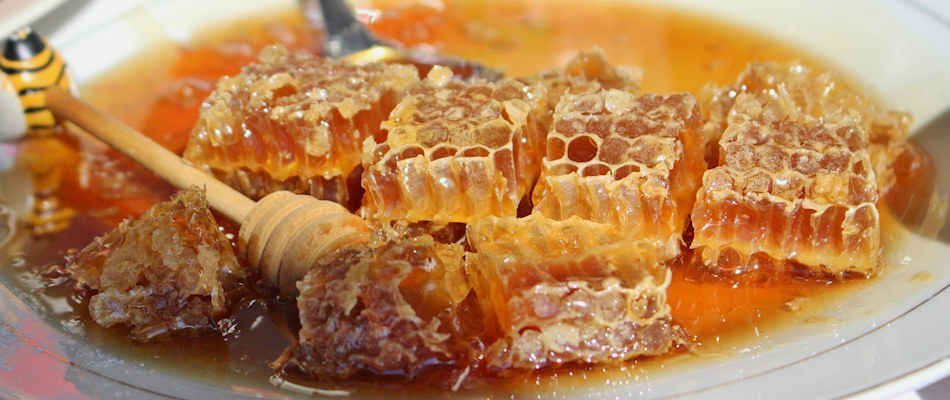 Local honey (Photo courtesy of Emma Heywood)
There aren't many words that Montenegrin has in common with English, but 'super' is one of them.
It is pronounced 'superrrrr', a bit like the French might say it, and local people really get this as a form of appreciation. So, 'what do you think of Montenegro?' - Superrrrr. 'How was lunch?' - Superrrrr. 'Do you like the wine?' - Superrrr. It just works for everything.
This holiday definitely isn't for beach bums. This is an active holiday where we go out every day, well off the beaten track, in search of adventure.
And we often start early, around 8.30 am to avoid the heat of the day. Everyone gets a couple of free days to laze about, and many of our guests go to the beach on those days. Or each guest is given a bicycle and we are a short bike ride from the village of Virpazar, where there is a restaurant and shops and so on. And there is a lake beach that they can cycle to as well, which is about a 40-minute cycle from us. So if you want to chill out and do nothing on holiday, it probably isn't for you.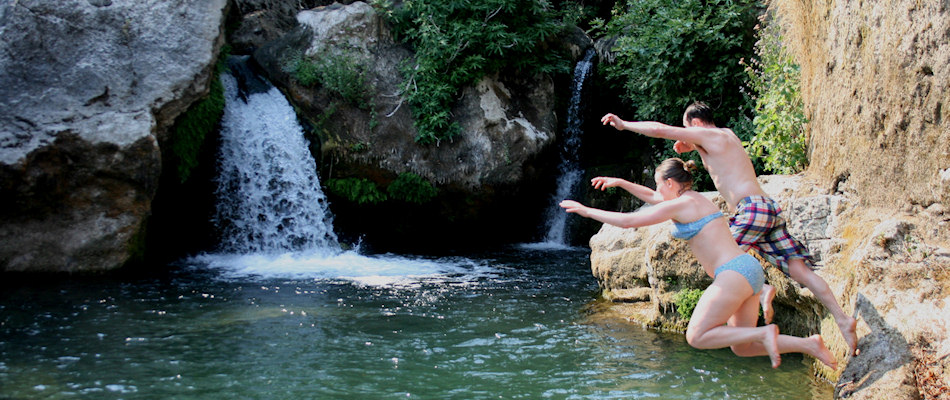 Just one of our many waterfalls (Photo courtesy of Emma Heywood)
Going from my London life to driving along narrow, winding mountain roads was a little bit scary at first, but now it is second nature.
But the guests do gasp a bit when we are driving around here. My trick is just to always drive really slowly, and it all adds to the adventure. And when guests know that they are in the hands of people they trust, they can just enjoy the fantastic scenery. You don't need to hire a car for this trip, just let us pick you up at the airport and do the rest for you.
Montenegrins love labels. It has to be Versace or a Mercedes. It's just one of those cultures.
I found out recently that people living in our village, Virpazar, have taken to calling it Vir-Paris. Which made me laugh. Montenegrins love flash. Virpazar is a shabby chic sort of a place, so they are just bigging it up really. There is another fishing village near us that they call Little Venice. Montenegrins do have visions of grandeur sometimes.
I have had people ask me, 'Montenegro, is that in Africa?' Some people don't even know it's in Europe.
One of the biggest misconceptions about Montenegro is that it is all about the coast. But for nature lovers, inland is just incredible. If not better. Also, another thing that people get wrong is that Montenegro never had a civil war. People have a sense that the whole of former Yugoslavia was a war zone, but in fact there were whole countries that didn't have a civil war. So people come thinking that they will see evidence of a recent war, and there wasn't a war actually happening on Montenegrin soil. That's not to say that you won't find bullet holes on our trips…they are a bit gun mad here, and they shoot road signs as target practice in hunting season.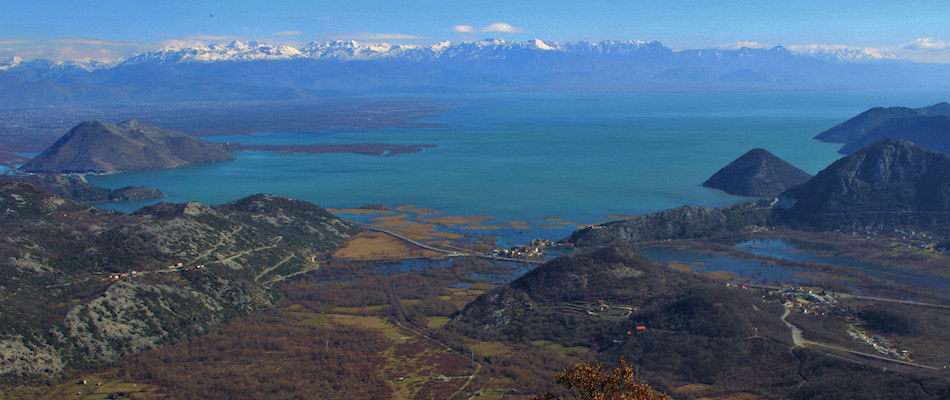 Overlooking the lake and mountains (Photo courtesy of Emma Heywood)
We are rich in absolutely gorgeous spring water, and at our own Villa Miela as well. So there really is no need to buy water here.
I hate people buying bottled water here. I always recommend guests bring a reusable water bottle. It is the most important thing to have in your daypack when out and about on our trip.
I love seeing guests start talking to local people, asking questions and really getting to know them.
Some guests can be a bit shy at first, but it is so lovely to see them get brave enough to start picking up a conversation with Montenegrins. I do interpret for them, and then you see the local people opening up too, so it is really good. I see that happening on our wine tours, or when we stop on at places on our kayak trip, such as the convent on Beška Island.
Find out more about this trip
Continue reading about this
activity holiday in Montenegro