Traveller interview: Sally Godden, on her Bangkok to Ho Chi Minh holiday
See / go back to this
Bangkok to Ho Chi Minh city holiday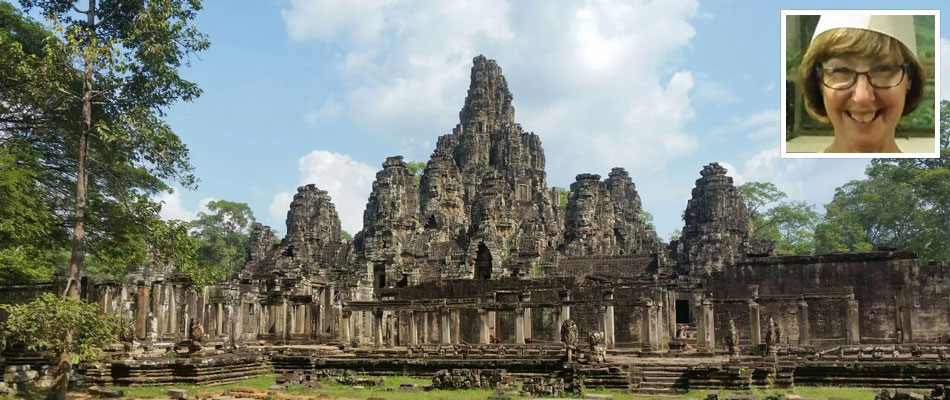 Angkor Wat. Photo by Sally Godden.
Sally Godden chats with our travel writer Catherine Mack about an exciting
Bangkok to Ho Chi Minh city holiday
that she took in December 2017.
What made you want to go on this particular trip?
I hadnít been to that part of the world recently, but I had been to Malaysia and Borneo about 10 years ago. Cambodia, in particular, interested me. I knew it had a very different culture to what we have in England, and whenever I see it on telly I always thought it looked really beautiful, and I knew it had a very interesting history Ė recent history, too. I felt very ignorant of what had gone on there, and so wanted to go and explore.
Did you read up before you went?
I did read a bit, and funnily enough I did remember some of the details about the Pol Pot regime from Blue Peter when I was a child! That fascinated me, how so much could happen in such a short time. Also, I had seen things like Top Gear, when they were driving around Vietnam, and I thought that the countryside always looked lovely.
This was a small group tour, but did you go on your own?
I did in the end. When I planned it I was going with a friend, but unfortunately she took ill about three weeks before we were due to leave and was told she couldnít fly. I did consider cancelling, but I decided to go ahead, especially as I knew it was a safe trip to do on my own.
Were you nervous?
I was a tiny bit anxious, but I was more worried about what would happen if I missed a connection or couldnít find the hotel where I was meeting the group. But they were trivial things. I had planned to arrive in Ho Chi Min City quite early in the morning and we werenít meeting until six in the evening, so I knew I had plenty of time to get to the hotel.
How long was the trip?
It was just nine days, but it was the perfect amount of time for me as it was the first time I had left my teenage kids on their own, which I was a bit anxious about. I am a single mum, but I do find it essential to have a bit of Ďme timeí and travelling is great for that.
What is the most useful thing you packed?
Probably my camera and mosquito spray. I donít usually get bitten, but I did get a couple of bites on this trip. Other people on the trip did get badly bitten but most people were well prepared. I didnít pack a swimming costume, which was silly, but I didnít realise that the hotels would have pools. I thought it was going to be a bit more basic. However, they are easy to get hold of, so it wasnít a problem.
Did you learn or use any of the local language?
We were in three countries, and we didnít have a lot of time in any one place to really get chatting to people, but the guide was very good. On our very first meeting he went through about 20 words that might be useful to us, and phrases. So that was good.
Were you happy with your leader guide?
Yes, he was brilliant, very educated. He knew his stuff, had a good sense of humour and just gave us enough information but didnít feel like he had to talk to us the whole time. When he did fill us in on information, he probably only did about five minutes at a time, but you did feel as if you could go and ask things and he would always seem to know. He was very knowledgeable about his country, Cambodia.
Is the majority of the trip in Cambodia?
Yes, nearly all of it is in Cambodia. Thailand and Vietnam just top and tail it. In fact, the journey back to Bangkok was very long, getting back across the border took time, and then we were only in Bangkok for about 12 hours. So if I were to do it again, I would only stay in one country. When I booked I thought ĎI will fit in as much as I can, and do a bit of Vietnam and a bit of Thailand,í but actually I just left feeling that I need to go back to Thailand as I didnít get to see it.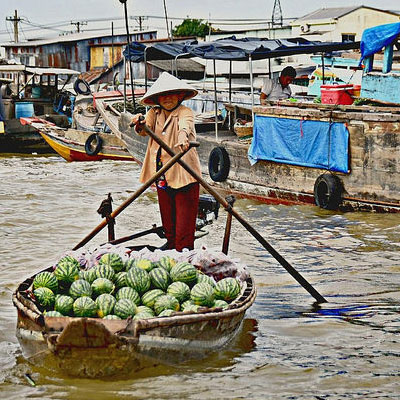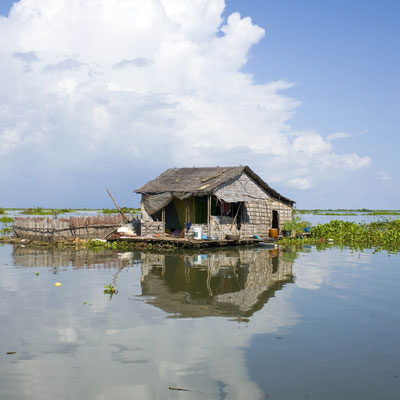 What is your favourite souvenir or present?
I picked up a lovely painting of the floating villages in Siem Reap. It was lovely to see him painting it, although he gave me another one he had done earlier as it needed to be dry to roll up and put in a tube. But it is being framed at the moment, so Iím looking forward to having that up at home.
Where was the best place you woke up?
The hotels were all really good, but in terms of waking up, probably the one where we went out to see the sunrise at Angkor Wat. The sunrise itself wasnít spectacular, as it was a bit hazy, but what was good about it was the sheer number of people there who created such a good atmosphere. And again, our guide was brilliant. He knew exactly where to take us to get the best view. We were sat up on this little temple overlooking the Angkor Wat temple, with water in front, and the reflection into the water.
Did you think the trip was good value?
I really did think it was. I looked at others and they were all more expensive. Fewer meals were included but the guide took us to excellent restaurants that were a very good price, and we tended to stay in a group and eat together in the evenings anyway, so that was quite nice. I thought there would be more street food, which I had mixed feelings about Ė I wanted to eat it but I didnít want to survive on it! But in fact we were taken to really good restaurants where we could get a really good meal for about $6-7.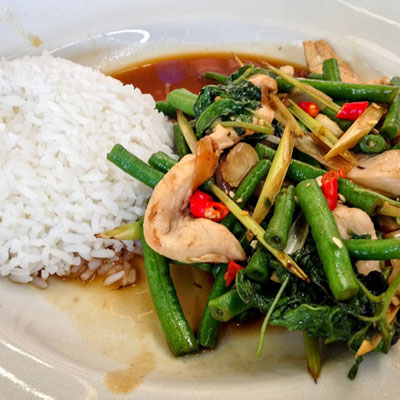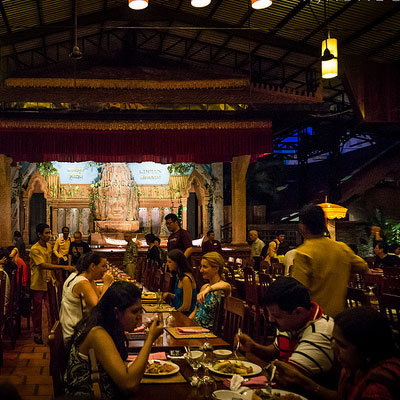 What would you recommend for a daily budget for food and drink on this trip?
I would say about $12. You get breakfast covered, so that would cover a good evening meal and some sort of light lunch. We didnít really need to buy drinks during the day as they had a massive water container in the vehicle from which we just refilled our bottles. That was an important point, because the one thing that spoiled the country was the plastic bottles everywhere. Also, lots of the restaurants let us know if water was OK to drink from the tap, so that was useful.
Anything that you thought was going to be hard that turned out to be OK on this trip?
When I read the itinerary it said the first part of the journey was going to be on public buses, I thought that was going to be like a bus in this country, with loads of other people on travelling to and from work, stopping at lots of places, and so on. But it wasnít like that. It was a bus that had been booked by the company, and was shared with another tour operator. Apart from us, there was no one else getting on and off. Plus the bus itself was amazing. It had air conditioning, connectivity, charging sockets, we had a snack, loo stops and so on. So, I was expecting it to be hot, dusty and to be squashed, from photos I had seen of Cambodian buses, but it couldnít have been farther from that really.
Do you have any sense memories from your trip, other than Ďsightí ones?
I did an optional cookery course in Siem Reap which was absolutely brilliant. After we chose our menus, we went to the market with the chef to get all the stuff. Of course he knew all the people at the market and was getting things from them for us to try, and explaining where the fruits and things had come from. It was really good fun, as the chef was just lovely. Iím actually a rubbish cook and was a bit worried I would show myself up, but he just wasnít bothered by that at all, and we all just had such a laugh. I made four things in the end. I did a green mango salad, a soup, fish amok with steamed rice and fried morning glory, which was a new thing for me. For pudding we had banana in tapioca, which sounds like a school pudding but it was actually really lovely. Then we sat down in the restaurant, as a group, while the staff served us what we had prepared! It was a lovely experience, and great value at around $20 for about six hours and including all the food. It was just amazing.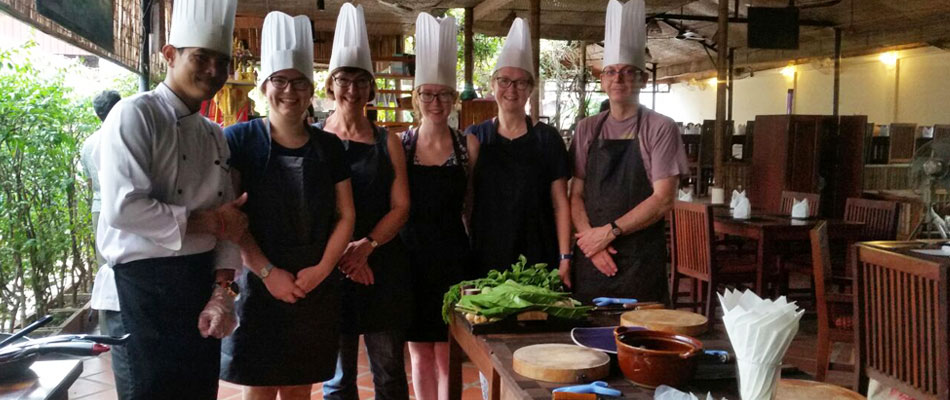 Cookery course in Siem Reap. Photo by Sally Godden.
Is there anything you wouldnít recommend about the places you visited?
There were quite a lot of long journeys on board buses. They did break them up, but you do need to be prepared for that. We also stopped at lots of roadside stops which I think were important but some people might not like it. They had things like fried rat, spiders and crickets. You didnít have to try it of course, but most of us did. The fried rat was surprisingly OK, and if you didnít know it was rat you would eat it. The worse bit was seeing the tail still attached! Also, because they are roadside stalls, there were actually live rats not far away that you could sometimes see, so that didnít help!
How about anything on the holiday that was a pleasant surprise?
Visiting the rural farms and homesteads was really wonderful, particularly around Battambang. There was very little mention of them, just referring quickly to optional tours into the countryside. But that tour was amazing. We went to a whisky making place, rice plantations, watched them making noodles, and had four or five stops in different rural areas. It was ridiculously cheap, travelling in tuk tuks, and just really brilliant. I thought there was little reference made to the value of that trip and it was really good. Not just in terms of what they charged us, but also the experience itself.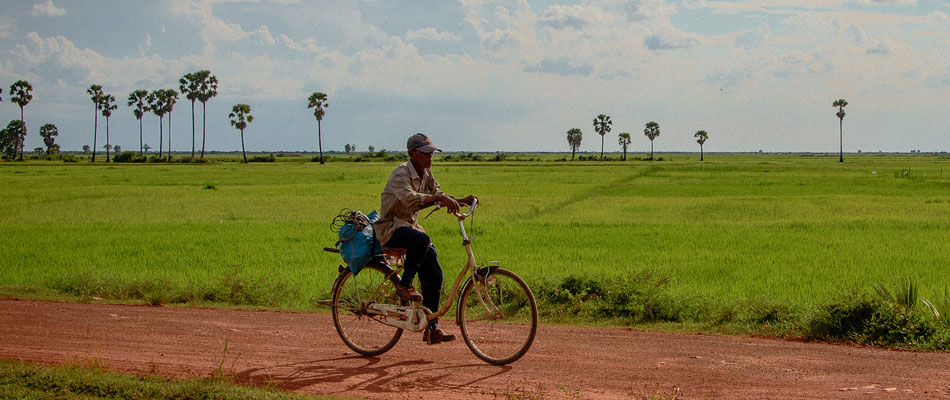 Rice fields of Siem Reap. Photo by
MarPa8
.
What is your favourite photograph?
I have a got a really good picture of us at some bat caves, of me hanging onto the side of a cliff there. You could climb up a ladder and then onto a ledge, with a big stone carving of a goddessí face from where you could get a view across to the bat caves. The photos of the bats arenít great because it was dark, of course. But the view from the ledge was great.
Has this trip influenced where you would like to go next?
I already have a list of places I want to go. I would like to go to Peru next and it might be a couple of years before I can afford it, but I will look to see what Responsible Travel has to offer. I have travelled with you before, in Croatia, going around the islands on a catamaran. It was a brilliant trip.
Find out more about this trip
Continue reading about this
Bangkok to Ho Chi Minh city