Tour leader interview with Yamila Barba - Buenos Aires to Rio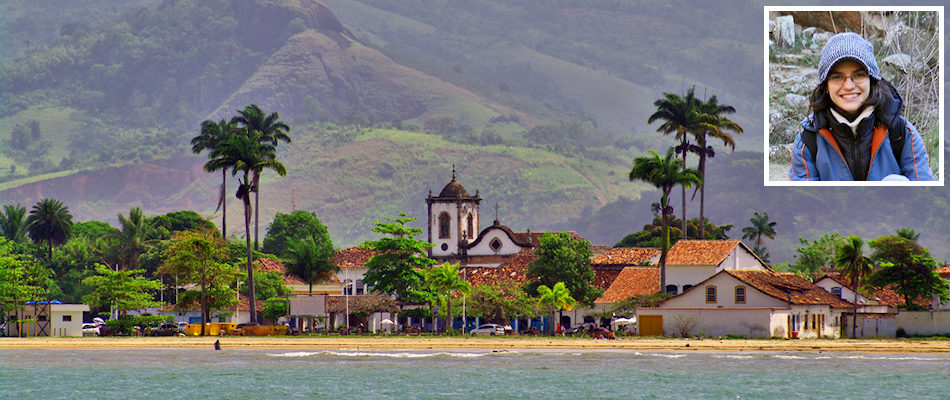 Leader interview: Yamila Barba - Buenos Aires to Rio
Yamila Barba became a tour leader in 2011 after studying tourism to degree level, and gaining a tour guide qualification. She still lives close to her family in her native Buenos Aires, and when not on a tour she enjoys being a tourist in her own city - visiting museums, and going with her dad to see her beloved River Plate football team playing.
She speaks Spanish and English - and is working on her Portuguese for the Brazilian section of the tour.
I think everybody has their special place in the world, and for me it's Iguazu Falls. I've been 25 times, and it's still one of my favourite places.
I've been twice with my family, then 23 times with groups. My groups always ask me if I get bored, or I'm not tired of seeing all the time the same things, but because it's something natural it's changing all the time. You don't just see the waterfall, at Iguazu you can see it with a lot of water, with less water, a sunny day, rainy day, cloudy… and all the time the landscape is different. It's not like a building that is always exactly the same. This is natural so it's changing. You can go in and see a lot of birds, you can see monkeys going around.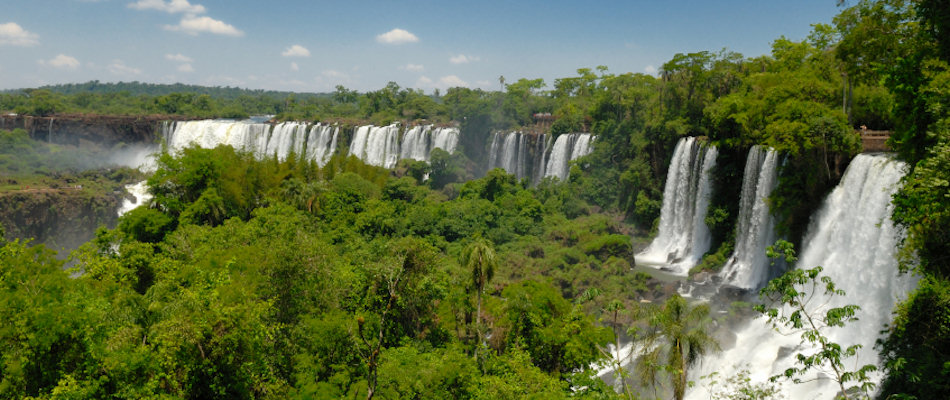 Iguazu Falls
Something you can buy in Argentina or Uruguay is a mate cup.
This one is my special one. For us in Argentina, when a girl turns 15, we make a big party. My grandpa gave me this cup when I was 15. My grandparents were from the countryside, from a state near the waterfalls, and when I turned 15 the meaning was that I had grown and I have my own mate cup, I don't use it all the time.
Different parts of the trip remind me of different songs.
For the waterfalls it's a famous song, the soundtrack of the film The Misson; I really recommend you see that. It's a film from 1986 that explains what happened to the native people in the area of the waterfalls - the Guaraní. The film has really special music when they show all of the waterfalls. It doesn't really have a happy ending, but it's nice to understand what happened when the Spanish came to this area - and especially to South America. What happened when they met the native people and the fight between the Portuguese empire and the Spanish empire, fighting for the land. The music won a lot of different things - that's a perfect music for the waterfalls. Then I chose tango for Buenos Aires, but I chose one that is famous for us but not the most traditional one. It's from Piazzola, a really famous musician - people didn't like him at first but now people love him.
Every time we arrive to lunch I prepare the mate for my group so that all of them can try it, and I give them an explanation of the properties and how to drink mate.
The mate drink comes from the native people - the Guaraní. They used to drink it from a calabash - a pumpkin. So the mate cup was a pumpkin! And the metal straw was something introduced by the Spanish people to make it look nicer. It's something to share, so you can invite someone to drink it with you. That's a nice moment with the group, I prepare the mate and I invite all of them to try it. We have all the cameras ready as it's quite strange for foreigners. We share the straw and a lot of them aren't used to sharing straws! I prepare one with sugar and one without sugar; traditionally it is without sugar. Some of them don't like it but others continue to drink it with me. Most of the people say it's like green tea, I think it has a kind of smoked taste. You can make it stronger, or add herbs or the skin of an orange.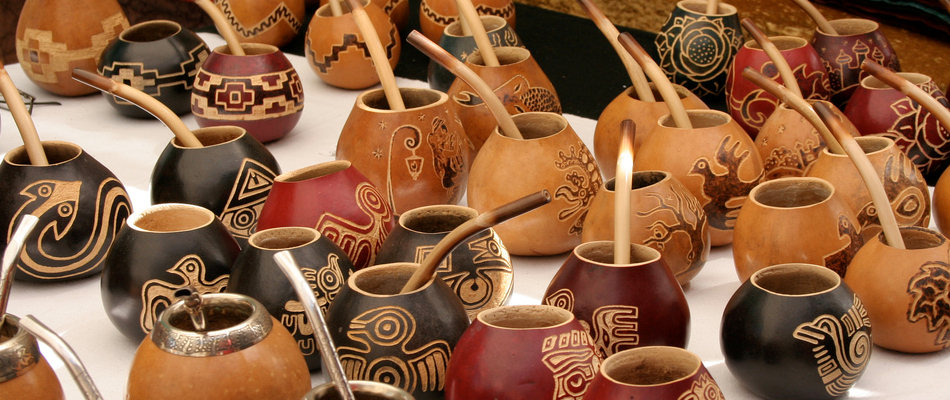 I'm a vegetarian but I teach my groups how to order meat.
So jugoso - that's juicy, bien cocido is well done, medio is medium, or a punto is between juicy and well done. But in general, if Argentinian people go to a restaurant you don't say how you want the meat - they bring you the meat in the Argentinian style. It's between juicy and well done - we don't serve it rare. If you want is cooked in a special way, you have to go to a steak house, and in the steak house they respect that. But in other places they serve the meat all the same.
I wouldn't recommend this trip for people who are not open minded enough to understand that things are very different to their country.
I've had a lot of people come and they say "at home, this doesn't happen", or "at home, the buses are always on time". Here, you have to have a lot of patience, and your bus may be on time or sometimes not. You have to wait, you can go for a beer... or you get to the border and you don't know how long it will take to cross. People are used to Europe where you can go from one country into another without problems, so they need to get used to being in queues all the time. Not everybody is open to that - queuing and waiting. Other people want to know exactly how long we will be waiting. Sometimes I can say roughly - but when we cross the border between Argentina and Brazil, we don't know. It could be one hour, three hours...
All the time when people arrive to Argentina, they think that everybody can dance tango - that's not true!
Tango is the traditional music from Buenos Aires and from some places in Uruguay, but it's not the traditional music from all of Argentina. For a long time, tango was something really old fashioned, our grandparents danced but the new generation was not really interested. So you weren't going to find many people dancing tango. It started to become a cool thing to do about 20 years ago, so now it's something trendy. If you can dance tango you are really cool, so people started to learn again. I can't dance tango, most of the time I take my group to a tango lesson and I take the lesson with them just for fun. I've done it a few times but I can't dance - I can just do the basic steps and teach them.
As soon as they get to Brazil they think they will find people dancing in the street, samba.
They imagine that people dress for carnival, it doesn't matter which time of year, all around the country, with all the feathers and the fancy clothes… But they aren't dancing in the street!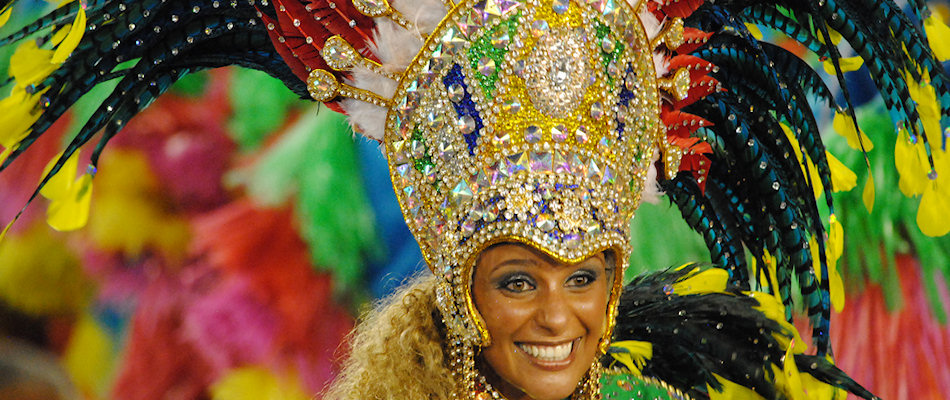 A lot of people don't bring a lot of clothes - they think it will always be hot. But in winter, in Argentina and Uruguay it's cold.
Sometimes I get people who start the trip in our winter, and they get to Buenos Aires and say "It's so cold! I thought it would be warm!" I have to explain - no, we are in winter. It's cold. They say "But we are going to Brazil, and in Brazil it's always hot!" Yes, but we will be travelling a lot before we get to Brazil.
I always try to explain about the demonstrations. There are a lot of demonstrations in the street, particularly in Buenos Aires.
There is one in particular in the main square that has been there for almost ten years - they are almost living in the main square. It's about the Malvinas - the Falklands. The people who were fighting there have made a demonstration for the last ten years, so I just try to explain to the group in advance why the people are there, and as most of the groups speak English, I try to get them not to go too close, or to take pictures or speak English next to them. Of course for them it's something really strong - they were in a war, they don't want to hear people speaking English nearby. It's not that anything would happen, but it's important just to understand their situation. So in general I just try to avoid them. If they want to take pictures it's fine, but don't go closer or try to talk with them or anything like that - be more sensitive.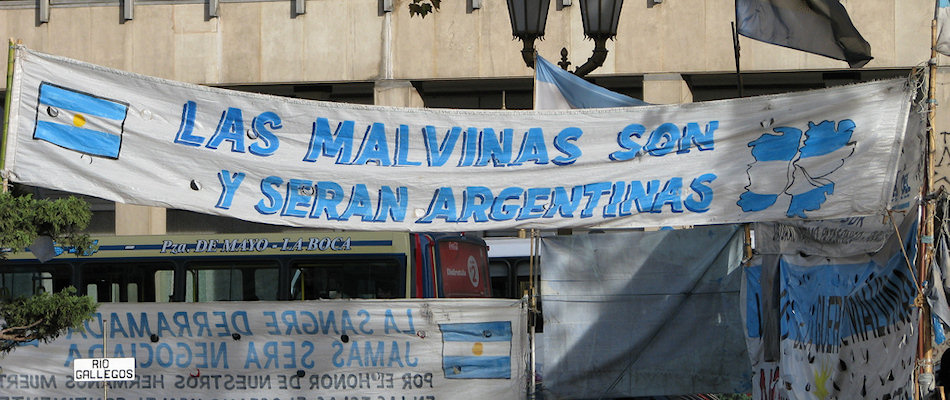 I celebrated my mum and dad's 30th wedding anniversary with my group.
I was just starting a tour in Buenos Aires, and my mum had said it was their anniversary. So I said ok - but I have a group. So I went with them all to celebrate the anniversary in a restaurant!
Here in Buenos Aires it's not like in other parts of the world - everything is closed for New Year. So we celebrate with our family - but this year I'm going to celebrate New Year with the group.
I'm starting the tour here in Buenos Aires on the 31st December. I'm going to have six passengers so I'll invite them to my house. I'll just cook and prepare everything at home. It's going to be special because I moved, and this will be my first new year in my new apartment. So I'll celebrate with my family the first New Year in the new place - and with the group! I also have passengers from my last tour, one will be around in Buenos Aires so I have also invited her to join us too, it's going to be a good New Year.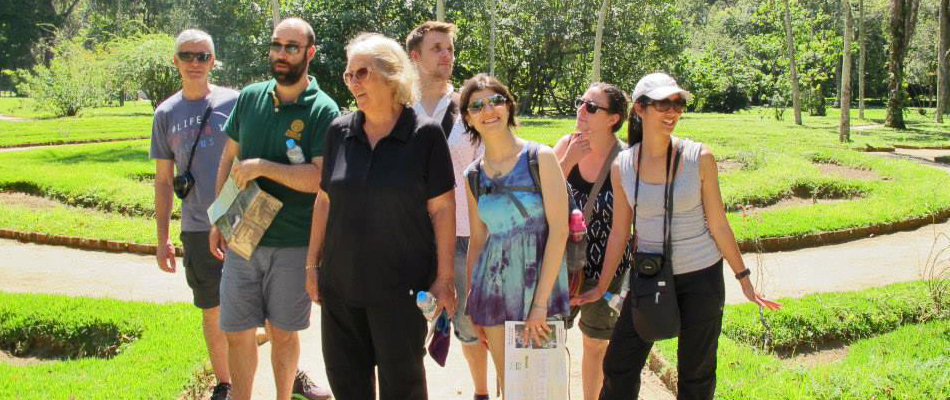 Tour group (Photo courtesy of Yamila Barba)
Find out more about this trip
Continue reading about this
Buenos Aires to Rio small group holiday