Traveller interview: Lorna Marsh - Burma highlights tour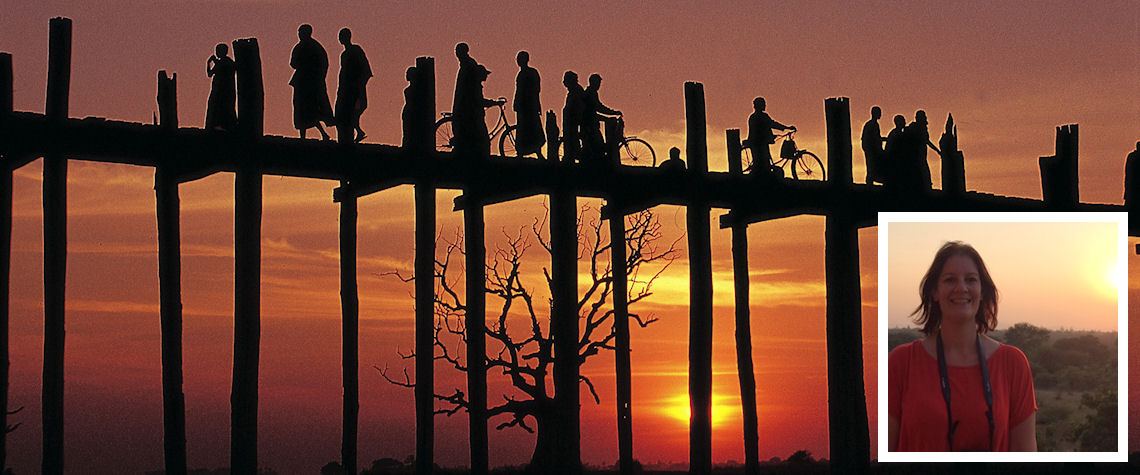 Chatting with Responsible Travel writer, Catherine Mack.
So, why Burma?
My grandfather was in Burma during the war, and my aunt had been talking about going for a long time. I hadn't really considered it before then, but because she had been talking about it, it was on my mind. But also, I had done another group trip to Jordan last year, and met a couple there who were raving about the Burma trip, and that they had had a fabulous time.
Was this your first experience of travelling with a group?
For the last two years, I have been travelling a bit more with groups. I live in Dubai now, and before I moved to Dubai, I had a great set of work friends who were also able to travel, and we did a few group trips including one to Kilimanjaro. Then I moved to Dubai, everyone is a bit older, have families and so on, and so there aren't as many people to go travelling with me. So I started going on my own, first on Responsible Travel's marine conservation trip to Thailand, two years ago. And that was the start of me travelling alone, but meeting with a group of other people when I was there.
Did you find it scary doing the group travel thing?
I think as I get older I get a bit braver. I have had a bit of a change of mindset about travelling too, in that I think 'just do it, and if you don't like it, you can get on an aeroplane and come back'. And that has actually allowed me to travel a bit more, and be a bit more open to doing things I might not have done previously.
What is the most useful thing you packed for this trip?
Definitely lightweight trousers. The reason I say that is because we went to religious sites pretty much every day and you have to cover your knees and shoulders, so all the dresses and shorts that I had packed were no good. While I was there, we, all the ladies, bought wrap around skirts as well, as they were really cheap and really useful.
And what do you wish you had packed?
It was actually quite chilly, and I had a couple of jumpers and fleeces but not really enough. In fact, by the end of the trip we were all laughing. All our western clothes sense of things matching, colour coordinating and so on, had completely gone out the window. Everyone was just wearing anything to keep warm. It was mainly because most of the mornings we were up really early, for boat trips, or to catch the sunrise, and so it was cold at that time of the day. In the day we were fine in just a t-shirt.
Most days we went back to the hotel from, say, 1-3pm, and you would have a couple of hours to grab lunch, or have a shower (most of the hotels didn't have hot water all of the time, so you had to be a bit strategic about when to have a shower, and get hot water). Then we'd go back out again at 3pm, and then on to dinner, so you always had to have a fleece or a jumper with you for the evenings.
Did you learn any Burmese?
Just a few basics, but I wasn't very good at it, so just the everyday greetings, I'm afraid. What we did learn, however, was when you hand something to somebody, paying the bill after dinner or something, with the other hand that you aren't using to hand over the money, you touch your elbow on the arm that you are giving with. It is a gesture of respect, so we all learned to do that. I am not sure why they do that, and it did feel a bit strange at first, and we all got in a bit of a muddle, trying to sort out money, remembering to touch our elbows and so on. But it did become second nature by the end of the trip.
What was your favourite souvenir?
On the day that we were on Inle Lake, it was a full day out on the water on a long, carved out wooden boat and they take you around all the waterways round the side of the lake. There are people living on the waterways and there are no cars, just boats for everything. So, we went around lots of different shops on the water, and one was a local silversmith. And I bought beautiful silver jewellery from there. There were also blacksmiths, making traditional knives, and the bells that go on pagodas. The silk weaving shops here were also lovely, so this was a great day out to shop.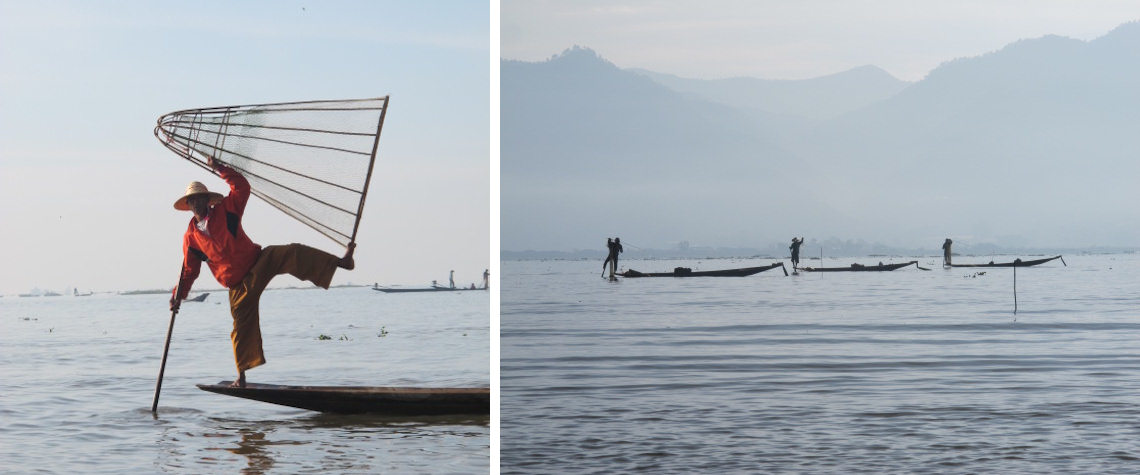 Inle Lake and fisherman (Photos by Lorna Marsh)
Where was your best sleep?
I don't really ever sleep that well on holiday, and so my best sleep is always at the end of the trip, when I have relaxed. At the beginning I am just winding down from work, stresses and so on. We stayed in lovely hotels at the beginning and the end of the trip, with big beds, hot water, Wi-Fi and so on. The other hotels in between were a bit more standard, but to be honest they didn't really influence how I sleep. For me it is just about reaching a point when I am totally relaxed.
Did you have a scary moment?
I am pretty rubbish with heights, so I had a few scary moments. One was when we were in Bagan, where the temples are just incredible. There are a couple of sunset temples, one of which you could walk up to along its really steep sides, with five terraces, and that I was pretty rubbish at, so I didn't go to the top. On another day, we had a day out on a boat in Mandalay, and you had to walk from one boat to the next boat to the next boat to get to the shore. They put these planks out for you to walk along, but as I am rubbish with heights, and balance, so I asked them to hold out bamboo poles for me, so that I could use them as banisters. I was only going to fall a foot into the lake, it was nothing, but my legs just go to jelly if there is something like that.
What is the strongest sense memory you have from this trip?
I don't know if this is what you mean, but my main memory is that Burma is a very peaceful country. Especially visiting the monasteries. Mass tourism is still a very new thing in Burma, so the cities and roads are busy, but really there are so many places where it is just so, so peaceful. In Bagan, there are about 4,000 temples and pagodas, and so at sunset it can be packed. With tourists and locals. But our guide was really good in having a different schedule to other tour companies, so there were very few times when it was busy with other tourists.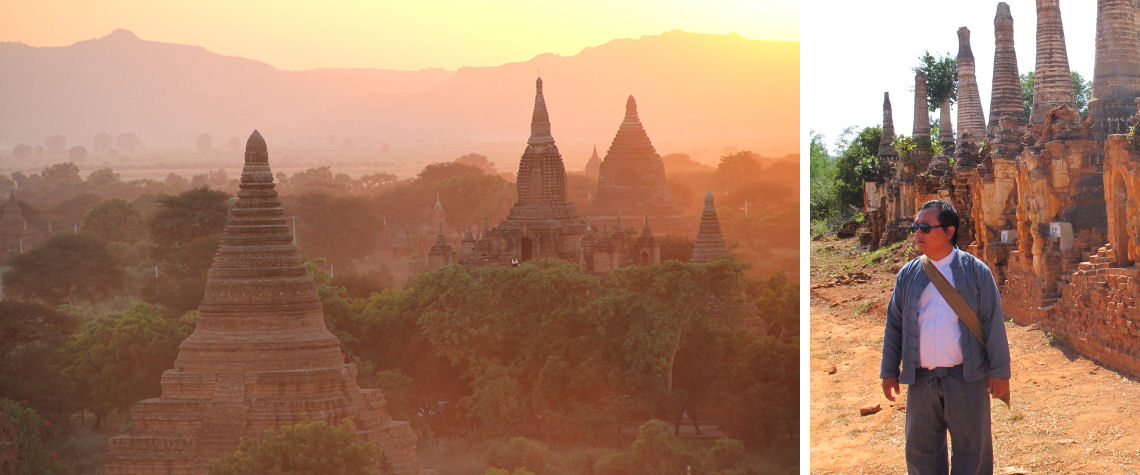 Who was your favourite local person that you met?
I cannot rave about our guide, Joseph, enough. On the whole trip, I think there was only one question that he couldn't answer. He knew so much about the country, he was happy to talk to us about the history in terms of the more recent political troubles. He called the toilets 'happy rooms' and he would very subtly, when we got to a location, tell us "if anyone wants to use the happy room, now is a good time." He'd tell us "this one is free, that one will cost this much, this is a western toilet" and so on. But he would say it in such a gentle, kind way. He was just always so thoughtful, and his knowledge was amazing.
Did you get the impression that tourists were welcome in Burma?
Yes, very very welcome. People were so friendly everywhere. There was a lot less begging than I was expecting, and there were people trying to sell us stuff, but not as much as in other places. And, on the whole, if you didn't want to buy, and said 'no thank you', they would leave.
Were you nervous about anything on the trip?
You are always a little bit on edge when you first meet the rest of the group. But in fact, there were only six of us in our group which was just amazing. And everyone gelled from day one. I knew instantly it was going to be a fantastic group. There was a slightly older gentleman who was a Catholic priest in New York, a couple from London and the lady had just retired, maybe early 60s, and so this was a big holiday for them. There was a Scottish lady in her early 50s, and a nurse from somewhere up north in England, probably early 40s, and me who is coming up to 40.
Was there anything that you found strange or overrated on the trip?
The only thing that I wasn't always comfortable with was that the monasteries were sometimes a bit touristy. Monks rely on donations for all their daily food in Burma. It is all around good Karma and doing good for other people, and good will come to you. So, in Burma, there are lots of people and lots of companies who make donations. But they want to shout about making those donations, which seems a bit strange to me. Joseph explained it, that it is a cultural thing, because if they donate something and they tell people about it, then it might encourage others to do the same. But I did find it a bit strange because in England, we don't make a big song and dance about it when we donate to a cause. At one monastery, a company had donated food for the day, and as hundreds of the monks lined up to go into the dining hall, there was a film crew filming the donors. And then all of us taking photos of the monks lining up as well. So, it is all a bit strange. We could take photos everywhere by the way, which was a bit surprising to me, but I did join in!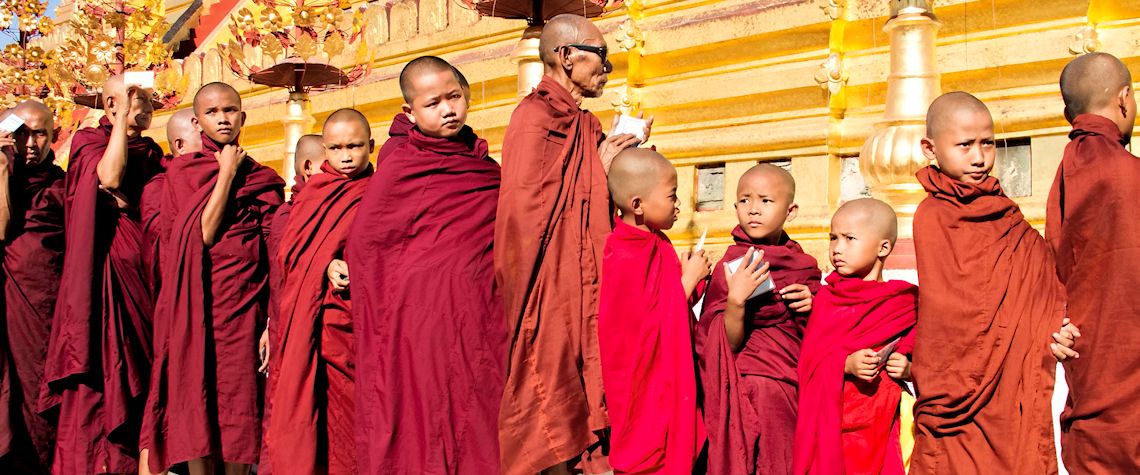 Was anything underrated on your trip?
Bagan, where all the temples are, is just awesome. You can't imagine the amount of temples that there are. It is such a cool place, and I could go back there again and again, sit in a café and watch the world go by. It is such a cool place.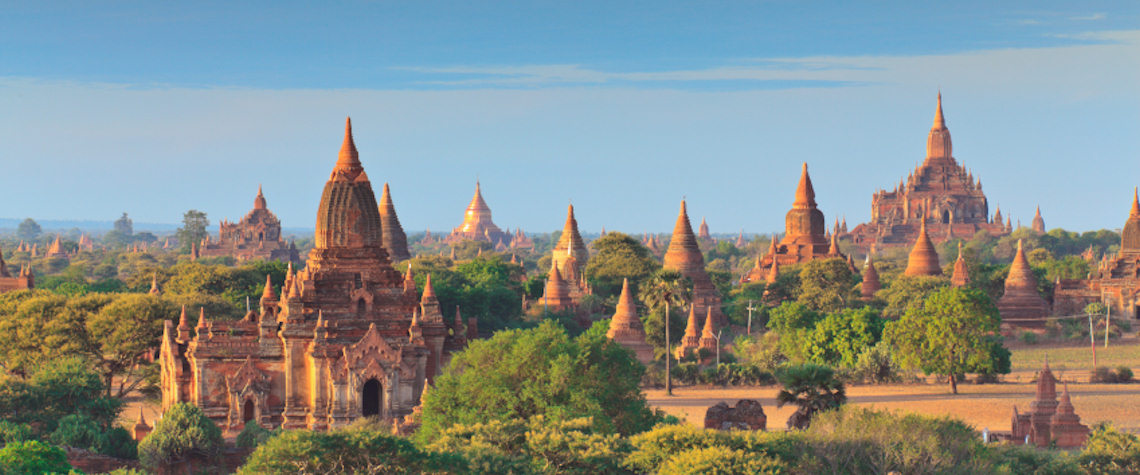 Has this trip influenced where you will go next?
I am keen to go back to Bagan, and also when I was there, a friend told me that I should have gone to the beach as well. So I hope to go back and do both of those. But I am also hoping to take four months off for my 40th birthday, and travel around South America. That was already planned, so this trip hasn't really influenced that.
Find out more about this trip
Continue reading about this
Burma highlights tour