Traveller interview: Katharina Wieland - Burma sailing, in the Mergui archipelago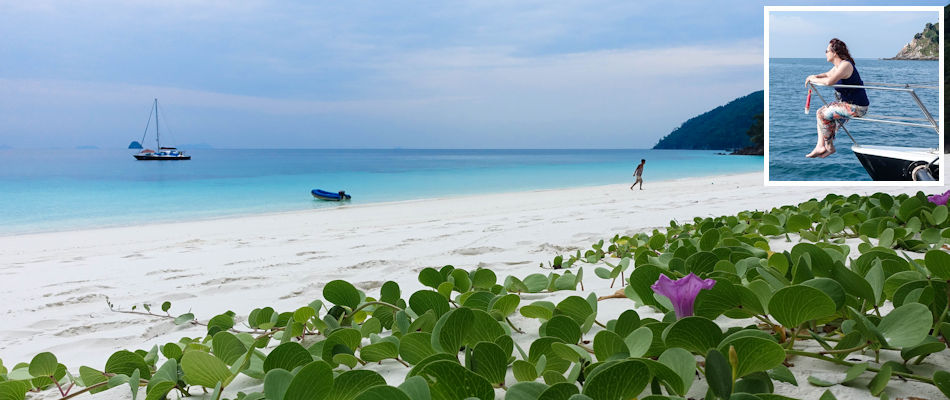 Beach and (inset) Katharina Wieland (Photo by Katharina Wieland)
Catherine Mack interviews Katharina Wieland, who lives in Switzerland, about her Burma sailing holiday in the Mergui Archipelago, where she travelled with her husband.
Were you keen on sailing before you went on this holiday?
No, it was totally new to us, and actually the reason we booked this trip was because we wanted to go to some islands and we did not want to go to the ones in Thailand, as they are too crowded. So I went looking for an alternative and that is when I found this trip. It was really amazing, let me assure you. We were travelling for three months, starting in Myanmar for three weeks, and so this section was a break from travelling. Just a week to relax, really, and it worked out perfectly.
So did you start your journey in Phuket, as per the usual itinerary, or did you join it somewhere else?
No, we joined in Kawthoung because we were travelling in Myanmar for those three weeks before hand, so we made arrangements to hop on the boat where they sailed out from there. But then we did spend a night in Phuket at the end, which is also part of the trip.
And how was Phuket?
Well, the weather was really nice and the driver was really great, but Phuket was a bit of a shock really, after spending a week sailing through these islands that are totally deserted with no one there. So we only stayed one night there.
Have you done a small group tour before?
This was the first trip ever that we booked through an agency, like a guided tour group holiday, but in fact it ended up not being a group at all. We were the only people on board, apart from the captain and crew, and we couldn't believe it. We are very much individual travellers, and we wouldn't have minded a few other people of course, but it was fantastic the way it was.
Were your preconceptions of the trip different from reality?
No, not really. You know, we always try not to expect too much when we travel because it is usually better if you just go and see what it's like. Otherwise you usually don't find what you are expecting anyway! Then you enjoy what you get and it usually turns out really good.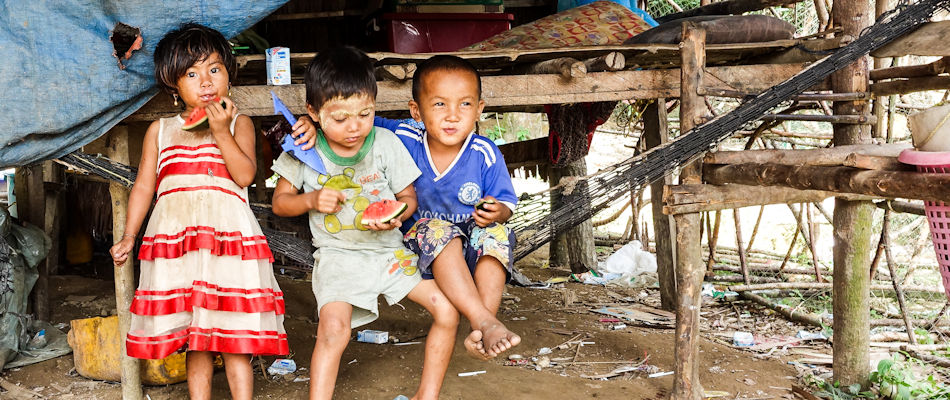 Local children (Photo by Katharina Wieland)
Tell me a little about the islands. There are hundreds of them, aren't there?
Yes, there are hundreds. I think there are two hotels on all of the islands, and we saw one of them, which they have built really nicely. Apart from that there is no tourist infrastructure out there whatsoever. None. There are a few fishing villages, and we visited one that was really lovely. It wasn't on the itinerary. We asked not to visit the Moken village which is on the itinerary because we wanted something a bit more low key. With the Moken, I thought I might feel out of place visiting the sea gypsy communities. And since we were the only people on board, we had a choice, so we asked to do something different.
At the village we visited in the end, people were from the mainland originally, and so you do not feel out of place or intrusive as a tourist there. We felt very comfortable and had a lot of fun. The kids would come up and give us shells and then we would gather some together. They were just really happy to see some foreigners there. There was no begging or anything and they didn't really expect anything from us. Of course we ended up buying some fruit at their local food stand, but really it was so nice there. They had fun with us, and we had fun with them.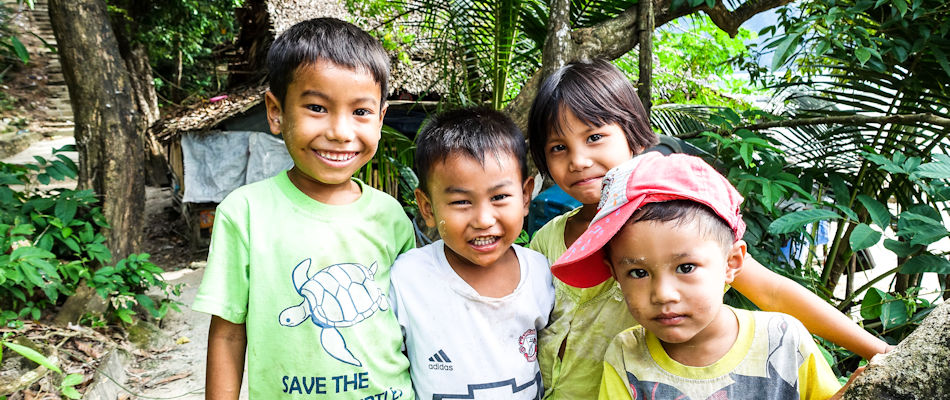 Local children (Photo by Katharina Wieland)
What was the most useful thing you packed?
I was glad I had two sets of bathing suits, so that I could change, because you are in the water quite a bit, and it would have been annoying only having one. And because we were travelling for a long time, we tried to keep packing to a minimum. I had a few t-shirts, and I bought a couple of sarongs in Myanmar, but I didn't bring a summer dress, which I should have brought really. But that is why I bought sarongs, which were fine. You don't wear much on the boat anyway!
So, I have to ask you, did you get sick?
No, because we never had a storm. We had perfectly flat water, and the weather was just really nice. I was a bit worried about getting sea sick but as it turned out there was nothing to worry about at all.
Where was your best sleep, although they all sound like heaven to be honest?
My husband always slept out on the deck, and I did most of the time as well. I was glad I bought my camping mattress, as I really have trouble sleeping on hard surfaces, so I was happy I had my little inflatable mat and I camped out on deck most of the nights as well. Which was really fantastic. And of course the skies at night are just brilliant. The stars are amazing, as there are just no lights anywhere.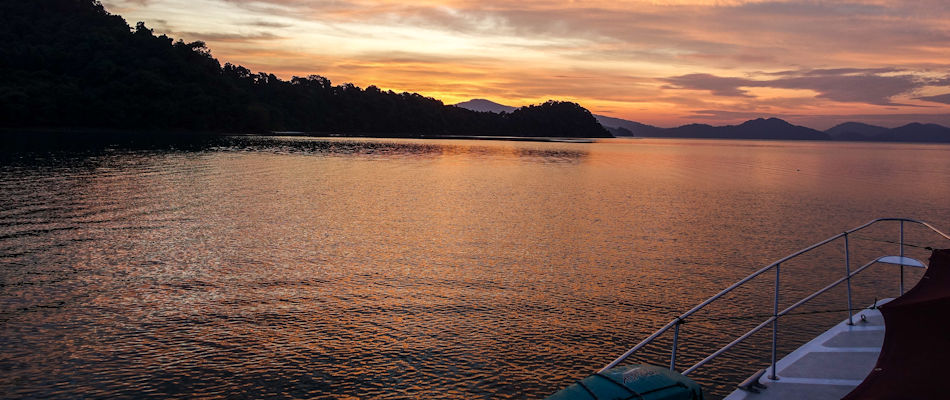 Sunset (Photo by Katharina Wieland)
Did the crew think you were really strange doing that or were they completely cool?
No, they encouraged it, and on the first day they basically told us to do whatever we liked! And so they encouraged us to sleep outside. A couple of the nights it was a little bit windy and so I went to my cabin. But really it was great. So peaceful. And so relaxing.
You must have lost all track of time, did you?
Yes indeed. Mary made me give up my watch on the first day. She was very insistent that I took it off and put it away, which was great.
Who was Mary? Was she part of the crew?
Yes, Mary was the cook, and she was from the UK, and Mike the skipper was from South Africa. And then we had Luin and Ankar, who were the local guides. They were in their early 20s, and great fun. And they spoke brilliant English. Luin was the government guide and he was able to answer all the questions we had.
Tell me about the skipper.
Mike was just fantastic. You wouldn't get a better skipper than him. He was very knowledgeable, very easy going but also made you feel very safe. And you felt very comfortable around him, and knew straight away that he knew what he was doing. There was never an issue of not feeling safe or anything. He is just a born skipper and travel guide.
And how was the food?
Oh yes, it is very important to add that. Because it really was very good. When we travel, we usually only eat breakfast and dinner, but Mary made it quite clear that we were going to have lunch! Which was quite funny. She really was a great cook. Mike was also fishing a lot of the time, so almost every day we had fresh fish.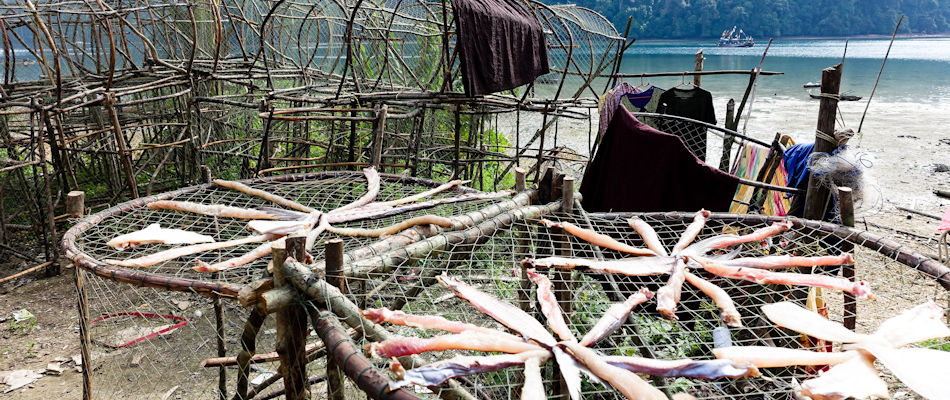 Fish cooking (Photo by Katharina Wieland)
Did you have any scary moments on this trip?
None at all, even though we were new to sailing. And we were lucky because Mike really enjoyed switching the engine off and really sailing. Some companies who also run such trips skip the sailing a lot of the time apparently, as it is easier for them to just run the motor, but Mike always put the sail up whenever there was even just a little bit of wind. So we did get the sail every day, and some days more than others.
Did you have a favourite present or souvenir?
Well, on the islands there is nothing to buy. Nothing at all. Of course I had my sarongs, which I bought beforehand.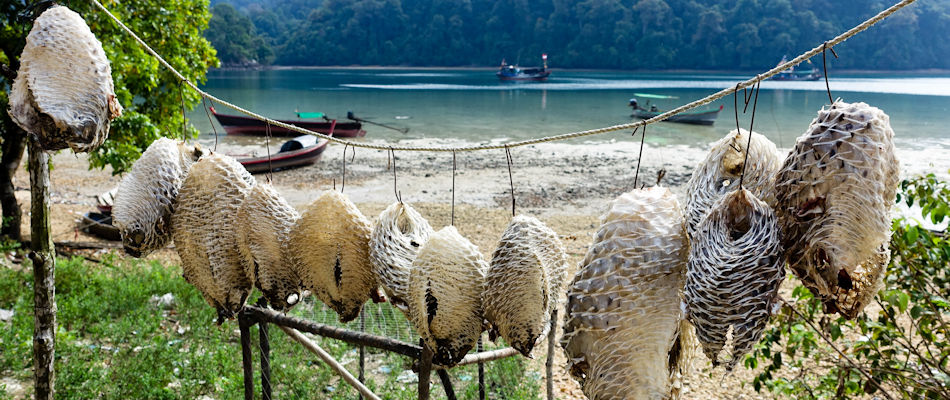 By the shore (Photo by Katharina Wieland)
Do you have any sense memories from this trip?
Yes, well it's just lying on the deck really. I loved to sit on the stern of the catamaran, looking out at the water and just feeling very peaceful. Yes, that sense of tranquillity, how can I say? Just the peacefulness. No noise, nothing to distract you really. I do remember that feeling when the motor is switched off, and then you get the whoosh of the sail going up.
Did you also sail by night when you were asleep or were you always anchored?
No we were always anchored at night. On the second night Mike took us to a small group of islands, and we were anchored in the middle of them. Close to Lampi Island, I think. And we had a live bird show there, with sea eagles and hornbills flying out to feed and then back in to roost. We also saw flying foxes going out to feed. So it really was a spectacular show. To top that, we also had an amazing sunset that night.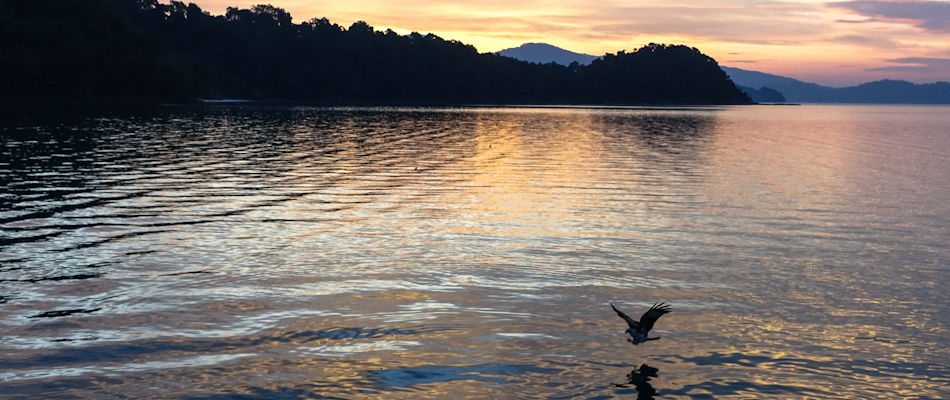 Birdwatching (Photo by Katharina Wieland)
Presumably you love to swim?
Oh yes we do. We just jumped from our bed into the water! Basically, as soon as we stopped in one place, they would lower the ladder down into the water, so we could always swim when we were anchored somewhere. They also had a kayak and stand up paddle boards and so we could use those whenever we felt like it. It was my first time stand up paddle boarding, and I really liked it. It wasn't as difficult as I thought it would be, but I think it was one of the bigger boards that are not so hard to use.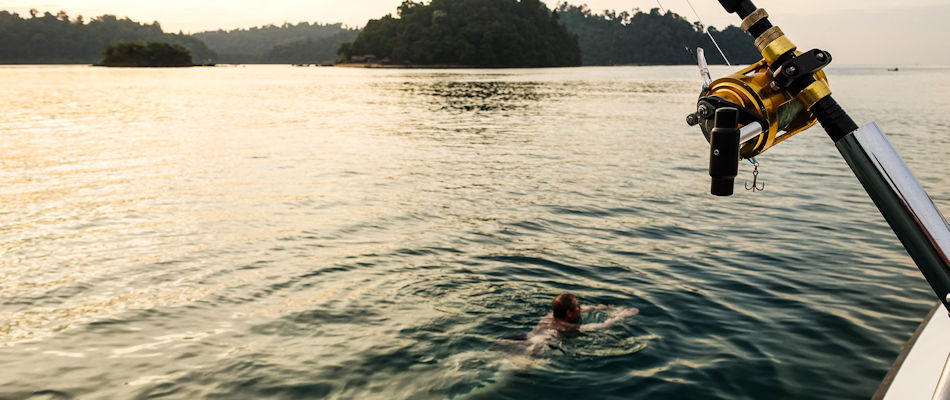 Swimming off the side of the boat (Photo by Katharina Wieland)
Is there anything you wouldn't recommend about the trip?
No not really. It is hard to say what the experience would have been if there had been eight people on board. I think it might have felt a little crowded. The scenery would be wonderful of course, but it would have been a very different experience. And you would definitely have to take turns to sleep on deck!
Did you know before you got there that you were going to be the only group members?
No, we didn't. I had read that they go no matter how many people there are. As long as somebody books they go, but no we were surprised when we discovered we were the only ones.
Did you actually do some sailing and learn some techniques, or did you leave it to your expert crew?
No to be honest, we more or less left it to the experts. We could have been more involved if we wanted to, but no, we just enjoyed it! I did bring some downloaded music on my phone, and I used to just sit out there and listen to music. I didn't even read my books. Somehow we just didn't have time!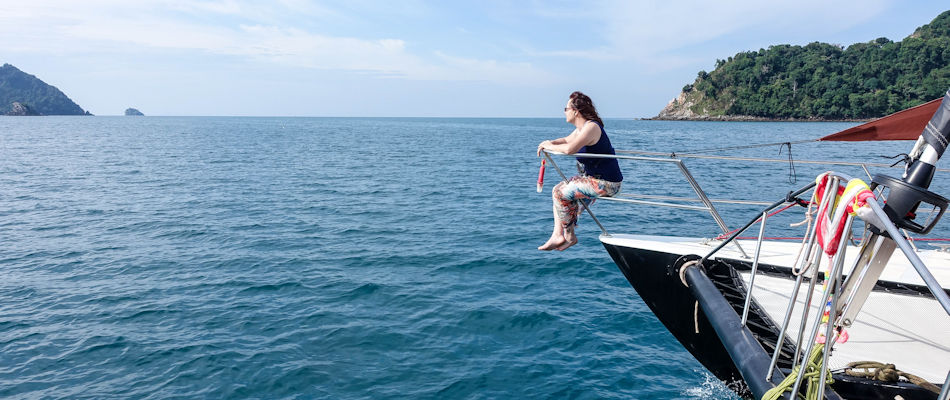 On the boat (Photo by Katharina Wieland)
It sounds like you really enjoyed Burma generally?
We loved Burma very much, and actually it was the highlight of this whole holiday. The people are just wonderful, and it is easy to travel there. I thought it might be harder. But there is just one highlight after another in Burma. It's incredible. We have travelled quite a lot, but Burma is one of the top highlights of any place we have ever been.
Find out more about this trip
Continue reading about this
Burma sailing holiday in the Mergui archipelago