Traveller interview: Jennifer Steward on her Central America cycling holiday
See / go back to this
Central America cycling holiday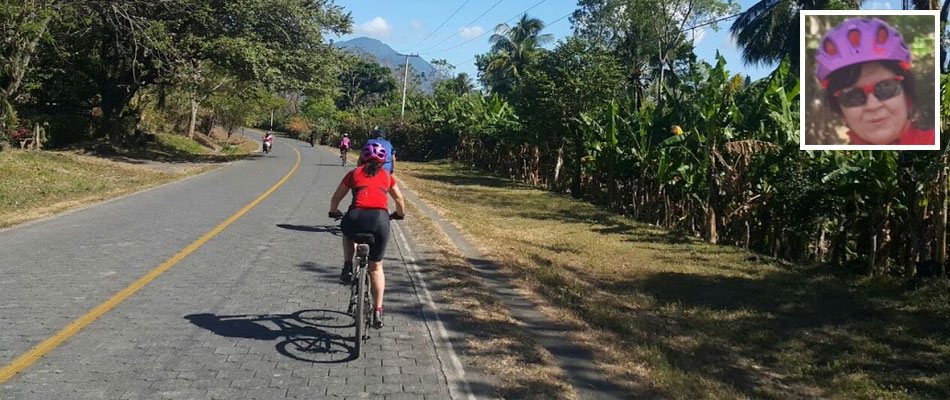 Cycling in Central America. Photo by Jennifer Steward
Cycling holidays are a big love for our customer, Jennifer Steward, an Australian who lives in Zurich, Switzerland. She talks with one of our travel writers, Catherine Mack, about her latest adventures
cycling in Central America
Ė a triathlon of holidays, covering three stupendous countries of Nicaragua, Costa Rica and Panama.
What made you want to go on this cycling holiday in Central America?
I hadnít been to any of those countries before. I had been to South America, from Ecuador downwards, but never to Central America. Colleagues had been there and spoken very well about them, Costa Rica in particular, and I thought it was a good opportunity to go somewhere at the end of the European winter where it was likely to be warm. It also offers both mountains and sea, which I think is quite a unique concept, as you usually have to choose one or the other. So, for me it was that combination of warm weather, mountains and seaside.
And two seasides right? Both the Caribbean and the Pacific.
Yes, we did swim in the Caribbean one afternoon and then in the Pacific the next morning, in Panama. It is the cool thing to do there, swim in both seas in one day, but we spread it over two days.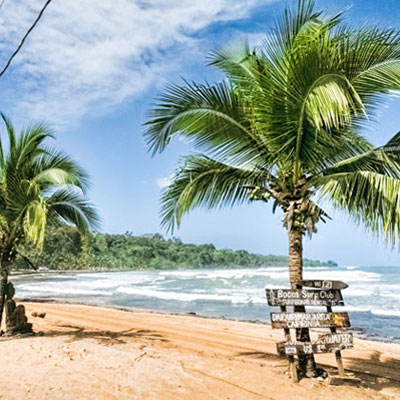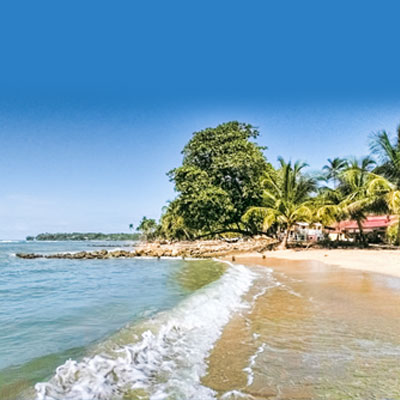 What is the most useful thing you packed for this cycling holiday?
I always take a skirt to put over my cycle shorts, so that I feel slightly better dressed if we go to a cafť or restaurant for lunch. Cycle gear isnít always the best look, is it?! The least useful thing I packed was long sleeves as I just didnít use them at all.
Did weather live up to expectations then?
Yes, I was there at Easter and it was very warm, around mid 30s. Probably almost a bit too warm for cycling in the middle of the day, but certainly perfectly warm for swimming or for eating outside in the evening. It was very pleasant indeed.
What is your favourite souvenir or present?
I didnít buy anything except some coffee beans. I travel quite a lot so I donít buy souvenirs really unless it is something I really really like. I bought the coffee beans in Costa Rica and also in Panama.
Did you have a favourite from the three countries of Nicaragua, Costa Rica and Panama?
No, not really. They were all a little bit different. If anything I was a little bit surprised about Panama. I didnít have high expectations of it, and I donít know why. But the scenery there is as beautiful as the other two countries and that is where the land narrows gradually and you can do the two oceans in one day. There are lovely long sandy beaches in Panama too, and the sea was lovely and warm, especially the Pacific. There is a mountainous bit in the west, and there is a central bit that is a bit boring to be honest, and then more mountains which lead into the Andes. Its history is also interesting and of course the coasts are stunning.
Have you been on many cycling holidays?
This was my fourth cycling holiday. You guys are my Ďgo toí for
cycling holidays,
and wherever I want to go, something interesting usually comes up! I think cycling holidays are a really great way to see the countryside as you arenít seeing it from behind glass. But you are moving quickly and comfortably enough and you can see quite a lot in a two week period. With hiking you tend to do a certain region or a certain walk, whereas with this we saw a reasonable amount in each country. And you are doing several hours of cycling every day, and it is also good exercise, right?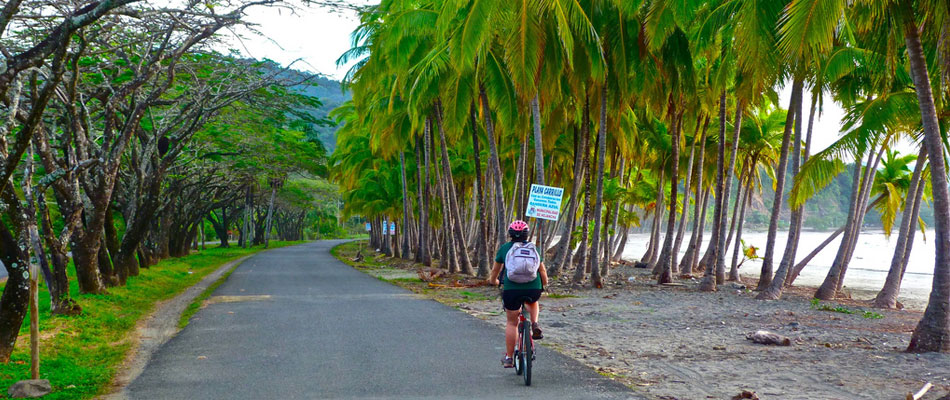 Were you on hybrid bikes? And do you cycle a lot at home?
Yes we were on hybrid bikes. And yes, where I live in Switzerland is fantastic for cycling. I have a city bike which I ride to work and also a road bike, but I also need to get a trail bike so that I can ride off road in the forests.
Were your preconceptions very different from reality?
I expected it to be more jungly! I thought it would also be a bit samey, but Nicaragua was quite volcanic and more arid than I was expecting. We were cycling in the heart of all the volcanoes so there was lots of that dry, volcanic dirt. I imagined it to be more lush. Costa Rica was more lush though, with sloths in the trees and all kinds of things! And the food was very good there, although a little bit more expensive. Costa Rica was also more touristy but still lovely. And as I said earlier, Panama was a bit of a surprise with its mountainous ridges and then the two coasts.
Where was your best sleep?
We stayed in a yoga retreat in forest cabins in Costa Rica, surrounded by birds Ė we saw an armadillo there running through the front garden! That place was lovely. It felt like you were really in the middle of nature there.
Were you travelling solo?
Yes, I was travelling by myself and I shared a room with a very nice woman from the Netherlands, who was also a super cyclist. She had cycled from Kathmandu to Tibet or something like that! She was always at the front and I didnít see her during the day at all. It is nice to share rooms I think. You get to meet someone new, learn about them, have a buddy and then stay in touch or not. I got some great cycling tips from her as well!
What did you think was going to be difficult that turned about to be ok?
I was a bit worried about the cycling as I hadnít done any training. And I knew it was going to be hot. The first couple of days were tough for me, so I became a little bit worried, and pretty much everyone else was a much better cyclist than I was, and had done more training. But it all turned out OK in the end. Everyone was kind and I wasnít so far away from the main group after a few days. This trip is meant to be a holiday and most people are not treating it like some kind of cycling or sports event. I expected it to be hard, it was hard but it was all good at the end. There was one particular day when the cycle guide warned us it was tough if we wanted to go in the support bus and of course I didnít want to go in the bus. But I made it through the day and it was all good.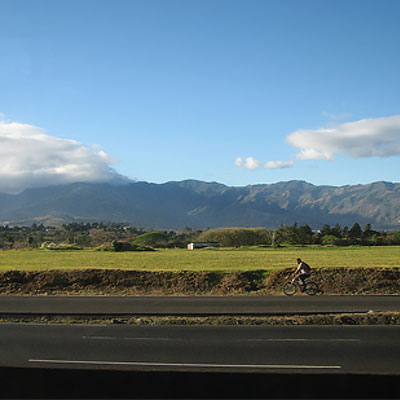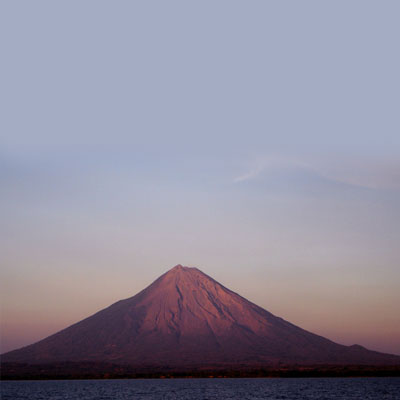 How many were in your group?
There were 13 riders and two guides Ė one at the back and one at the front. And the bus driver of course.
Do you have any sense memories from your trip, other than Ďsightí ones?
I would say the taste of the fruit. It is so local and fresh, it is just sweet and juicy and you never get fruit tasting like that in supermarkets. The pineapple was particularly amazing. Normally I donít like it because I find it a bit acidic, but in Central America it was just delicious. Also the smell of the sea is a great memory.
Was there one local person that you met whom you will always remember?
When we took the ferry back from Ometepe Island in the middle of Lake Nicaragua, there was an old lady on the ferry who offered us a coffee. She just said to pay what we wanted to pay. We gave her a dollar for each coffee and I think it made her day. She gave me a hug and a kiss, and I think that was probably her weekís wages. She was such a sweet little old lady and the people in Nicaragua are not wealthy. And a dollar for a coffee is a fraction of what you would pay in a big city. For her, it meant a lot. She was also so smiley even though she didnít have a lot in terms of wealth. So I will always remember her, as it was just a nice moment. Itís good to also remember what a small difference you can make to someoneís life.
What was your Ďturnaround momentí on the trip?
I knew I would get there with the cycling, but once we had done a few of the longer days I felt more confident. There were a couple of other lovely women on the trip and we always cycled together. That really helped because you are sharing the burden of riding along. If you are riding into the wind by yourself, for example, it can feel like a bit of a struggle.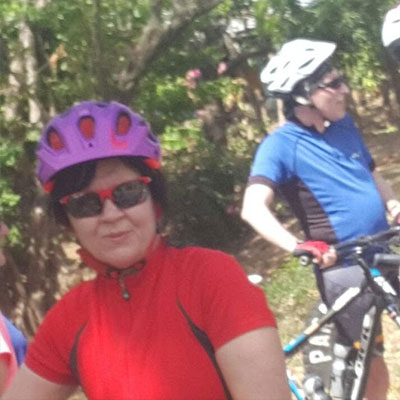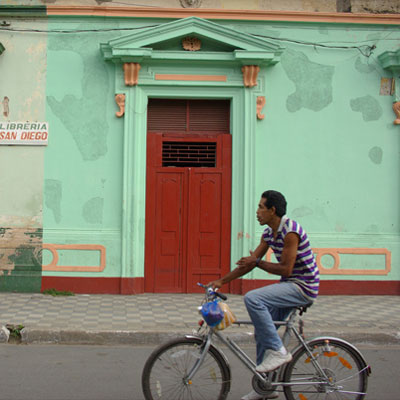 Jennifer Steward cycling & cycling in Nicaragua. Photos by Jennifer Steward and
Adam Baker
Was it mostly women on the trip?
No it was half-half, which was quite surprising because usually there are more women than men. But there were seven women and six men.
Has this trip influenced where you would like to go next?
It was a bit of a long journey that one, with some jet lag too. So I am going to go on another group cycling holiday but this time more local, and I think it will be in the
Dolomites in Italy.
For the seaside, I hope to go on a
cycling holiday in Croatia
and maybe discover some of the quieter inland spots there too.
Find out more about this trip
Continue reading about this
Central America cycling holiday