Interview with manager Serkan Cetin - Cirali Beach guesthouse, Turkey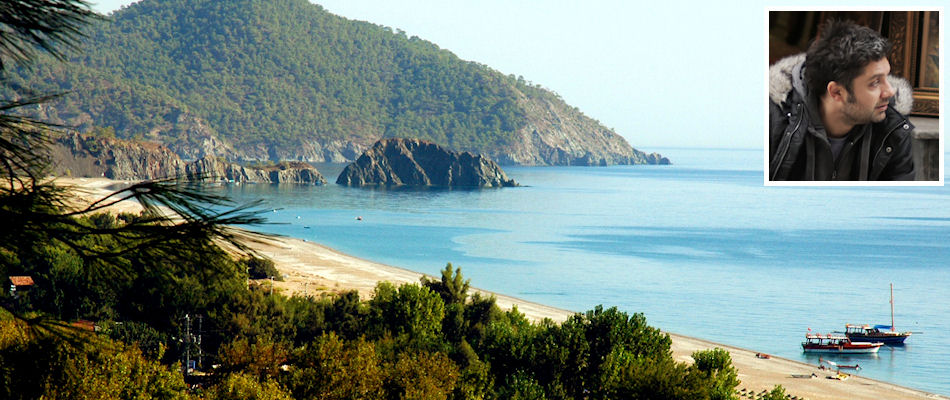 Cirali Beach and (inset) Serkan Cetin (Photo from Serkan Cetin)
Interview with guesthouse manager Serkan Cetin - Cirali Beach guesthouse, Turkey
Splitting his time between Turkey and the UK, Serkan Cetin is accommodation manager at this gorgeous beach holiday guesthouse in Cirali, Turkey. 'I'm based in Turkey most of the time and I go to Cirali and visit the guesthouse at least three times a year,' he says. 'I love pairing the right customers with such a peaceful and unique holiday and if I have any extra time off throughout the year, I stay there out of choice - it's such a beautiful place to spend time.'
The natural setting of the accommodation is breathtaking - the views are simply incredible and the beach itself is a bit of an insider secret.
The guesthouse is right on the edge of the beach, so when you're having a meal or hanging out in the communal areas within the grounds, you're right there next to Cirali Beach, which is one of the nicest and most untouched beaches in Turkey. It stretches for about 3.5km and is very wide too with the crystal clear waters of the Mediterranean Sea lapping it and a clear backdrop of beautiful mountains.
Building restrictions in the area have prevented any concrete eyesores and instead everybody builds wooden bungalows hidden among the trees, so if you're swimming in the sea and you look back up towards the guesthouse, all you see are trees and mountains looking back at you, and the imposing figure of Mount Olympos, or Tahtali Dag as the Turkish call it, the highest mountain in neighbouring Greece.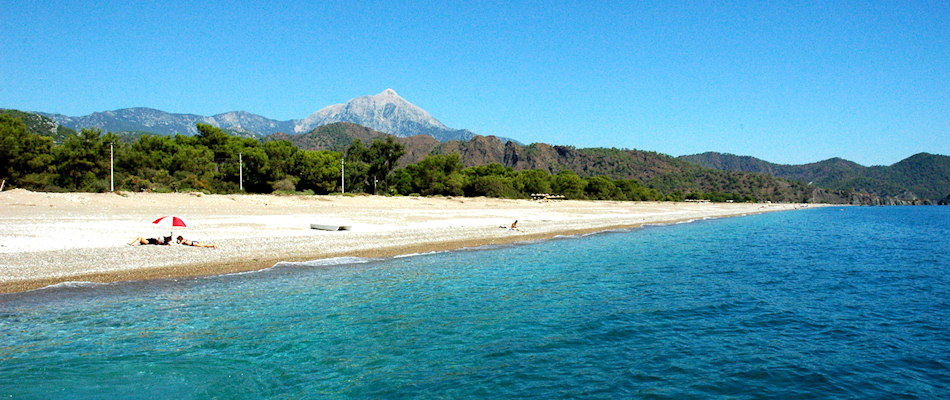 Cirali Beach and mountain backdrop (Photo from Serkan Cetin)
What most people talk about at breakfast is breakfast - we serve a breakfast fit for kings and fantastic food at every meal is a big thing at the guesthouse.
Breakfast in Turkey is a sweet and savoury meal, so we make sure we serve the freshest and best produce possible, full of homemade bread and jam, cheeses like halloumi and feta, tomatoes, olives, clotted cream and honey, orange juice and very good quality coffee, which is something we really insist on. It's unlikely you'll be able to eat all of the breakfast, but you're welcome to sit there for hours and give it a go if you like - the breakfast is so massive that most people tend to photograph it!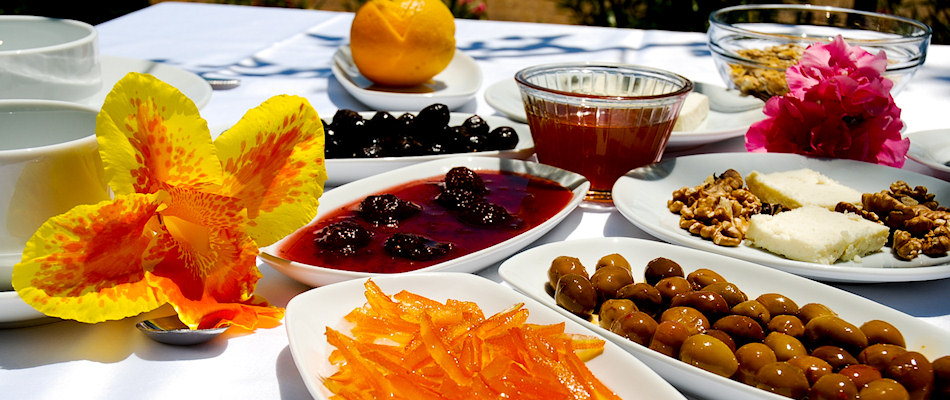 Our breakfast (Photo from Serkan Cetin)
A menemen is a delicious Turkish breakfast staple and is a scrambled mix of eggs, tomatoes, peppers, onions and herbs. We're not big on beans and sausages over here.
You can get up at whatever time you like at the guesthouse. If you want your breakfast at 1pm, so be it. We're not hot on timings and we want our guests to fit whatever schedule suits them on their holiday, which we're happy to cater to.
Akif, the guesthouse manager, and his mother have been running the guesthouse for as long as I can remember and are brilliant characters.
Akif's mother makes cakes, pancakes, and fresh homemade jams on the premises and she doesn't speak much English, but she's around all the time and is a very warm lady who always has a huge smile on her face. Akif must get his temperament from his mother because his whole approach to his job is to have a smile on his face at all times; he will chat and socialise as much as his guests want him to, but is never in anyone's face, and a lot of people come back to the guesthouse on the strength of his wonderful hospitality and generosity of spirit.
Please and thank you goes a long way in Turkey.
lutfen is please, tesekkur ederim is thank you, and merhaba is hello. Eline saglik is a great local expression, which literally translates as 'health to your hands'. It's a good phrase for people to learn as it can mean compliments to a chef's hands because his were the hands that created delicious dishes, as much as it can mean compliments to a carpenter's hands for making a lovely piece of furniture.
It's a very sensory experience staying at the guesthouse.
You can smell the coffee being ground and fresh bread being made in the morning; you can hear the gentle waves of the sea every evening at dinner, feeling the warm breeze on your skin as you eat, and when you look up, the sky is a huge starscape with masses of stars visible - you can see the Milky Way pretty much every night. There is so little light and noise pollution, so you are without distraction and can really enjoy the smell, sight and sound of the nature around you.
This isn't a sterile environment, we are surrounded by nature and you sleep in a wooden chalet, so the experience is rustic and akin to that in Bali or Thailand, but in Turkey.
Our chalets aren't design-orientated or flashy, but they have all of the comforts you need - air-conditioning, comfortable beds, en suite bathrooms, a porch and a hammock, but essentially they are wooden rooms made from recycled wood and raised off the ground on tree stumps. The inspiration behind it was to blend in with the beautiful surrounding fruit, lemon and olive trees and offer a calm, peaceful and natural environment.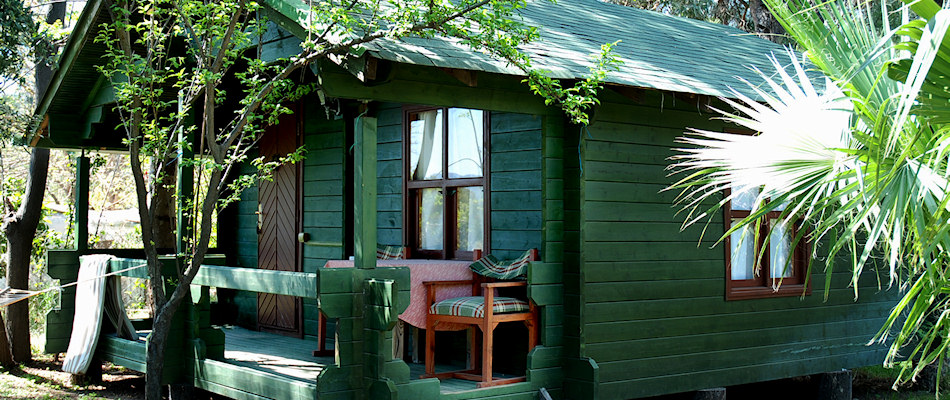 Wooden chalet (Photo from Serkan Cetin)
If you're someone who feels at home in a 5* hotel with huge, luxurious space, then it's probably not for you.
Equally, if you're put off by the idea of the odd bee hovering around your jam, or a lizard or chicken running around the garden then it might not be the right choice for you. We have cockerels and sometimes you'll hear them first thing in the morning, which only takes about a day or two to adjust to and then you actually grow to like the sound, it's quite comforting and a much nicer way to wake up than to a buzzing alarm clock.
Some people come and stay with us purely to relax on the beach and go swimming in the sea, and for other people it's about exploring the nearby ruins and the remains of classical cities.
Olympos and Phaselis are close, as is the Lycian way, which is a marked walking route that stretches all the way along the Mediterranean coast of Lycia and passes thorough Cirali. Antalya is the nearest big city and there's a fantastic archaeological museum there - but people often choose to do less, not more, because it's the natural location that blows people away; it's quite rare these days to have a holiday in such an untouched environment as so many places in the Med are built up now.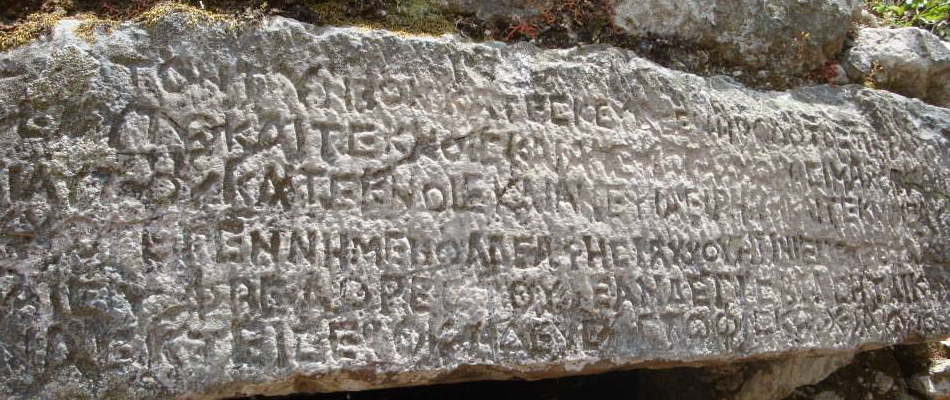 Olympos ruins (Photo by Lisa Joanes)
Some of the nearby ruins are really off-the-beaten-track, so are hidden gems that might have escaped the glare of the guidebook.
Arycanda, for example, is an ancient Lycian city that's built on the slope of a mountain. You have to veer off the main road onto some small winding roads to reach it; besides the architecture and the lack of crowds, what make it so special are the incredible views it gives right across the plains of Antalya. Aspendos is remarkable too - outside of Ephesus it's definitely the largest and best-preserved theatre remains in Turkey and it hosts various festivals throughout the summer including a classical music festival and a ballet festival, so if you happen to be staying with us when they're on, that's a real added bonus. Listening to classical music in the ruins of an atmospheric and historical Roman theatre really is something else.
Most people want to leave Turkey with a tapestry-woven kilim rug, but Cirali isn't really a place for picking up souvenirs.
The best way to remember the village is to visit the family-run stalls and cafes that line the beach, chat to the locals and perhaps pick up a trinket to trigger that memory.
Find out more about this guesthouse
Continue reading about this
Cirali Beach guesthouse, Turkey