Tour leader interview: Johnny – Costa Rica wildlife holiday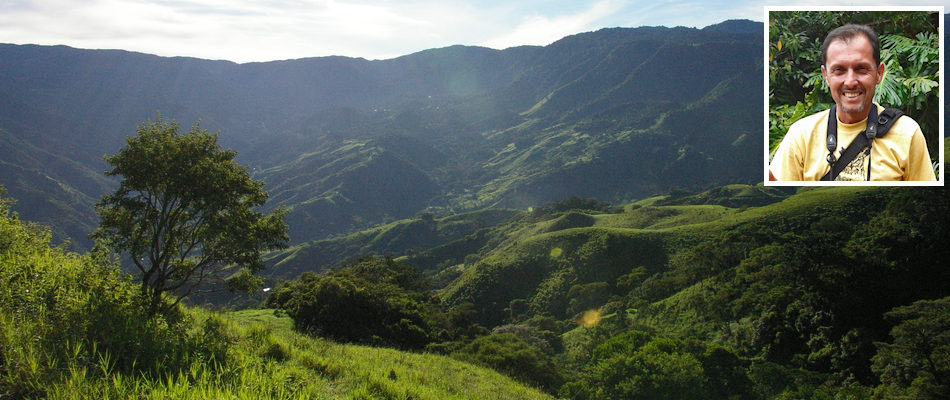 Monteverde and (inset) Johnny (Photo by
Nao Iizuka
)
Leader interview: Johnny Villalobos Muñoz – Costa Rica wildlife tour
Johnny has been a guide and tour leader in his native Costa Rica for 20 years. After spending time living in the capital, San Jose, he moved with his family back to the Caribbean Coast, where he was born and raised. It's perfect for this trained naturalist - and for his children. "We're just 20 minutes away from the rainforest... it's a very healthy environment to grow up in" he says.
When he's not working, Johnny's not one for sitting still; his favourite pastimes are hiking and playing basketball - as well as travelling around the country with his family.
It's hard to choose a highlight from this itinerary as you go through different ecosystems. But I like Tortuguero.
It gives you the sense of the wilderness, the amount of the wildlife to be seen there is just fantastic. It is a rainforest, and the only way to make it there is by waterways, which gives you that expectation before you get to Tortuguero. My favourite wildlife is the great green macaw, which is one of the specialties of Tortuguero. And have you heard of the Jesus Christ lizards? They are fantastic creatures - they can walk on water!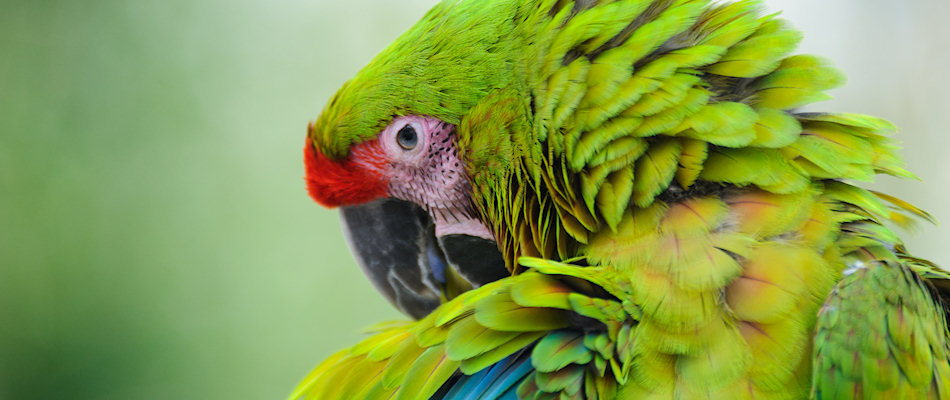 There are local artisans- guys who do glass blowing - in Monteverde. They make glass frogs, or glass hummingbirds, so more nature oriented blown glass.
That's one of the things people enjoy - or sloths, that people make out of the blown glass. Another thing - there are some artists that have paintings on feathers - bird feathers. That's quite pretty also, and very different.
There is a very traditional song that we have in Costa Rica called 'Tan linda mi Costa Rica' (How beautiful, my Costa Rica).
It's very interesting because the lyrics of that song describe a lot the Costa Rican life. It has a very interesting rhythm. For Costa Ricans, we consider it as the second national anthem of the country.
When you're travelling across the country, you will see a lot of houses and farms and you might be wondering how these people might live.
So there is one lady that we actually visit on her farm, she has the typical character of the Costa Rican farmer. And from her attitude, everyone will see how Costa Rica might be in every single house that we drive by. I think she's very enthusiastic, at the same time she is a farmer, a cheesemaker - she runs the farm on her own. Her name is Aurora - actually we say Doña Aurora. Doña is colloquial Spanish for Mrs. She has cows; once in a while she grows potatoes. You know what is interesting? She always approaches one of the institutions in the country to help her run her farm in a sustainable way. The natural gas she uses to make the cheese comes from a biodigester that she has on the farm. It's fascinating. Sustainability is part of Costa Rica's whole philosophy.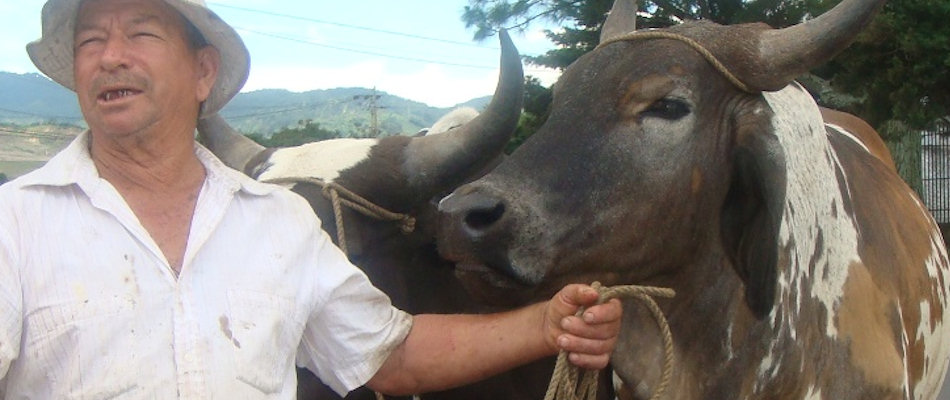 Something happened to me once that was very unexpected.
We were in Manuel Antonio National Park Area, which is one of the highlights of the trip. After seeing monkeys and sloths and deers, we started to go onto the beach when we'd finished. And all of a sudden, one of the clients said "Johnny, are there whales here?" And I was saying "Well..." and she said "Johnny - whales." I said "Once in a while we can see whales, it's very difficult..." and she said "No, Johnny, turn around!" and I said - woah! And there were whales, humpback whales, right behind me. Come on, that's too much! That was definitely my most unexpected experience on my trips. That was fun. Once you are in the forest, just travelling around, you have to expect the unexpected.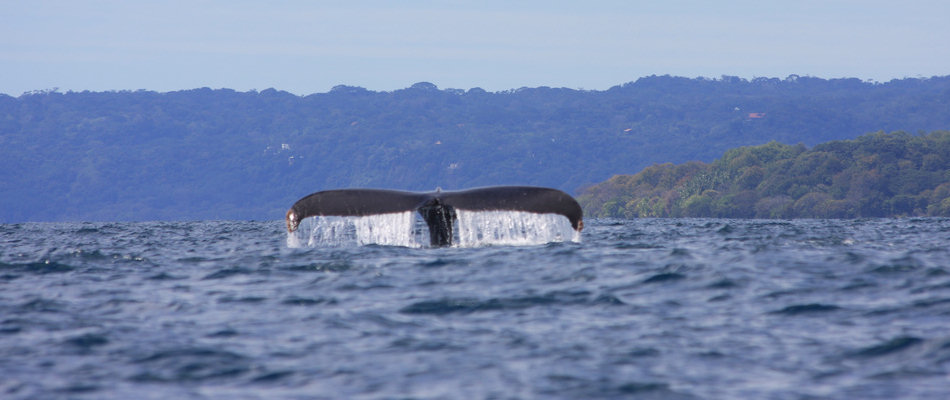 The passion fruits are beautiful here. One dessert we have is passion fruit mousse.
You mix the passion fruit with evaporated milk and condensed milk, then you put it in the blender - and you have the most delicious dessert. You have to try it in your house actually! You get a can of evaporated milk, a can of condensed milk and the amount of passion fruit that you like. Simple as that. Then you have a sweet-tart flavour combination. The flavour is just - wow!
There's a very popular Costa Rican expression and it's pura vida. Translated literally, it would be like 'pure life' or 'good life'. But for Costa Ricans, pura vida is beyond that.
It's a positive attitude that we use on a daily basis. If somebody comes to you in the morning and says "Hey - how are you doing today?" you say "pura vida", full of life. Pura vida is a very authentic Costa Rican expression, and I personally use it a lot. When I go to my travellers, I say "how are you doing today?" so at the end everybody ends up saying "pura vida!" because that's really how they feel, that's how the trip's going,. That would be the one expression that they have in their memories when they leave the country. It's how Costa Ricans are, with the enthusiasm, the happiness, the hospitality. So all that combined is the story of pura vida.
Sometimes people travel abroad, and in some places they can get sick from the water. But in Costa Rica, you can get sick from not drinking the water.
This is a very active trip and we do a lot of different activities, so my top survival tip here would be - have your water bottle. You can drink tap water basically everywhere in Costa Rica.
Once I was walking along a trail, and all of a sudden I had an encounter with a tapir that came out of the bushes. I was face to face!
The worst thing is that right behind the tapir was a baby. So there was a minute - and then the tapir ran away. But for me it was like 20 minutes! I thought this tapir would jump onto me - that was one of the situations where I thought "what do I do?!" They're big, and actually I don't think they're that dangerous - but they could be if they have a baby because they're very protective. That was very unexpected - but it's very rare to see one and I was very happy afterwards!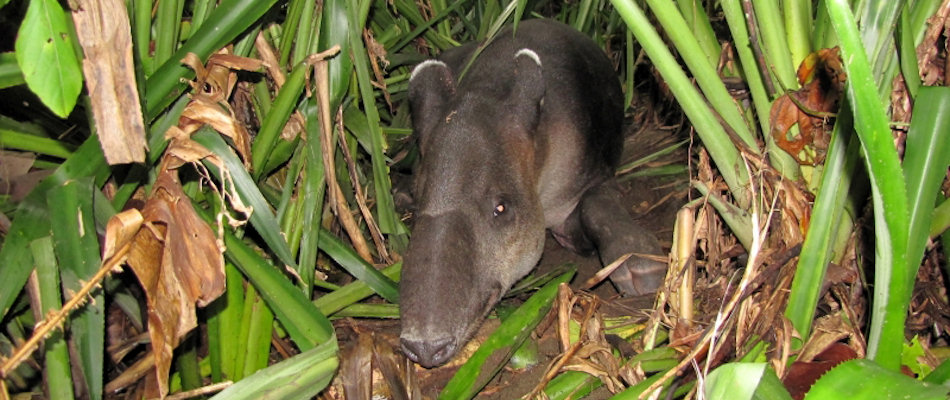 Whatever happens in our society is something we make jokes about. Something funny is giving a direction to somebody - especially somebody from Europe or North America.
We make jokes about how complicated we are at giving directions. So if you live in a city you have everything structured by streets and avenues, right? Here, you say - so, Johnny, tell me where you live. And I'll say "ok, if you walk down the street, you'll find a guanacaste tree. Then you turn right, you walk 100m down and there's always a green car parked over there." If they've moved the car - you're lost already! "So at the green car, you turn left, then you count three houses, and the one with the white gate, that's my house." So we're not very structured at giving directions. That's a very local joke.
The misconceptions my passengers have had when they come to the country is the food.
They have the idea that probably the food in Costa Rica won't be good. The on the second or third day, they say "Do you know, Johnny, we had the misconception that the food in Costa Rica was gonna be terrible!" Then they find out that it's fantastic, because of the variety and the quality of it. There are maybe six out of 16 passengers that come with that idea - but the good thing is that at the end, they like it.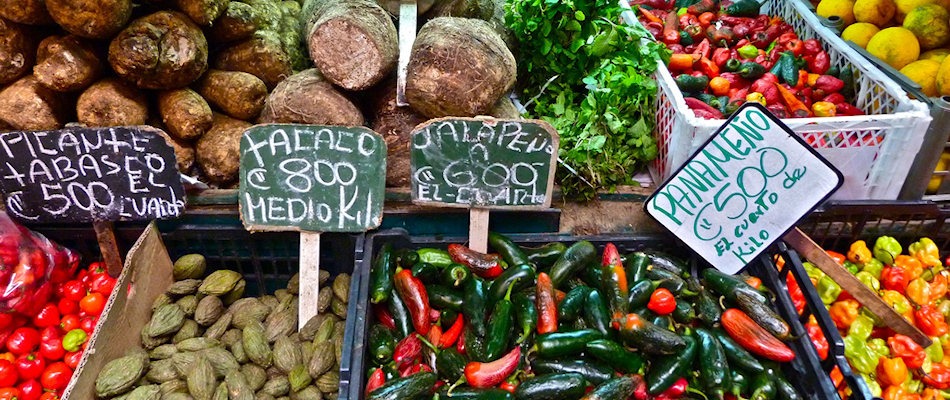 When my groups appreciate the country and the trip - that makes my job easier, and of course that's very nice.
It's very, very memorable. It's really nice when they tell you at the end of the day "Johnny, thank you very much - I think today was just fantastic, it was so different from yesterday, even though we were in the same place!" Or in the next location -"yesterday I was in Tortuguero, but today I'm in Monteverde and I don't know, it's so hard to choose between them right now!" It's a difficult decision, but it's a good decision to have.
Being in Costa Rica, you can feel emotions, you can learn, and a have desire to discover.
There is a great variety on the trip, but within each group there are people who are more into birds and some who are more into monkeys or flowers or butterflies. So I try to go with the flow and sometimes in one group, I have a rainbow, you know what I mean? People who like birds, butterflies, plants etc. So I try to combine those interests so that they can enjoy it as a group. They can transmit those emotions, and learn something different.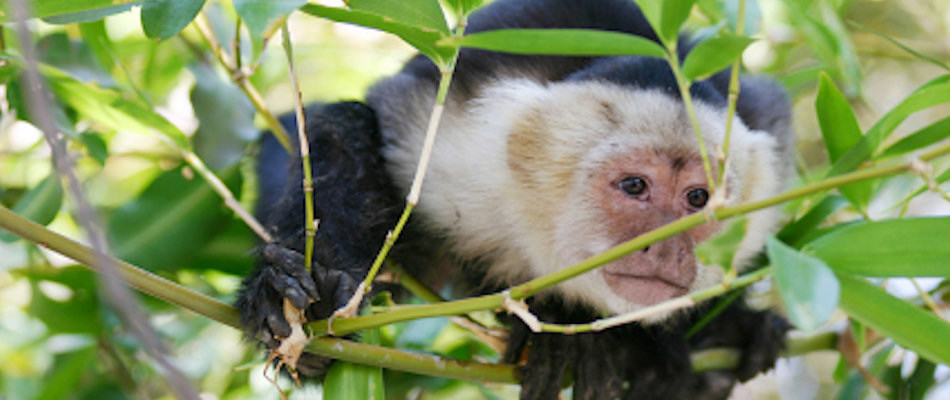 White faced capuchin monkey
There's a lot to see on this trip, but you get rid of all your problems, of all the stress and surround yourself in the middle of the green, like I am now.
So where I am right now in Monteverde, I can see only the Pacific Ocean - I have a hummingbird right behind me, by the way! - and I'm in the middle of the cloud forest. It's like - enjoy your holiday!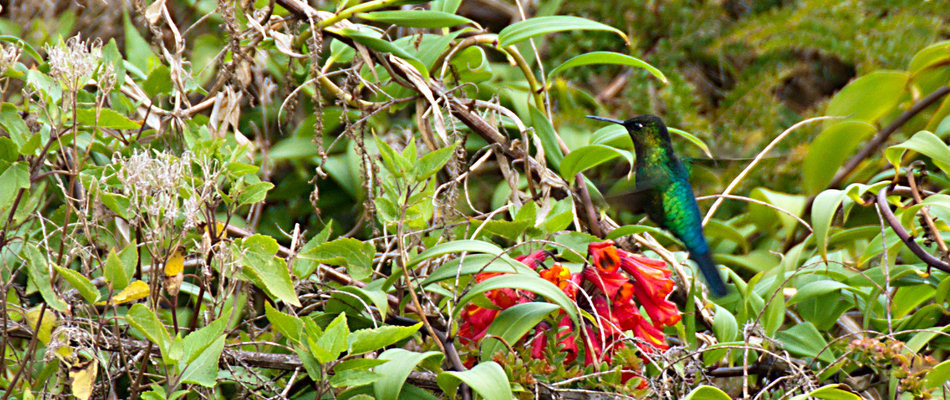 Later today, I'm taking the group to the Santa Elena reserve. Talking about sustainable tourism, Santa Elena Reserve is run by Santa Elena High School.
It's one of the educational programmes they have in Costa Rica. Monteverde has been a pioneer in all these programmes, and in this case it's fantastic to see how a high school can run a reserve. That's where we're going today, and we'll try to ensure our passengers are being responsible tourists.
Find out more about this trip
Continue reading about this
Costa Rica wildlife tour