Traveller interview: Rebecca Malcolm - Cross country skiing in Norway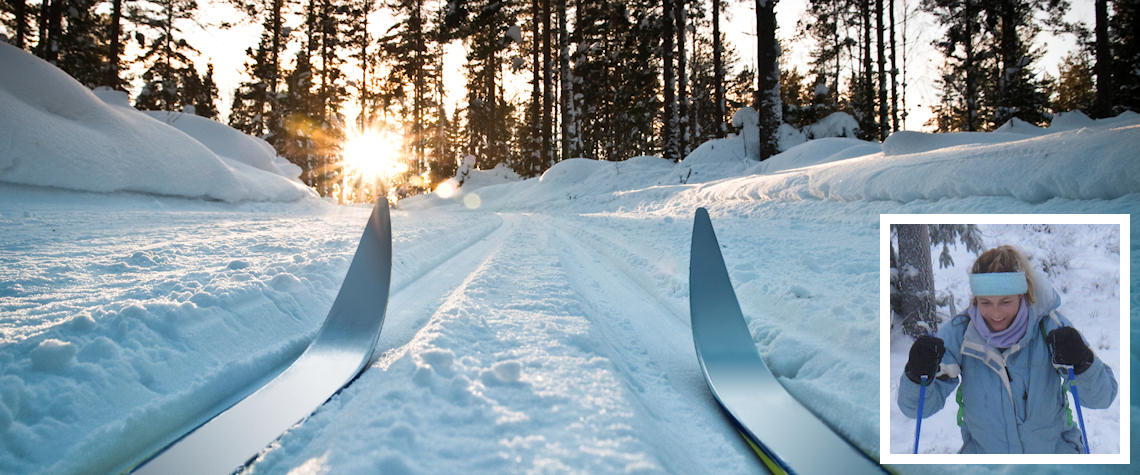 What made you want to go to Norway?
My decision to go cross country skiing in Norway was a bit of a last minute thing as I was originally lined up to go to Austria instead. The Austrian trip didn't work out due to lack of numbers so when I was offered the chance to go to Norway I just thought, yeah, why not?
Have you been cross country skiing before?
I've been roller skiing before and there are 60km of cross country ski tracks near our house in France but to be honest I knew I just wanted to take a holiday over Christmas and New Year's Eve and the idea of cross country skiing totally appealed. This was for two reasons really: one, I wanted a work out while I was away; and two, although I'm a personal trainer, I find it difficult to get motivated over the winter and so training for the holiday was the perfect excuse. Also, I was still semi-recovering from a knee injury and wanted an activity that was low impact, which is why cross country skiing fitted the bill.
Did you have any preconceived notions of Norway?
As I'd never been to Norway before I guess I was expecting a sort of wholesome outdoorsy country that was going to be slightly socialist with nothing too over the top in terms of wealth. A bit like IKEA! First impressions certainly lived up to my expectations as Oslo's airport was beautiful, really clean, neat and tidy - I loved it.
What were the rest of your group like?
Other people can make or break a holiday and as I was travelling on my own I really wanted to feel part of a group which was certainly something I stressed during the booking process. Happily, my group turned out to be brilliant and similar to me in terms of demographics. We met our tour leaders, Ilsa (Dutch) and Mary (English), and Ilsa informed us right from the start that this was our trip so we could do as much or as little skiing as we wished.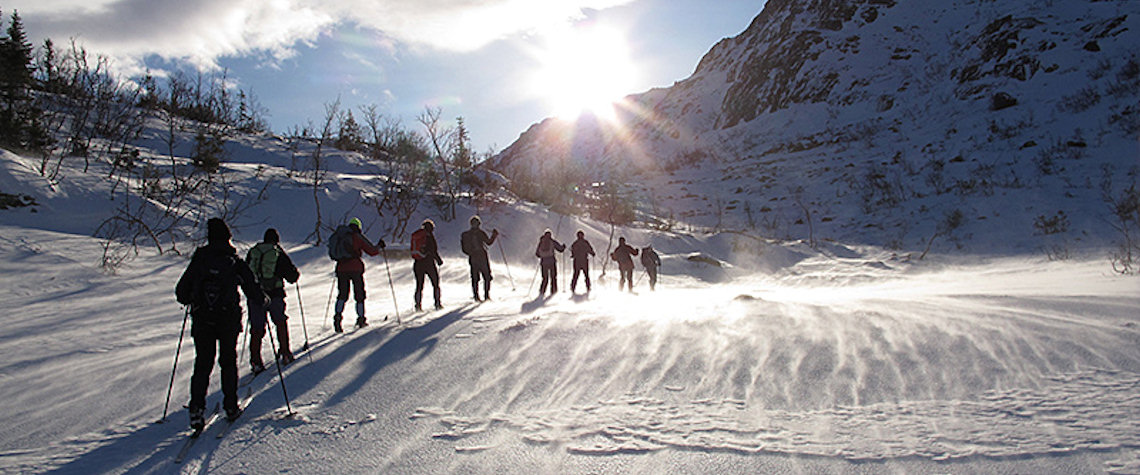 What were your first impressions?
Although I was hoping Norway was going to have some great scenery nothing could have prepared me for how beautiful it was going be and I was totally taken aback as soon as we arrived in Kvitavatn. We were situated opposite a large lake with great views of the massive Gausta Mountain as well as the surrounding slopes. The property was a large youth hostel run by a Danish cooperative, and at our intro meeting we were told that we could sign up to help out with festivities over New Year's Eve.
This was a bit of a shock to be asked to work on our holiday but after we got chatting to some resort regulars we began to understand that this is just the way things work in Norway and it's actually much more fun to join in. See, I told you that there were going to be socialist undertones!
Also, whilst we were getting into the cooperative swing of things, we ended up signing up to be part of a choir...
Is Norway expensive?
As this was an all inclusive trip I barely had to put my hand in my pocket for Norwegian Krone and our group even shared the price of ski wax to lessen any extra costs. Alcohol in Scandinavia is notoriously expensive, about £6 per pint, and I was really surprised as to how strictly this was policed in terms of only consuming drinks that had been bought on the premises.
What was the cross country skiing like?
The skiing itself was fantastic and for the first couple of days we stayed close to base before being split into two groups so we could ski with people of similar speed and ability. However, even here, there was flexibility to move between groups as we felt comfortable.
Another excellent aspect of this trip was that if you didn't want to take part in an excursion all you had to do was sign out of the ski book before heading off to do your own thing. A lap of the lake was sometimes all you needed to get some exercise which was great as it meant you didn't have to go too far to make it feel like you'd been outdoors. Going further afield and into the countryside is a lot colder too as it's much more stop/start whereas around the lake you could build up a fair bit of speed so your body felt much warmer.
Cross country skiing, in general, is a really great low impact work out and ideal for anyone with bad joints or someone who wants to experience high intensity without the risks. It's a lot less dangerous and there are hardly any broken ankles or collar bones when you compare it to downhill skiing. Every day Ilsa and Mary got us to do warm up and warm down exercise sessions although nothing beats a good old Scandi sauna to help keep muscle ache down to a minimum.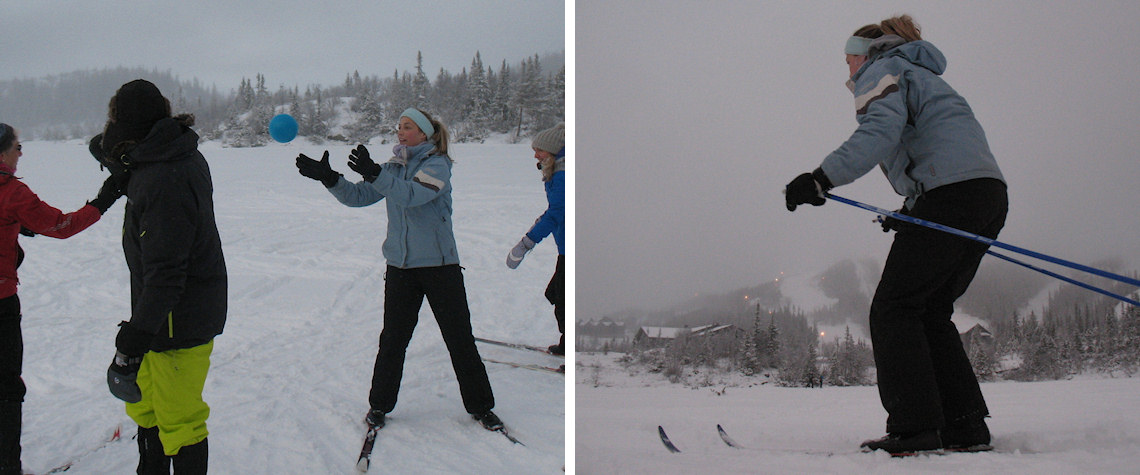 Was there much to do in the evenings?
As our lodge was set at lake level it was quite rare to see the sun unless you got up to a higher gradient. However, this was absolutely no problem as there was plenty of light without the direct sunlight and it wouldn't get completely dark until about 4.30pm, similar to the UK. I'd initially feared that the sun would go down around 2 in the afternoon and I was pleasantly surprised when this wasn't the case. And head torches were a great way to keep on skiing even after the sun had gone down.
In the evenings we'd generally have a talk or presentation by a member of the tour op team but thanks to our signing up for the New Year's Eve festivities we also had choir practice which was much more fun than it might at first sound - I definitely snorted with laughter on several occasions!
Evening meals were well worth looking forward to as well and, man, you could not knock the food or the service which were both first-class, especially considering the numbers that were being catered for. Basically, it felt like there was no scrimping on quality but also like nothing was wasted either. Although communicating with the families and other Danes who were part of the cooperative was restricted to smiles and nods, this really made no difference and every meal time was a very friendly and inclusive experience.
How were the New Year's Eve festivities?
As mentioned, we'd signed up to volunteer at the New Year's Eve event and, yes, it was a much better idea than sitting things out on the sidelines. All we had to do was clear a few tables and chairs away to form a dance floor after dinner and it really helped us become part of the whole cooperative thing as we gave a little bit back to our hosts.
Before dinner, however, it was our choir's time to shine! We made an entrance to Walking in a Winter Wonderland, followed by Let it Snow and finished off with Goodnight Sweetheart, all accompanied by the odd thrown flurry of fake snow. It was just hilarious and so funny to see two of our guys bopping up and down - definitely one of my favourite and funniest moments of the entire trip.
Ilsa was excellent during the New Year's Eve festivities as she never stopped working. Seriously, she never sat down, was always smiling and just exuded her passion and enthusiasm through her good humoured nature - lovely and a real asset to the tour company.
What are your final thoughts on the trip as a whole?
Going on a small group holiday like this was perfect for me as I got the chance to make new friends and go on an adventure with nothing to worry about other than keeping fit and healthy while enjoying the experience of being somewhere incredibly beautiful. And I'm still in touch with at least half a dozen of the people I met on the trip.
Find out more about this trip
Continue reading about this
Cross country skiing holiday in Norway