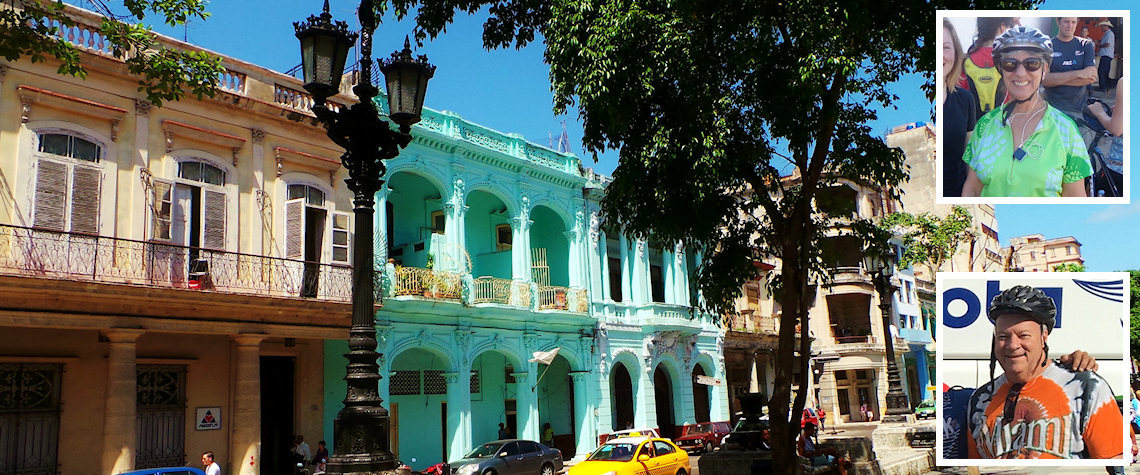 Havana street and (inset) Stan and Susan Hills (Photo by
Gareth Williams
)
Traveller interview: Stan and Susan Hills - Cuba cycling holiday
An interview with Stan and Susan Hills from Miami, USA, who went on our Cuba cycling holiday and chatted about it with Responsible Travel writer, Catherine Mack. The answers were shared beautifully by both Stan and Susan, in that wonderful way that happy couples finish each other's sentences so, for the most part, we haven't divided them up into 'he said, she said', because that just seemed unnecessary.
What made you want to go to Cuba?
We wanted to go there before they Americanised, actually. We wanted to see, you know, the 'Old Cuba', and I think we got to see that. We had been on several cycling holidays but not group cycling holidays. We had done self-guided ones before. We found it pretty good really. We had the bus if we wanted to hop off the cycles. We also had a really nice group and our guides and the support staff made it really nice.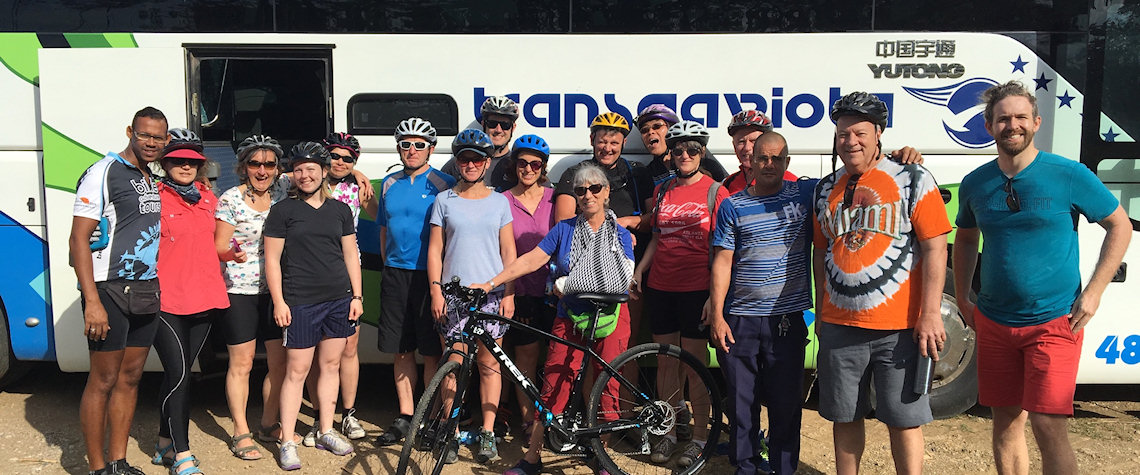 Group with the bus (Photo from Stan/Susan Hills)
What is the most useful thing you packed?
[Susan] Our bicycle gel seats. Only one other person brought theirs, and everyone else was jealous. Let's say, everyone's butts were hurting and ours were not! The bikes were nice but the seats were rigid. The weather was really warmer than we would have anticipated, so I did wish I had packed some lighter clothes. It was abnormally warm for January, and I know what the tropics are like because I live in them. But still, I should have packed some lighter clothes. Also, the description says 'don't bring anything dressy', but actually the gals in our group all had flowing skirts for night times, and I was in my jeans. So, a casual dress or skirt might be a nice thing to have with you. Usually on these trips when I bring nice clothes I end up not wearing them, so it's hard to know which way to go. And we don't like to bring too pack really lightly. We hate to be the ugly Americans with the huge bags, so we try to go really lightly!
Did you learn or use any Spanish?
With the exception of the girl from Barcelona in our group, we probably knew more Spanish than everyone else. In Miami you have to speak a little bit of Spanish and we can marginally get by. Miami has a big Cuban exile population so we were able to use a few of the colloquialisms too which really made our guide laugh. In fact, in Miami, a lot of people don't like the fact that we went to Cuba. We felt absolutely no animosity when we were there though. People really liked Americans. The animosity is from some of the Cuban population back home in Miami. You have to be careful who you tell you went to Cuba. A little bit anyway. You just have to tread a little carefully and be sure not to offend people. Most young Cubans are keen to go, but say that their parents would never go back. We know someone whose father was shot by Fidel's firing squad, but even he wants to go back.
What is your favourite souvenir or present?
We didn't buy any souvenirs, because we are in a 'getting rid of' mode in our lives. We have been reading that Marie Kondo book, which is really life changing. We bought it in Japan in May, and it's called 'The Magic of Tidying Up'. And so we have been downsizing and getting rid of stuff. Plus, Cuban stuff didn't really call to us. If I had bought anything it would have been rum, but we had too many connections on our journey back to the US, so we didn't. But in life, we think stuff is overrated. That is our new philosophy.
Were your preconceptions about this holiday very different from reality?
[Susan] I was nervous about it because I don't do hills very well. I should be Dutch, because in Florida we have no hills. But the nice part was that there were some people who didn't cycle very much, and they were half my age, so I didn't feel bad! But you did what you wanted to on the trip, so that was fine. But in general, I try not to have too many preconceptions.
[Stan] It exceeded my expectations. Here in Miami, there is a lot of anti-Cuban propaganda, so I expected it to be more run down than it was. We went to Eastern Europe when it was Communist, and it was a lot more run down there. There are some run down areas of Cuba where people are poor, but I found that people had a good spirit, were really nice and it really did exceed my expectations. Plus I fell in love with all the old cars. It's amazing. I don't know how much longer they are going to last, but you just look and you are transformed back to the 50s and 40s with these cars. And they are in great shape. There were tons of them. It was quite something.
[Susan] I don't quite concur with Stan, because I found it pretty poor and very basic. We stayed in one hotel and there was no toilet seat in our room. It was clean but basic, and more basic than I had anticipated. So I would say not to have very high expectations about those things before you come.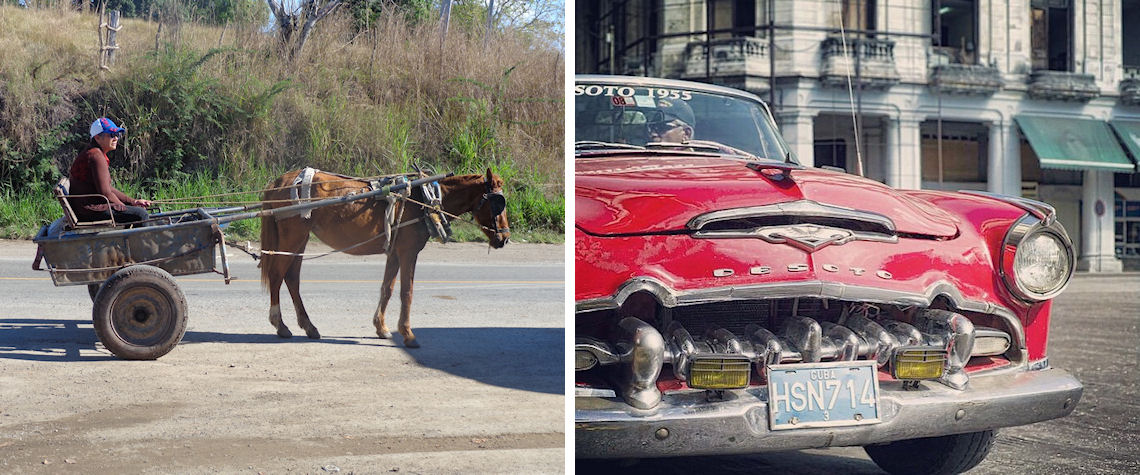 Transport in Cuba. Photos by Stan/Susan Hills (LEFT) and
Christopher Michel
(RIGHT)
Where was your best sleep?
I loved a place that we stayed just outside of Trinidad. It was by the beach, we had separate cabins and we looked out onto the Caribbean. It was beautiful. Palm trees, coconuts, hammocks. You know, and also the food was nice too.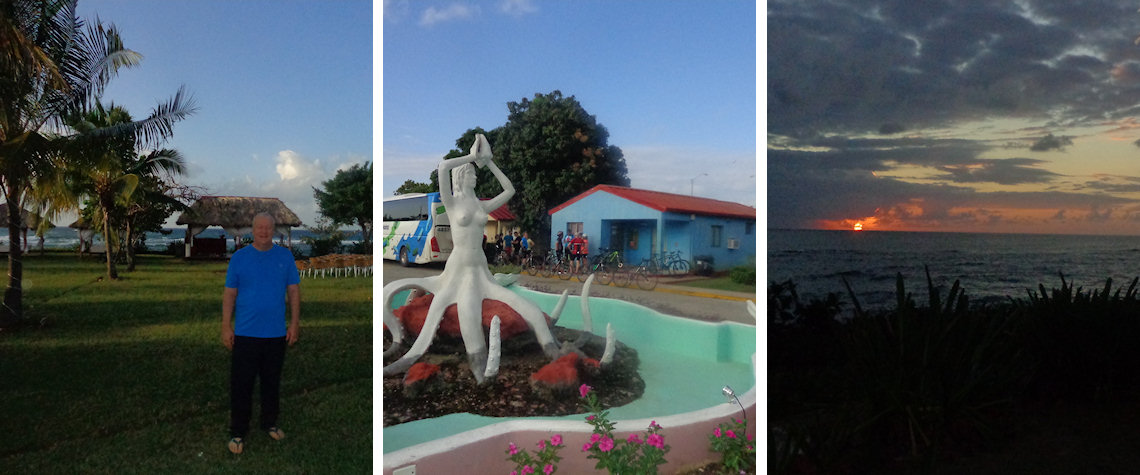 Cabins by the beach (Photos by Stan/Susan Hills)
Did you have a scary moment?
[Susan] On our non-cycling day in Trinidad, we had options of what to do, and so we decided to go to El Cubano National Park. We went for a hike, and then after changing into my bathing suit, and on a rock, there were three or four of us gals, out in the open air, we were going to go in this swimming hole and waterfall... anyway, I took one step after I changed, slipped, fell on my wrist and dislocated it. I had a most interesting experience with the Cuban medical system, and was put in a huge cast almost up to my shoulder, and then came home and had surgery the following week. It was quite an odyssey! At the waterside, one of our group was a doctor, and he made a makeshift sling with an extra t-shirt. Our guide, Mauro, was just amazing, took us about 3km walk back to the bus, then to the clinic, then to the hospital and then 60km to another hospital where they offered to manually reduce it. They offered me a general anaesthetic but I didn't want that because then we might have been in the hospital overnight, and then lost the group, because they were moving the next day to Trinidad, and I didn't want to do that. So, I ended up having three guys pulling on my arm. They did give me a little Lidocaine, but they told me this is how the Cubans did it, so I just said 'Hey, if you can do it that way, I can do it that way.'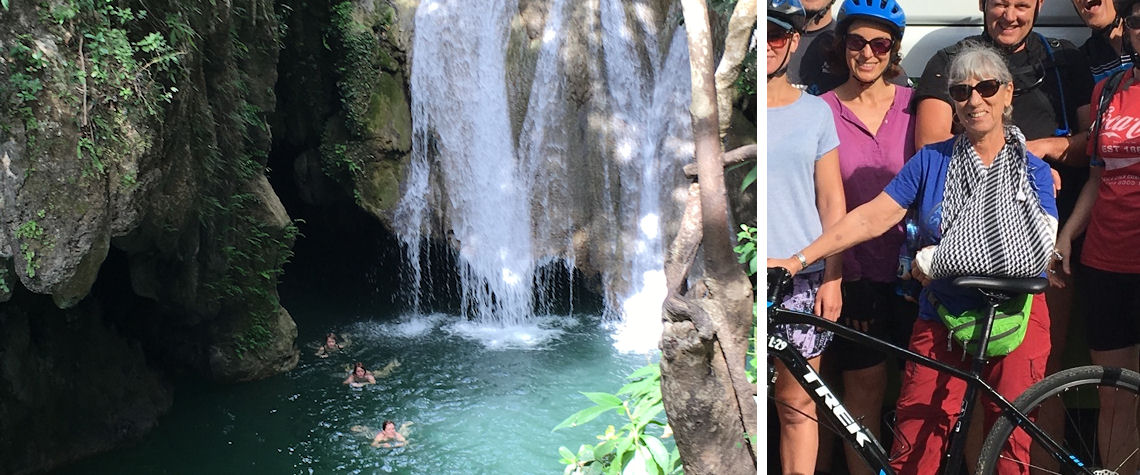 Waterfall and Susan's arm in a sling (Photos by Stan/Susan Hills)
How was your tour leader during all of this?
Our guide, Mauro, was really amazing. He accompanied us, he brokered the price of the treatment, because we are persona non grata in Cuba, even though we had insurance. They wanted the money up front, and we didn't have enough cash on us - they wanted about $700 - and our wonderful guide went to the ATM and took out cash for us. Because we had some cash, but we weren't expecting to flunk it down in a hospital. And as Americans, we can't use ATMs. Credit cards don't work with American banks, and so we had brought 25 percent more money than I thought we'd need, but we didn't have enough. So for our guide to do that, from his personal account, was amazing.
Did this accident not tarnish your whole holiday?
Au contraire, everybody was so great. The bus driver, the guide, and people were just so 'simpático' I kept saying. So, no, it was just the opposite. Even the doctors, I kissed the doctors and the nurse when I left the hospital. People were really very warm there. And yes, we still had one more day of cycling which I was really looking forward to, but I did get to do three out of four of those.
Do you have any sense memories from your trip, other than 'sight' ones?
The diesel fuel smell is everywhere, as they burn a dirty kind of gas. And, oh yes, in Trinidad, they were building a sewer trench, and we caught that whiff of that!
Was there one local person that you met whom you will always remember?
[Susan] Probably Mauro, our guide who is from Havana. He is 30. And also Yasmany our bus driver, who was lovely. Mauro just went above and beyond. He could have left us on our own during our hospital experience, but he made some really good decisions that helped me tremendously. He was a real people person. A lot of guides are, but not all. And he had a personal relationship with everybody on that trip, which was really touching to see. Yasmany was really attentive to me after I broke my arm, helping me up and down the stairs and so on, but he was just very attuned. Maybe it is just Latin men, I don't know! I kept telling my husband he needs to be more like Yasmany!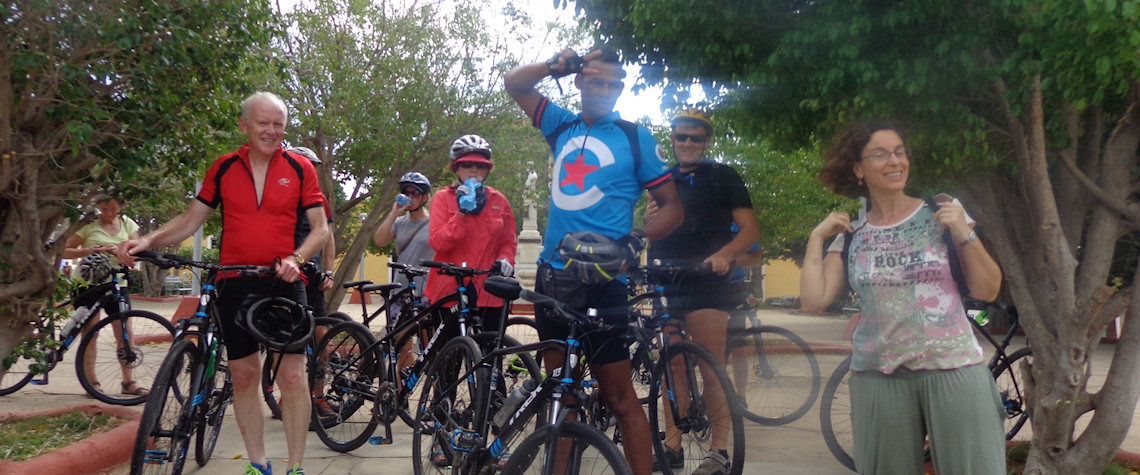 Mauro (centre) and group (Photo by Stan/Susan Hills)
Do you think anything was underrated?
We drove past old Havana and it just made me want to see more of it. We would like to go back just to see Havana now, when we can get a direct form of travel. Because it is only an hour and a half for us to Cuba, if you go directly. We would love to go back and tour Havana because we didn't realise when we booked our return flights, they were too early for us to take the tour of Havana on the last morning. So we want to stay in touch with Mauro and see if he can show us around. If he's not on a bike tour, of course, because he loves biking. We also got to see Cienfuegos, the World Heritage Site, but only in the dark. We would love to have seen it in daylight, as it looked really fantastic. Plus I didn't realise that there were all these beautiful 500-year-old towns in Cuba, all over the place. I also really enjoyed the fact that music and dancing broke out wherever we were. It was great fun. The sun goes down, the music starts, and the rum comes out. Automatically.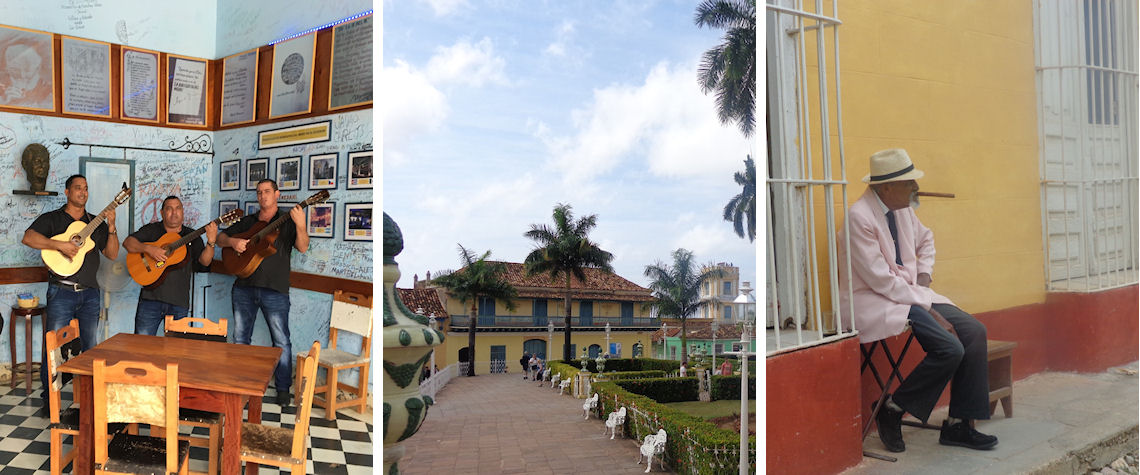 People, music and architecture (Photos by Stan/Susan Hills)
Has this trip influenced where you would like to go next?
We have talked about going to all kinds of places, so we are always thinking about new places to go. The Amazon is still on our list, Nepal, India. The gorillas in Rwanda are also on our list. That and the Serengeti and Zanzibar interest us. And we heard that Mozambique is also wonderful.