Tour leader interview with Mohamed Merri - Family tour to Morocco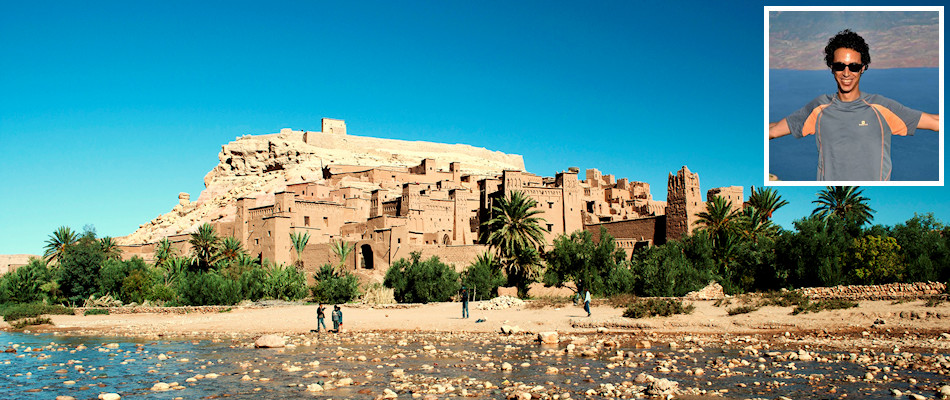 Leader interview: Mohamed Merri - Family tour to Morocco
Raised in the region of Azilal in the Atlas Mountains, Mohamed is from a Berber family. Azilal is a popular hiking region, so after finishing university he went to guide school and began working as a mountain guide. A climbing accident meant a change of career, and Mohamed now leads tours across Morocco. He loves leading family tours in the desert - one of his favourite memories is a spontaneous football match between two families on tour and the local kids in the Sahara. As well as his native Berber he speaks fluent Arabic, French and English.
My favourite part is the camp. It's not a very touristy area that we go to, so it's very, very calm but also gives the opportunity for children to run around, climb the sand dunes, without their parents being scared.
They can see them, it's quite open. So it's very good for me, I like that place. I'm not worried that they're gonna cross the street or be hit by a car or get lost in the alleys! It's not a permanent camp, we take the tents there. Last summer we struggled a bit in July. It's better in April, maximum May - not more than that.
I love personally seeing the contact of the kids with the locals - other kids - on the markets and things.
Sometimes we go to buy things from the market to have our lunch, a picnic for example, and inside the market there are a lot of families shopping for vegetables and things like that. Mostly with local families when foreign kids come to talk to their kids they are ok with that. It's fine. It's just trying to not keep the kids in a bubble inside the country. To open up a little bit, that's all.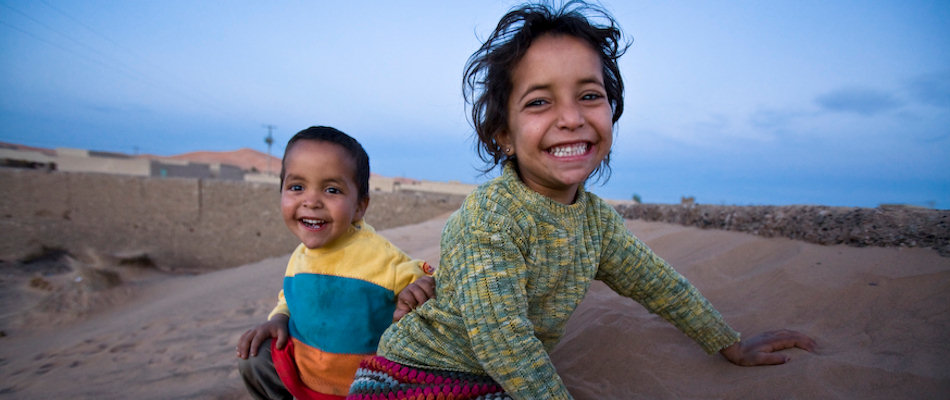 It's not a 5* tour for families, it's culture, discovery, learning too.
There is some camping in the tour, and we are staying in an auberge which is like a basic guesthouse. So with families that have high expectations or are used to 5* hotels they have to be briefed before coming.
My favourite characters are the camel drivers. All their life is in the countryside with the camels in the desert, they are so used to sleeping outside and the rough conditions.
So when they meet foreigners with their hand sanitiser and all of that they start making jokes. It's quite funny. They take us with the camels and prepare the camp and spend the night under the stars. They make sure everything goes ok.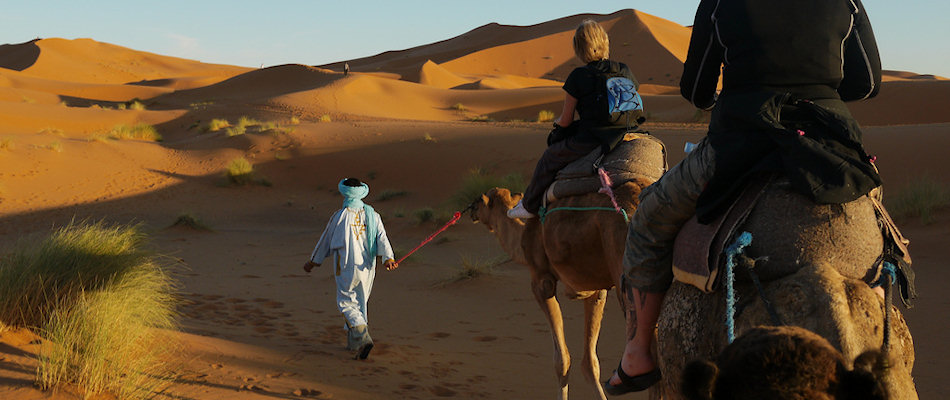 Not everybody is walking around with camels and with turbans on their head! You have that idea of Lawrence of Arabia about Morocco, that people are just walking around with their camels, and that's it!
And all desert... when they get here they find cities and things like that. Morocco is divided in two parts - the north and the south. The extreme north, next to Spain, has forests and rivers and lakes. It's very, very green. The other side of the High Atlas in the south is dry and desert, so there is a variety.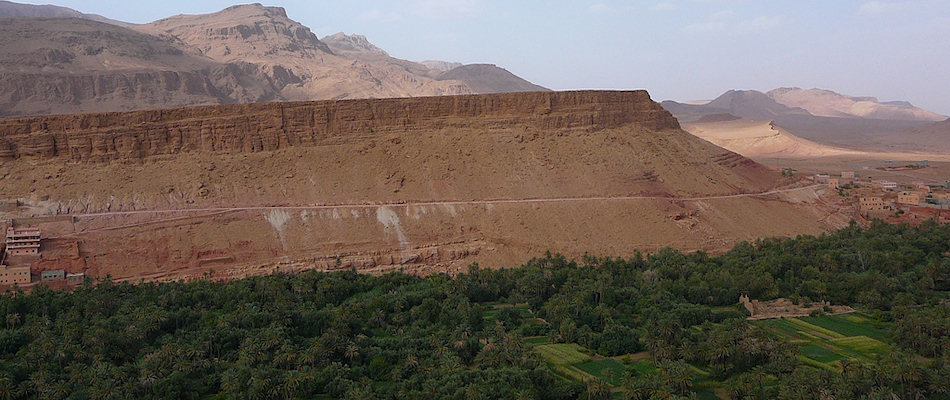 Always when I go towards those regions in the desert, I play the same band. Perhaps you have heard of Tinariwen?
Tinariwen are getting famous now. I always play those songs. They are from Mali but they are Berbers, and we are Berbers here too.
I'm a good cook so I've got a few recipes! Did you try the Berber omelette? That's a very simple one.
We use a lot of coriander in Morocco, especially the Berbers, and garlic. I take the coriander and garlic and just cut them very small and mix them with two or three tomatoes and olive oil. I put it on the fire for five minutes with salt and cumin. Then add a couple of eggs and mix the whole thing and wait for it a little bit to cook - it takes ten minutes. And that's it! Very simple but very delicious.
I had once some kids who didn't like to eat meat here, they said it was horrible to kill animals.
They saw some butchers on the street killing goat in the countryside. They said "back home we just go to the supermarket and get the meat - we don't kill the goats." I started laughing! They didn't know where it comes from. So we started explaining all that and they got really surprised. I got shocked - how come you don't know that! That was a funny, funny thing.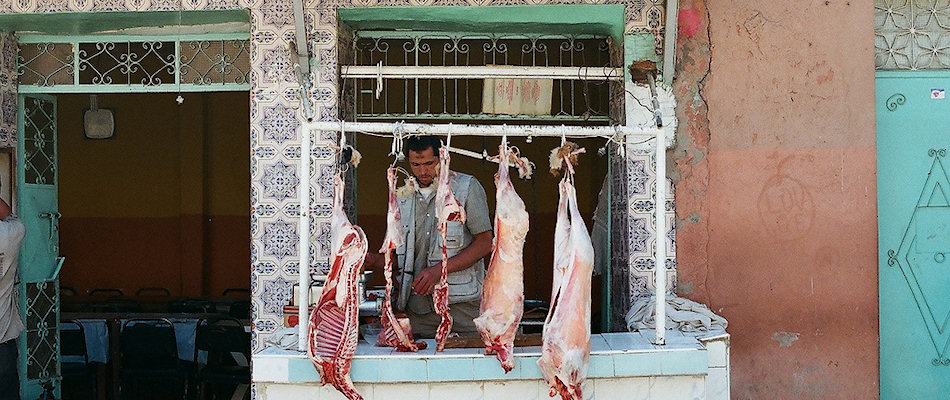 We say "yalla, yalla" - "let's go, let's go." It's used by the Arabic and Berber.
Moroccan Arabic is a mixture, especially for some common words. The guests try to learn the basic ones, and sometimes we leave the kids to figure it out - especially when they are dealing with other lids. It's fun, they try to learn. They are very, very polite, most of them, which is a very good thing.
Most of the kids visiting the desert- they forget to drink.
For me, drinking is more than survival, it's very, very important. Just water. It's very simple. Dehydration - a lot of people take it too easy, but it's not easy for a kid. They're having fun, running around, so they always have to be reminded.
There is a disabled people's association in Ouarzazate where they make things there like pottery, leather stuff, decorated glasses, very simple.
I usually try to stop there because it's quite a good thing to stop and help the guys there. They show us what they do, and different services that they have in the association. They deal with a big number of disabled people there.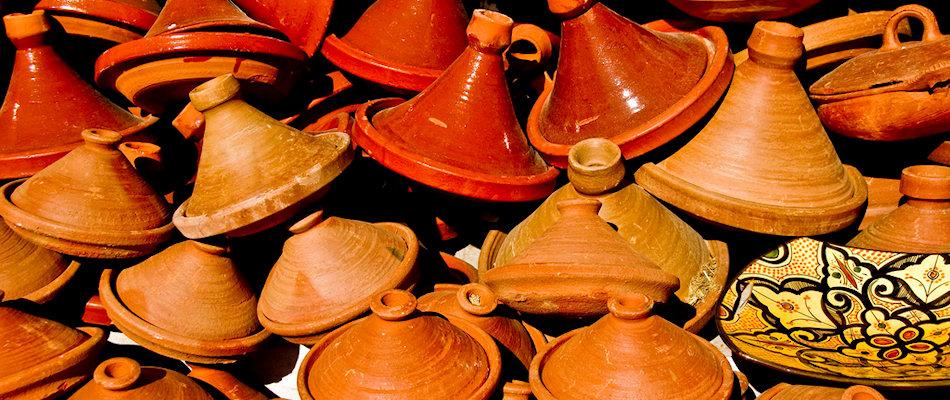 Hammam is not a luxury in Morocco, we just go there at least once a week if we have time. For me it's the best way of relaxing.
They are quite good if you find a good one. There are four rooms - one changing room and three steam rooms. One is not too hot, the second one is medium and the third is very, very hot. You get there and start by the very hot one. You put on the black soap and lie in the hot one for ten minutes - it depends if you can stand it or not! It's very relaxing. Then there is the scrubbing. If you are hot enough, it's not at all painful. But if you are using a very new exfoliating glove it's a little bit painful, yeah!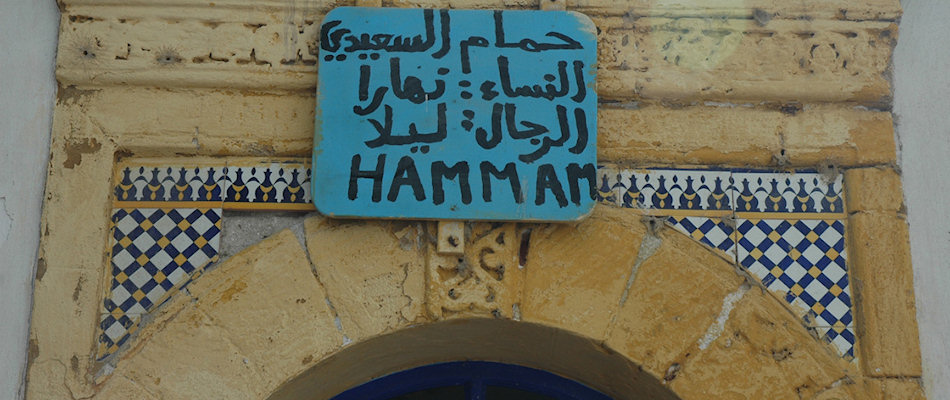 Find out more about this trip
Continue reading about this
Family tour to Morocco