Tour leader interview with Tessa Kokkonen – Finland winter activities & Northern Lights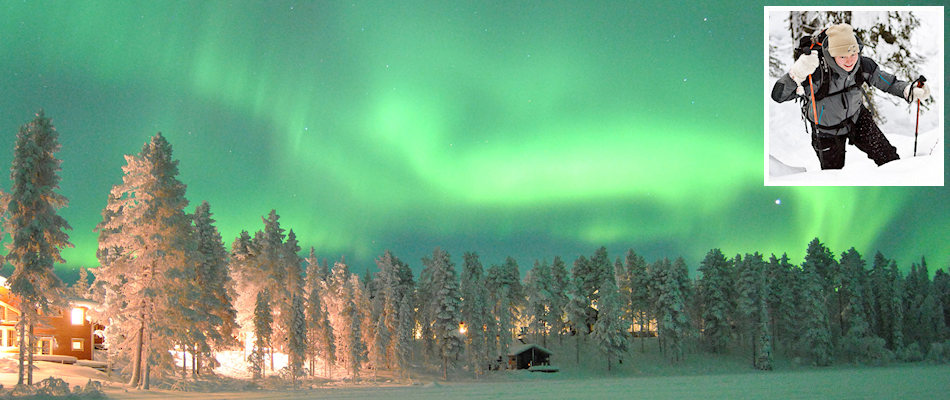 Leader interview: Tessa Kokkonen - Finland winter activities & Northern Lights
Originally from Finland's far eastern region of Karelia, Tessa moved north to Lapland, close to the Arctic Circle, to the skiing region of Ruka. When we spoke in February, a metre of snow lay on the ground.
Tessa has been a tour leader for two years, after completing her degree in tourism management. As well as her native Finnish, she speaks fluent German and English, and can understand Russian and Swedish. She has two dogs and her favourite way to relax is to go snowshoeing with them through the forests, followed - of course - by a sauna.
The traditional Lappish drums were used before to interconnect spiritual Sami life and the shamans used those. People always believed that in those drums there was living a spirit.
At Basecamp, the guests can make a traditional Lappish drum themselves as an optional activity, it's a nice souvenir. We buy the hides from the Sami people in northern Lapland and the frames are handmade from birch tree. So the hide and frame are ready - but the cutting and styling and stretching you do by yourself. Then you decorate it and pick out your own symbols. I always say that because we are not Sami people and we are not shamans, we could put our holiday spirit in that drum and then choose those symbols that reflect the holiday that you've spent here. People like that quite a lot because it's something special.
One of my favourite views is in Riisitunturi National Park which is famous for its snow covered trees.
The trees really look like creatures or statues because they are all covered with ice and snow. From the first step you can't imagine that they are trees - you just see funny sculptures! It's the best place to see the Northern Lights as well as it's on top of the fell so you have a lot of sky up there. Here you don't have light pollution at all - it's dark when it's dark.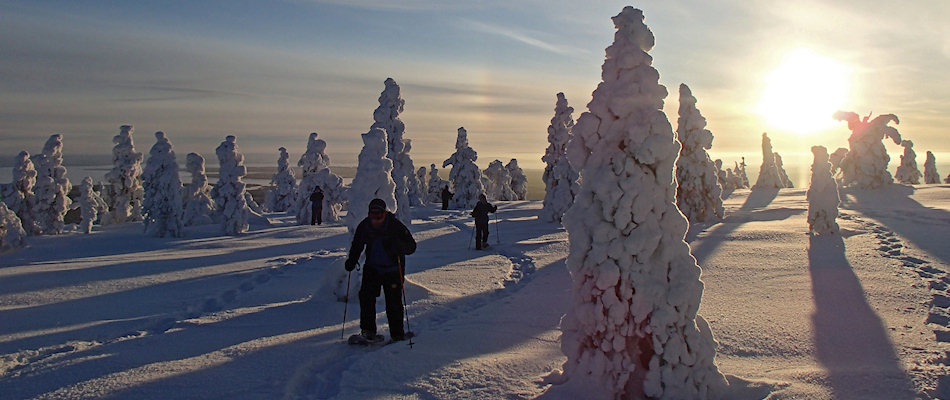 'Tykky' snow-caked trees in Riisitunturi National Park (Photo by Basecamp Oulanka)
The husky sledging is really something special. You really feel like you are connected with your team of dogs, because they are taking care of you and you are taking care of them.
My favourite part is the whole day sledging, it's just amazing. It's in the Riisitunturi National Park - the place with the snow covered trees - and the huskies are just such good team workers. Even if you don't like dogs they don't mind, they love you because you come and they get to run and it's very exciting. You go really inside a national park where there are no trails for skiers or for snowmobiling - nothing other than the dogs. You just have to trust them and they will take you there and back. They love to run - they get crazy when they know they are going out!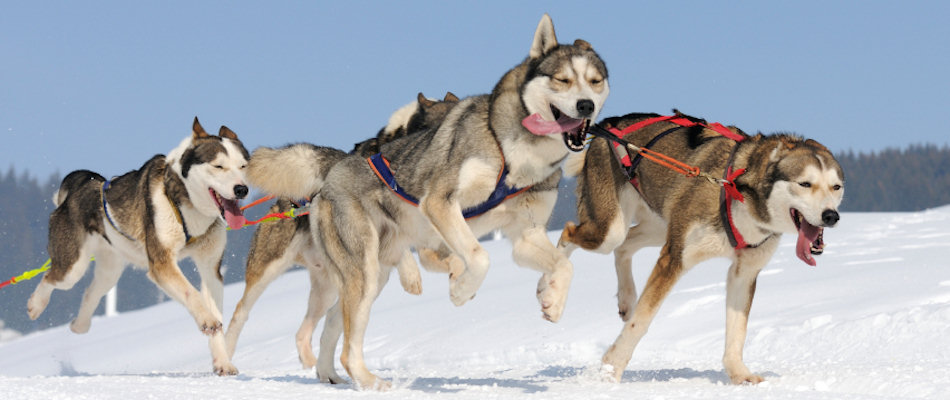 Husky dog team
My favourite character without doubt is our musher Lauri Sassali from Kota-Husky.
He's very funny and a very typical Finnish man. He looks like a Viking! He's very tall with long blonde hair and a beard - and he's a very lovely and warm person. He's very nice to his dogs. We always do the sledding with him.
On wilderness skills day we show you how to build up your own accommodation in the wilderness by building the snow holes or quinzees. You don't need a tent or anything, just a shovel.
It's really physical because you need to shovel a pile of snow which is at least 2m high and 5-10m wide - that's lots of snow. That's tough. After that you dig the snow hole in there which is quite hard work as well because you have to there on your knees and just dig the snow out. Ice climbing is hard work too. That's an optional activity, but I would say around 20 percent of our guests try that. Some weeks almost everyone wants to go. It depends on which age these people are. You need to learn to use the spikes and the ice axes to be able to climb, so it's very different, for example, from bouldering. You are even using different muscles.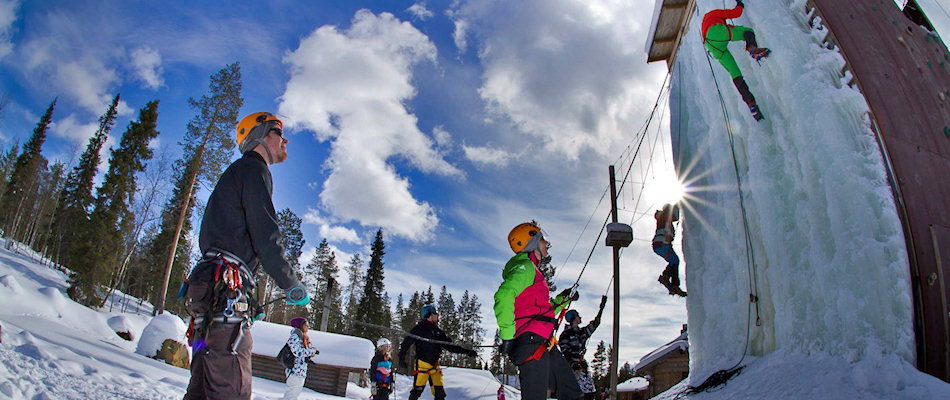 Ice climbing (Photo by Basecamp Oulanka)
We used to build the quinzees on the frozen lake - on top of the ice.
You basically pile a lot of snow there and you let it for a while to freeze. Then you dig a snow hole there that you can go to sleep in. Do you understand? It's kind of like an igloo but it's made out of snow - an igloo is made of ice. On one trip it was early winter but somehow the ice was too weak to take the weight of the snow hole. So we put a big pile of snow, then had lunch and let the snow get very compact. When we got back it disappeared! There was just a round hole in the ice - the whole pile of snow was in the water! So since then we always build them on the ground, not on the ice any more.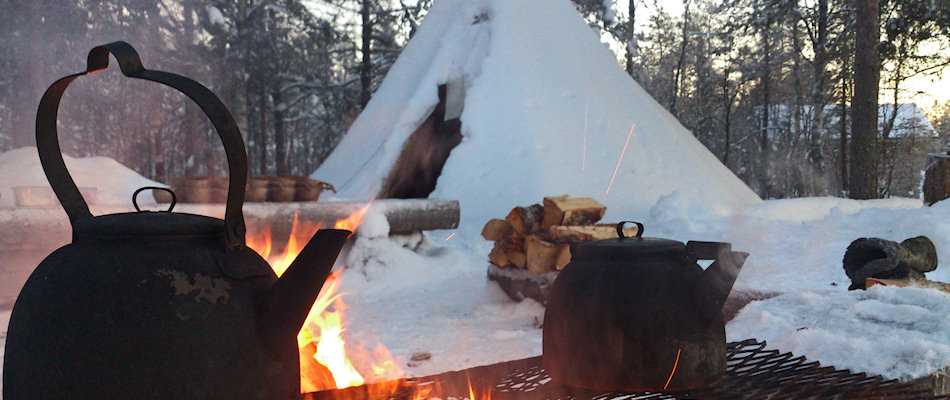 Quinzee (Photo by Basecamp Oulanka)
Elk meat is very traditional; it's what people always used to have here when they went out for hunting or fishing and hiking. It has lots of salt and less fat so it tastes fresh for days, even in your backpack.
The elk is always wild. You take brown bread or rye bread and smoked elk meat, and that with some pickles, onion and butter - it's just the perfect mix. It gives you lots of energy. Of course the pickles and rye bread are always there when we have a lunch or dinner, but then we do sell the packets of smoked elk meat so the guests can take that with them if they want to do their own picnic or do some hikes on their own.
If you decide to travel here you have to push yourself a little bit to the limit of being uncomfortable sometimes to be able to do the activities.
It's not always easy to be snowshoeing in the deep snow, or driving your dog sled if it's cold and windy, but afterwards you remember those as good experiences. But still, some people are not very patient. You should be kind of open minded, you are ready for new experiences and new adventures, and not give up after five minutes if you think that your cheeks are getting cold!
If you just hate to be active - doing sporty things - then this is not a holiday just to lie down and enjoy the sun.
You can relax every evening in the sauna and the hot tub, but most of the time we are active and basecamp is a place to be active. If you don't want to do anything you get very bored.
There is a legend that in the old times people believed that the Northern Lights were caused by a big fox who was running around the globe, and every time his tail touches the snowy ground that makes the snow fly.
And when it reflects from the moon, then it makes the Northern Lights. The reason why the fox is running is that he is finding young ladies, and if you are outside without a beanie and he can see your blonde hair, he catches you by your hair and pulls you with him. So that's the legend behind the Northern Lights. I'm an unmarried blonde haired lady - so he could have taken me! Finnish people tell this to their children - that's how they make them always wear a warm hat outside. Northern Lights, if I translate it straight from Finnish, is "fox fire". So I explain the Finnish word and then explain the legend behind it. People think it's a nice story - and they're interested in legends and stories more and more I think nowadays.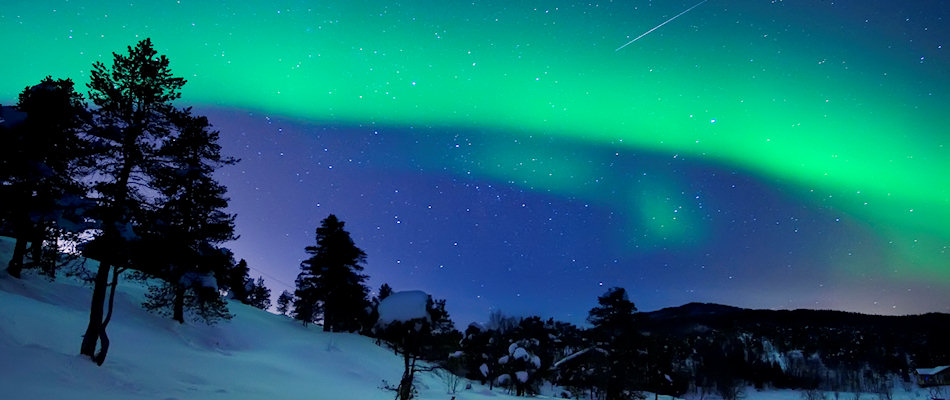 Northern Lights
Finnish doesn't have a word for please - so if we ask for something, we just say, "can you do that?" We don't say, "could you do that, please."
Our language is perhaps not as friendly or polite as yours, so sometimes it might be that we forget to use please! It's a cultural difference.
Actually quite often people ask - do you have polar bears?
And I say, what?! No, we don't! That's the most common misconception we have.
Sauna is almost like a church for the Finnish. It has always been a holy place where you go to relax.
Almost every home in Finland, even if you have an apartment, you have a sauna inside. So that's like your own holy place where you go to relax and just have some quiet time. But then we often go as well rolling the snow after sauna. The temperature difference between the 80 degree sauna, and minus 20 outside and freezing snow is huge! That's very good for you, it's good for your blood circulation and if you do that frequently you don't get cold and flu that easy. Many people do that here even nowadays still. At Basecamp we have an ultra hot tub, and it's located so that you can see the Northern Lights from there. So if you are very lucky you can go in the sauna, then maybe roll in the snow after if you want, and then after go in the hot tub outside, watch the stars, watch the northern lights and just spend some time with your family and with your friends.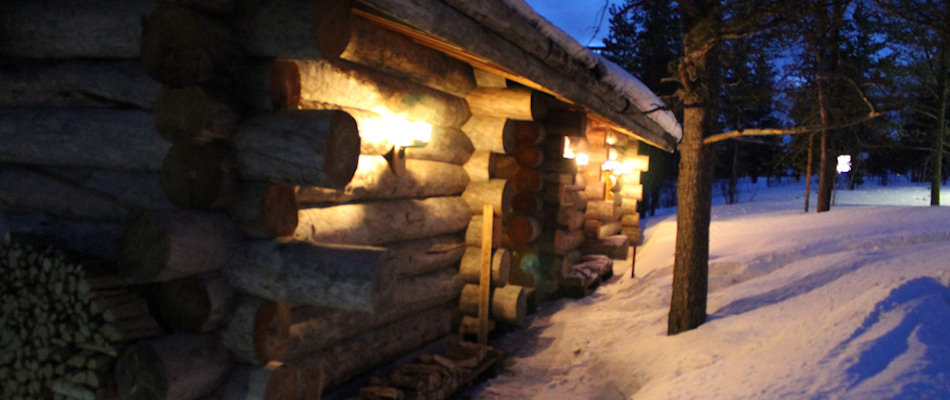 Usually it's very silent in Basecamp at evening time.
Guests are starting to go to bed or perhaps eating dinner inside, and perhaps a few people are going outside. We are next to the national park so there is no light pollution, no sound pollution. The only sounds which you could hear from the hot tub are maybe cracking wood because the trees sometime make cracking noises when it's very cold, and the ice as well.
I have two dogs so I really like to go snowshoeing or skiing with them on my days off to relax.
I really love to be outside in nature, and when you are part of a group and working as a guide, you don't really have a lot of time to concentrate on nature and what is going on because you are more concentrating on your group and that everyone is doing well and having fun. You're thinking about what you can tell them, what you can teach them. Then when you go on your own you just have your own thoughts and you can really enjoy the silence. And of course I go to the sauna in the evening and meet my friends.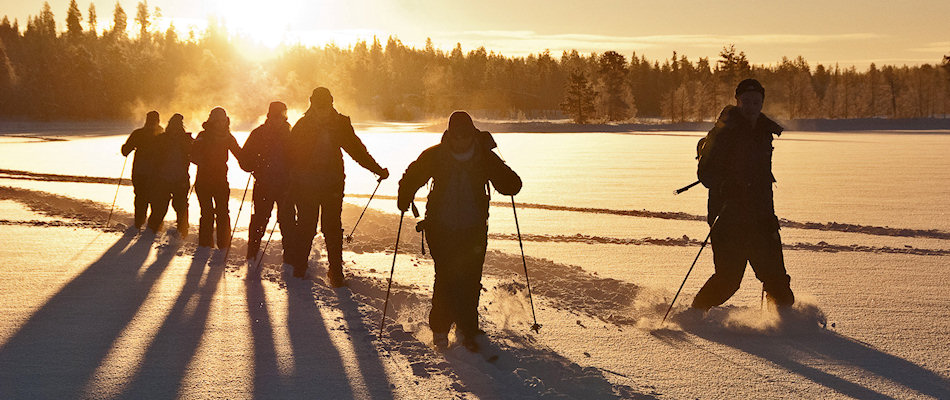 Cross country skiing (Photo by Basecamp Oulanka)
Of course it depends when you travel, but especially November, December and January the amount of daylight is 3-5 hours, so the day goes very fast.
Then sometimes you just don't realise how much time you already spent out there, and on the way back to Basecamp it gets dark. If you don't have a clear sky and moonlight you can't see anything because there is no light pollution, so then you really need to carry a head torch with you to go back safe.
We do hug the trees every now and then, and that's more to get people to shut their mouths and open their ears and recognise that there is nothing other than silence and those tiny, tiny sounds of nature.
For me it is very rewarding. You see people that were perhaps a bit stressy once they came and you are outside with your group, and they get very excited about hugging trees and realising all the sounds that you can discover from nature. Those are perhaps a few of the best memories I have. Seeing the smiling faces - people sometimes do get really enthusiastic. They tell me afterwards - thank you, that was the first time I realised I was on the holiday and I didn't need to do anything and this was a good start to relax completely.
If you have a very hectic, everyday life, when you come here it's hard to forget all that and find a new space for your life for a week, which I completely understand.
But changing your attitude, not being all the time active and talking with everyone and watching your smartphone and connecting your email and everything - you see how good it is for people when they give up for a while.
Find out more about this trip
Continue reading about this
Finland winter activity holiday & Northern Lights